HA awards evening 2021 round-up
Published: 1st October 2021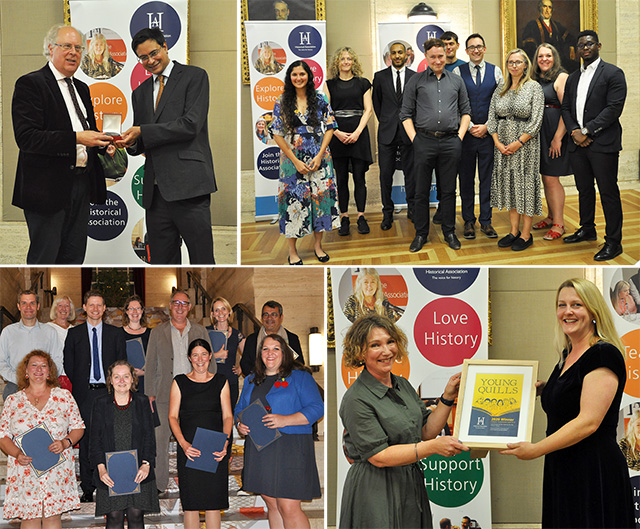 Finally it happened – the HA annual (usually) awards evening, known to many as 'the Medlicott evening'. Normally held in summer, the event is an opportunity to recognise some of the incredible contributions that people make to the continuation of history for all in this country, as historians, writers, educators and volunteers. This year the event was deferred to September due to the Covid-19 restrictions still in place in June and July; however, deferment was better than cancellation which was what happened to the event planned for 2020.
In fact, despite still needing to restrict numbers and ensure lots of additional safety measures were in place, it was one of the most exciting events the HA has had – because we could have it!
During the evening the people that have worked hard to develop professionalism in History education are recognised through the HA's Quality Mark for Schools with this year's awarded schools all announced, as were those teachers who have now been granted Chartered Teacher of History status. The important work that some educators do as part of the Teacher Fellowships was presented to the audience, as well as the ongoing work of many teachers across the profession that all add to the HA and support its membership.
The Young Quills for Historical Fiction start the evening, which this year one of the 2020 winners was able to attend – Lucy Strange, who won the 10-13 years category for Our Castle by the Sea. All the 2020 winners will be interviewed for our website shortly. The 2021 awards will be made next summer along with the 2022 ones.
One of the highlights of the evening is the presenting of the HA Honorary Fellowships, which was this year done by HA Deputy President Dr Katharine Burn. Find out about this year's recipients here.
The final award is the one the evening is popularly named after – the Medlicott Medal. The Medlicott (as it is affectionately known) is awarded to someone who is viewed to have made an outstanding contribution to history through research, representation and their professionalism. This year the recipient was Professor Rana Mitter, expert on Modern Chinese history and politics. He was presented with his award by HA President Professor Peter Mandler. In addition to receiving the Medlicott the awardee gives a talk on a subject of their choice, and Professor Mitter chose 'How New is Asia's "new era"?'. You can watch the recording of Professor Mitter's lecture here.
The only downside of the evening was that after all her hard work the HA CEO Rebecca Sullivan was unable to attend due to a bad head cold – but the good news is that the next one is only nine to ten months away!