Queen Anne
18th Century British History
By Lady Anne Somerset. Produced by Simon Brown, published 11th August 2015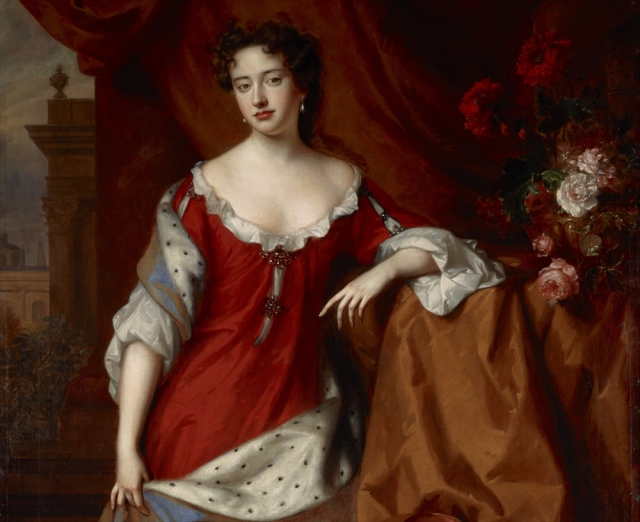 The last of the Stuarts
In this podcast Lady Anne Somerset looks at the life, reputation and legacy of Queen Anne – the last of the Stuart monarchs, and the first sovereign of Great Britain.
Anne was born on 6 February 1665 in London, the second daughter of James, Duke of York, brother of Charles II. Like many in the Stuart family she spent her early years in France. Although Anne's father was a Catholic, on the instruction of Charles II Anne and her sister Mary were raised as Protestants. In 1683, Anne married Prince George of Denmark. It was reputedly a happy marriage.
In 1685, Anne's father James became king. He was overthrown in 1688 and Anne's sister Mary, and her Dutch husband William, took the throne. William and Mary had no children and Anne became their heir.
Anne became Queen of England, Scotland and Ireland on 8 March 1702. On 1 May 1707, under the Acts of Union, two of her realms, the kingdoms of England and Scotland, united as a single sovereign state, the Kingdom of Great Britain.
Other key events in her reign included:
The War of the Spanish Succession which led to a series of military victories by John Churchill, Duke of Marlborough, including the Battle of Blenheim.
Under the 1713 Treaty of Utrecht, France recognised Anne's title over that of James II's Roman Catholic son, James Stuart and confirmed England's possession of Gibraltar.
The development of the two party system in Parliament.
Anne had approximately 16-17 pregnancies but lost most of her children through miscarriages and still births; those that did survive mostly died during infancy. Only one, William, survived into childhood. Unfortunately at the age of 11 William died of small pox in 1700, prompting parliament to pass the Act of Settlement (1701) to ensure a Protestant succession.
Anne died on 1 August 1714; she was succeeded by the German Protestant Prince George, Elector of Hanover, great-grandson of James I.
1. Introduction.
2. Anne as wife and mother.
3. Anne, Sarah Marlborough and the Duke of Marlborough.
4. Lesbian intrigue.
5. Attempts to undermine Marlborough's political influence. Peace with France.
6. Succession fears and Anne's reputation.

In order to access the full content of the podcasts please Login or Join the HA.