Scheme of Work: Walter Tull
Primary scheme of work, Key Stage 1
By Jennifer Donovan & Chris Trevor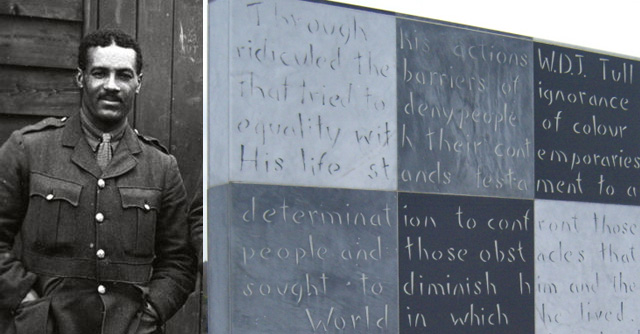 KS1 Significant People: Walter Tull
Pupils will look at the childhood and football career of Walter Tull, what happened to him when he fought in World War I and why he was different from most people of his time. They will compare his experiences to issues and people still relevant today including the double Olympian gold medallist boxer, Nicola Adams. This unit plan includes opportunities for teachers to link this history unit with their English, science and PSHE lessons. It would be greatly enhanced with the purchase of the resource Walter Tull's Scrapbook by Michaela Morgan.
This unit is structured around 6 sequential history enquiries:
Who was Walter Tull and when did he live?
Did Walter have a happy or terrible childhood?
Using historical sources, can we spot the differences
between Walter's life and the lives of footballers today?
What was it like for Walter when he played football at a match in Bristol?
How did Walter help our country during WWI?
What is special about Walter Tull and Nicola Adams?