Write Your Own Historical Fiction 2020 – Winners Announced
HA competitions news
Published: 10th September 2020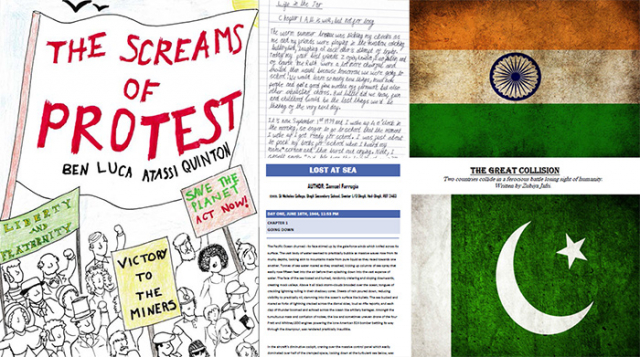 Write Your Own Historical Fiction 2020 – Winners Announced
This has been one of our best years for entries ever!
With children stuck at home needing a little extra something to do we decided to extend the competition to accommodate home learning, as well as a new age category for pupils in years 10-13. We received well over a thousand entries and whittling them down to our winners was a tough assignment. We were amazed by the standard, research and effort put in to many of the entries.
Shortlisting was no easy task but was ably carried out by the HA committee members and affiliates. Rather excitingly lockdown also meant that we could pin down professional children's fiction authors Tony Bradman and Pippa Goodhart to be our judges and to select the winners.
Therefore we are pleased to announce this years' winners in each category as follows:
Years 5/6
(2 prizes for best historical story)
Nischay Singh Sembi
Zoya Subramanian
Runner-up - Nelly Baran
Best Character - Joshua Wilson


Years 7/8/9
(3 prizes for best historical story)
Ben-Luca Atassi Quinton
Lucia Ochsendorff
Kristina Akova
Runner-up - Zubiya Jafri
Best Character - Ljubica Vrana


Years 10/11/12/13
(3 prizes for best historical story)
Megan Bartley
Courtney Ellis-Stoneman
Alice Glithero
Runner-up - Samuel Farrugia
Best Character - Olivia Clouting
A huge congratulations to all our winners. You can read the winning entries plus the judges' comments on each of the winners below. We look forward to next year's competition.
What the judges said:
Tony: "reading the submitted stories for this year's competition was a wonderful experience. They showed an enormous amount of talent, writing skill, and a great passion for history. I was gripped by many of the stories, fascinated by the huge range of periods and places they covered, and very impressed by the way these young writers brought people of the past to life."
Tony Bradman has been involved in the world of children's books as a writer, editor and reviewer for 40 years. He has written for all ages and in many genres, but in recent years he has returned to his first love, historical fiction, and has won two Young Quills Awards, in 2013 for Titanic: Death on the Water and in 2018 for Anglo-Saxon Boy. He is also very proud to be the consultant editor for the Voices series of novels exploring the experiences of hidden BAME communities in Britain's history. Find out more about Tony's books here and here.
Pippa: "It was reading historical stories by the likes of Barbara Willard, Rosemary Sutcliffe, and Hester Burton that took me as a child from reluctant reader to avid reader and writer. I loved the fact that those stories were or could have been real! The rich range of stories I've had the pleasure of reading and considering for this competition have worked that same magic for me. It's exciting that there are so many skilled young historical writers growing into their craft just now."
After doing a history degree, Pippa Goodhart went into children's bookselling and then book writing, and has now had more than a hundred books published. She writes picture books such as the prize-winning 'You Choose' books illustrated by Nick Sharratt, young story books such as the 'Winnie the Witch' storybooks written under the pseudonym Laura Owen, and middle grade historical novels. The Great Sea Dragon Discovery, set in 1860 and considering new ideas on evolution emerging as fossils were dug up, won the Young Quills Award in 2019. Her new book, The Twisted Threads of Polly Freeman is set in a workhouse and Quarry Bank Cotton Mill in 1838.
Read the winning entries below: