Primary History 70
Journal
By HA, published 16th June 2015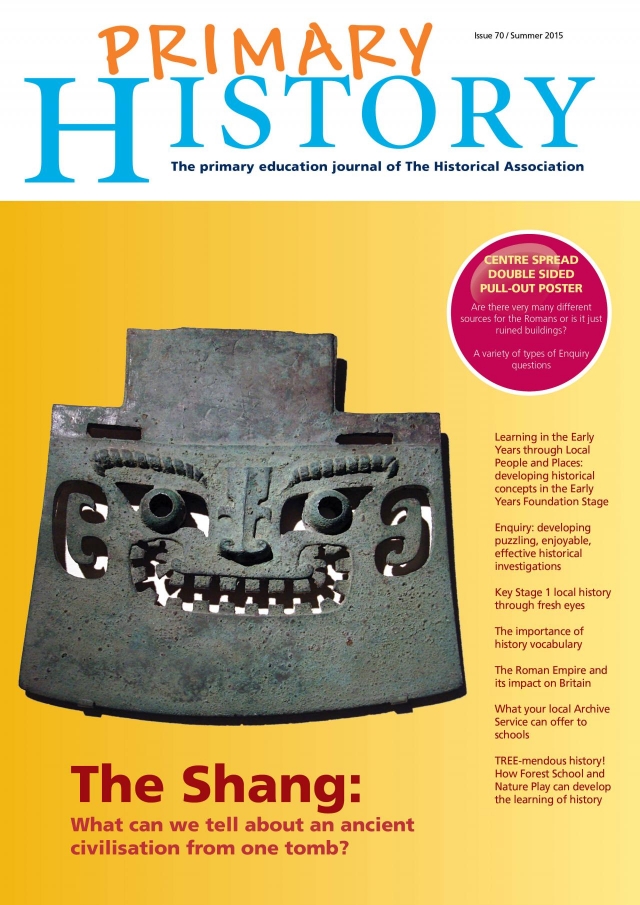 Shang, Romans, Local History...
04 Editorial
05 HA Primary News
06 Learning in the Early Years through Local People and Places: developing historical concepts in the Early Years Foundation Stage - Alison Hales (Read article)
08 Enquiry: developing puzzling, enjoyable, effective historical investigations - Ian Dawson (Read article)
15 Key Stage 1 local history through fresh eyes - Polly Tucknott (Read article)
20 The importance of history vocabulary - Steve Davy (Read article)
24 The Roman Empire and its impact on Britain - Sue Temple (Read article)
32 The Shang: What can we tell about an ancient civilisation from one tomb? - Alf Wilkinson (Read article)
39 Ideas for Assemblies: Remembrance - Bev Forrest and Stuart Tiffany (Read article)
40 What your local Archive Service can offer to schools - Anna Carter (Read article)
42 TREE-mendous history! How Forest School and Nature Play can develop the learning of history - Tina Roberts (Read article)
47 The back cover image - Reconstructing the Romans - Catherine McHarg (Read article)
Regular features
Primary History magazine runs a number of great regular features including Ideas for Assemblies, One of My Favourite History Places and our Primary Pull-out Posters. You can view all editions of these features here.