Teaching History 153: The Holocaust & Other Genocides
Journal
By HA, published 17th December 2013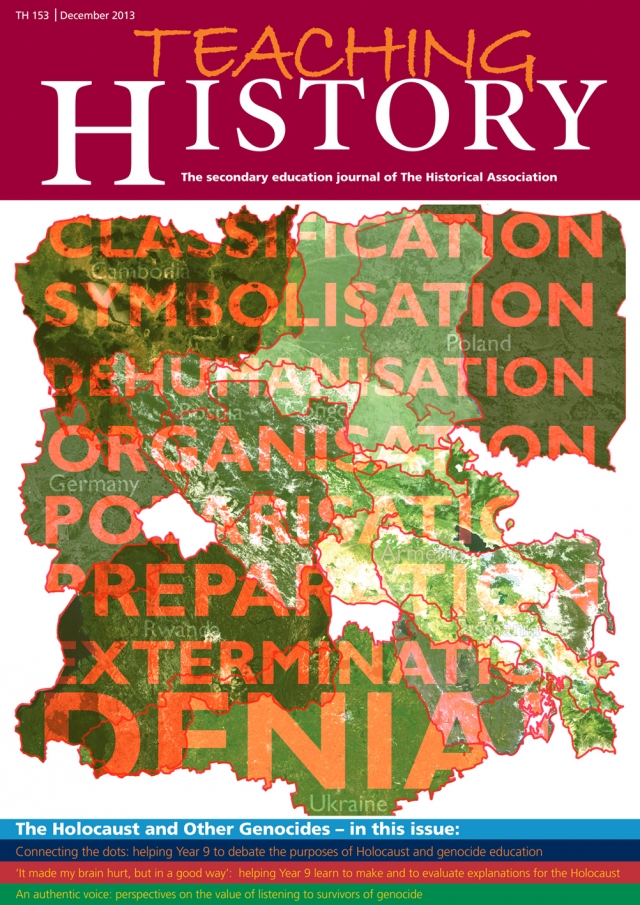 The Holocaust & Other Genocides
02 Editorial
03 HA Secondary News
04 Tamsin Leyman and Richard Harris - Connecting the dots: helping Year 9 to debate the purposes of Holocaust and genocide education
11 Darius Jackson - 'But I still don't get why the Jews': using cause and change to answer pupils' demand for an overview of antisemitism
18 Leanne Judson - 'It made my brain hurt, but in a good way': helping Year 9 learn to make and to evaluate explanations for the Holocaust
26 IOE Update - Rebecca Hale
30 Alison Stephen - Patterns of genocide: can we educate Year 9 in genocide prevention?
38 Elisabeth Kelleway, Thomas Spillane and Terry Haydn - 'Never again'? Helping Year 9 think about what happened after the Holocaust and learning lessons from genocides
45 New, Novice or Nervous?
46 Mark Gudgel - A short twenty years: meeting the challenges facing teachers who bring Rwanda into the classroom
56 James Woodcock - History, music and law: commemorative cross-curricularity
60 Polychronicon - Dan Stone
62 Andrew Preston - An authentic voice: perspectives on the value of listening to survivors of genocide
72 Move Me On
76 Mummy, mummy...