Primary History 87
The primary education journal of the Historical Association
Published: 20th February 2021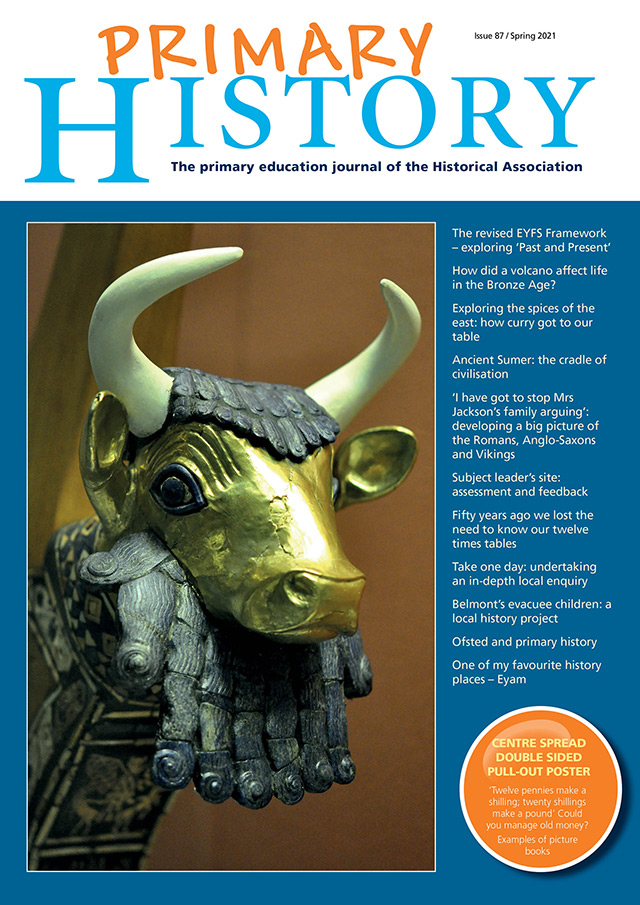 In this edition of Primary History
04 Editorial (Read article for free)
05 HA Primary News
06 HA Update
08 The revised EYFS Framework: exploring 'Past and Present' – Helen Crawford (Read article)
10 History in the news
12 How did a volcano affect life in the Bronze Age? – Alf Wilkinson (Read article)
14 Exploring the spices of the east: how curry got to our table – Karin Doull (Read article)
19 Ancient Sumer: the cradle of civilisation – Susie Townsend (Read article)
24 'I have got to stop Mrs Jackson's family arguing': developing a big picture of the Romans, Anglo-Saxons and Vikings – Carol Jackson and Darius Jackson (Read article)
28 Subject leader's site: assessment and feedback – Tim Lomas (Read article)
32 Fifty years ago we lost the need to know our twelve times tables – Karin Doull (Read article)
34 Take one day: undertaking an in-depth local enquiry – Kate Thomson and Tracey Wire (Read article)
39 Belmont's evacuee children: a local history project – George Skinner and Judith Peel (Read article)
46 Ofsted and primary history – Tim Jenner (Read article)
48 One of my favourite history places: Eyam – Penelope Harnett (Read article)
Centre spread double-sided pull-out poster:
'Twelve pennies make a shilling; twenty shillings make a pound' - Could you manage old money?
Examples of picture books

Regular features: Primary History runs a number of great regular features including Ideas for Assemblies, One of My Favourite History Places and Pull-out Posters. You can view all editions of these features here.
Cover image: Lyre of a Bull's Head from Queen Pu-Abi's tomb as displayed in the British Museum.
Contributions to

Primary History
Letters, articles and other contributions to the magazine are welcome. Find out more
Publication of a contribution in Primary History does not necessarily imply the HA's approval of the opinions expressed in it.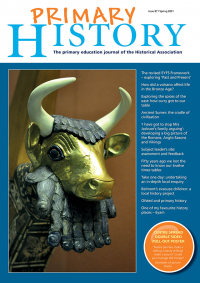 Buy a hard copy of this resource:
Non-member price: £28.00
HA Members can purchase this item for £8.00:
Sign in to pay the discounted price or Join the HA