Why was it so important to see Dunkirk as a triumph rather than a disaster in 1940?
Historian article
By Karin Doull, published 26th April 2021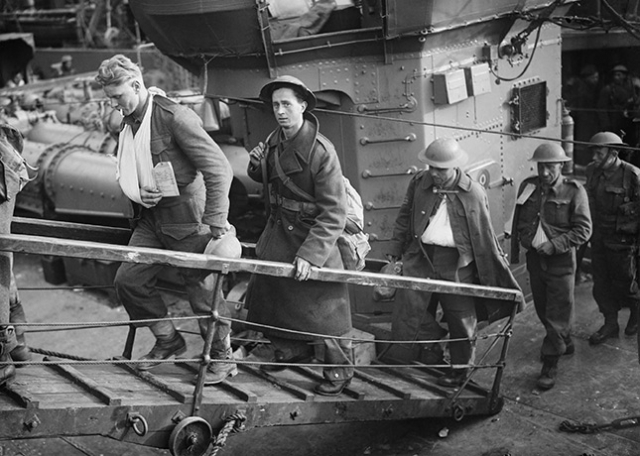 British perceptions of Dunkirk at the time
Karin Doull investigates the perceptions of the outcome of the Dunkirk evacuation within the contextual framework of the time at which it occurred.
In May 1940 the British Expeditionary Force (BEF) and a proportion of the French First Army group had withdrawn, under heavy fighting to the port of Dunkirk on the French-Belgium border. The German advance had encircled the armies and penned the troops on the beaches with their backs to the Channel. The situation was parlous. Most of the troops were exhausted and hungry, many were without their units. Equipment such as artillery and mechanised vehicles had already been abandoned. The port had only one jetty that would allow embarkation and both this and the beaches were being continually attacked by ground and air. The only prospect for the British government was to attempt a seaborne evacuation of as many troops as possible. On 28 May Churchill informed his wider cabinet that he thought that 'saving fifty thousand should be possible but he hoped to save more. A hundred thousand would be "magnificent'" (Clayton and Craig 1999:117). In the event thanks to the combined efforts of all three services, as well as civilian volunteers, 338,226 British and French troops were evacuated to Britain from 26 May to 4 June.
Without a doubt the bulk of the trained, professional British army had been saved although the majority of its stores and equipment had been lost along with thousands of men captured or killed. While Churchill himself, in his speech to the House of Commons paid tribute to the huge endeavour as 'a miracle of deliverance, achieved by valour, by perseverance, by perfect discipline, by faultless service, by resource, by skill, by unconquerable fidelity, is manifest to us all' he also famously commented that 'We must be very careful not to assign to this deliverance the attributes of victory. Wars are not won by evacuations.' (Churchill 1940)...