Primary History 90
The primary education journal of the Historical Association
Published: 25th March 2022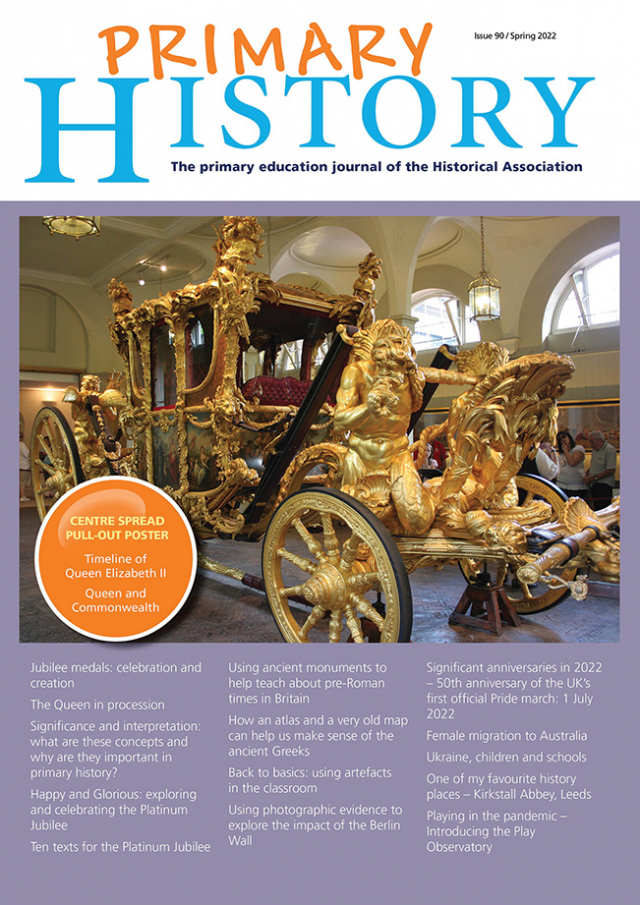 Platinum Jubilee edition
04 Editorial (Read article)
06 HA Update
10 Jubilee medals: celebration and creation – Polly Gillow (Read article)
12 The Queen in procession – Karin Doull (Read article)
15 Significance and interpretation: what are these concepts and why are they important in primary history? – Glenn Carter (Read article)
22 Happy and Glorious: exploring and celebrating the Platinum Jubilee – Kate Rigby (Read article)
26 Using ancient monuments to help teach about pre-Roman times in Britain – Tim Lomas (Read article)
35 How an atlas and a very old map can help us make sense of the ancient Greeks – Alf Wilkinson (Read article)
38 Ten texts for the Platinum Jubilee – Helen Crawford (Read article)
40 Back to basics: using artefacts in the classroom – Kate Rigby (Read article)
42 Female migration to Australia – Edward Washington (Read article)
46 Using photographic evidence to explore the impact of the Berlin Wall – Matthew Sossick (Read article)
52 Significant anniversaries in 2022: 50th anniversary of the UK's first official Pride march: 1 July 2022 – Damienne Clarke (Read article)
58 History in the news
59 Ukraine, children and schools – Anthony Barlow (Read article - open access)
60 One of my favourite history places: Kirkstall Abbey, Leeds – Ailsa Fidler (Read article)
62 Playing in the pandemic: Introducing the Play Observatory – Yinka Olusoga (Read article)
Centre spread double-sided pull-out poster: Timeline of Queen Elizabeth II; Queen and Commonwealth
Regular features: Primary History runs a number of regular features including Ideas for Assemblies, One of My Favourite History Places and Pull-out Posters. You can view all editions of these features here.
Cover image: The Gold State Coach.
Contributions to

Primary History
Letters, articles and other contributions to the magazine are welcome. Find out more
Publication of a contribution in Primary History does not necessarily imply the HA's approval of the opinions expressed in it.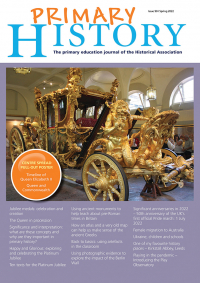 Buy a hard copy of this resource:
Non-member price: £28.00
HA Members can purchase this item for £8.00:
Sign in to pay the discounted price or Join the HA