Tyne Cot Cemetery, near Ypres, Belgium
Article
By Sarah Wright, published 30th July 2014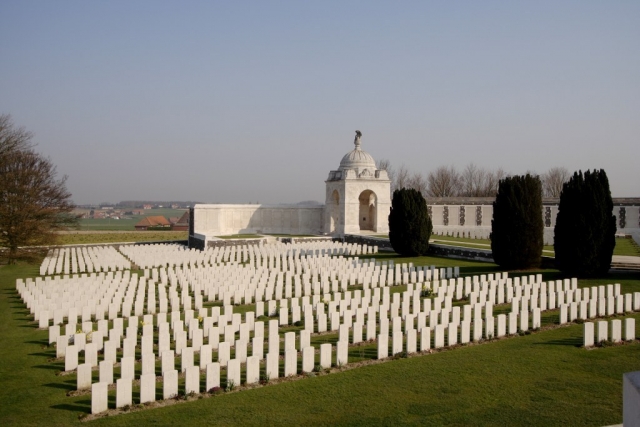 My Favourite History Place: Tyne Cot Cemetery, near Ypres, Belgium
We can truly say that the whole circuit of the Earth is girdled with the graves of our dead. In the course of my pilgrimage, I have many times asked myself whether there can be more potent advocates of peace upon the Earth through the years to come, than this massed multitude of silent witnesses to the desolation of war.
King George V, 11 May 1922
At first it must seem rather morbid to choose a cemetery as a favourite history place, but as George V recognised during his visit in 1922, Tyne Cot Cemetery is about so much more than death. I have been visiting and leading school visits to the First World War battlefields since 1997 and never once has Tyne Cot failed to both astound and move. As the sun sets over the town of Ypres and its gentle beams cast a warm glow on the thousands of white Portland headstones, I can think of few more tranquil places to visit. Yet, it is that very tranquillity that highlights the enormity of the sacrifice which this, the largest Commonwealth War cemetery in the world in terms of burials, represents. The peaceful dignity of these 'silent witnesses' cannot fail to create an impact due to the sharp contrast with the reality of the bloody fighting that took place on the same ridge during the First World War.
The town of Ypres formed the centre of a salient held by the Allies from the autumn of 1914 and it was the site of some of the bloodiest fighting on the Western Front. Tyne Cot can be found to the northeast of the town on the ridge that leads to the village of Passchendaele - the same village that gave its name to the infamous Third Battle of Ypres in 1917. Tyne Cot itself is purportedly so called because of the name given by the Northumberland Fusiliers to a barn that stood on the current cemetery site. It is commonly suggested that the shape of the barn reminded the soldiers of the cottages back at home.
The barn stood near a strategically-significant level-crossing on the Passchendaele-Broodseinde road, and it had become the centre of five or six German blockhouses. It was captured by the...