Henry V in the cinema
Article
By Richard Inverne, published 19th October 2015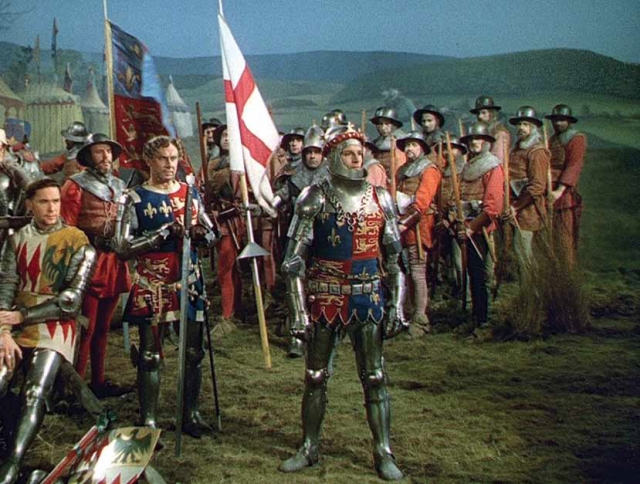 Laurence Olivier's charismatic version of history
Public attitudes to Henry V are very much influenced by William
Shakespeare's interpretation. Richard Inverne discusses how
Shakespeare's version has been translated into cinematic form by
Laurence Olivier and Kenneth Branagh.
Shakespeare indulges himself considerably with his own relatively recent history - Richards II and III, Henrys IV, V and VI, for example. Subsequently he even presents his own late Queen, Elizabeth I, as a baby in the play he co-wrote around 1613 with John Fletcher, Henry VIII. In Julius Caesar (the play which is believed to come straight after Henry V), Antony and Cleopatra and Coriolanus, there appear his dramatic yet often fanciful takes on dozens of real people from Plutarch's records of Roman history. He also happily adapts mythological or semi-historical characters, for
example: Theseus and Hippolyta in A Midsummer Night's Dream,
numerous gods and goddesses in The Tempest or Cymbeline, or some very human and uncharacteristically fallible versions of Greek and...