Primary History 86: Out now
By Paul Bracey (editor), published 30th October 2020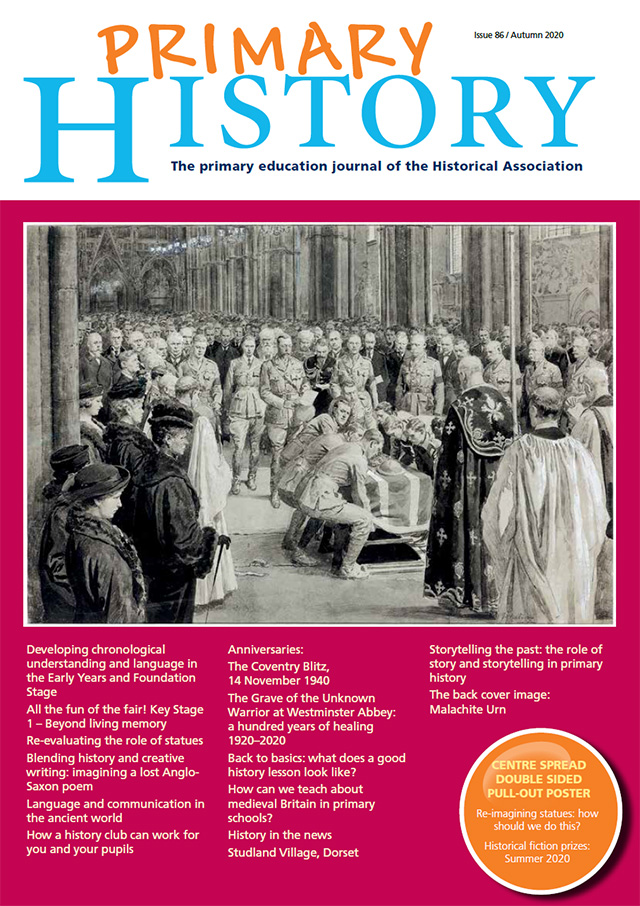 Editorial
It is tempting to focus on broad strands of history when looking at the themes and topics covered in this edition. Matthew Laban's insights into the way in which language developed in different parts of the world reflect a fundamental change in the way in which people were able to communicate with each other, which affected their lives together with the opportunty to pass on their ideas. Beth Walley and Fran Allfrey's use of Anglo-Saxon historical sources provides rich insights into that period of early English history, as well as challenging and engaging activities associated with this. Such developments are associated with positive features of civilisation but they have also been associated with conflicts, disease and slavery. Elisabeth Parker's account of the Grave of the Unknown Warrior and Paula Kitching's article related to the Coventry Blitz exemplify grim aspects of our past. At the same time, the Grave of the Unknown Warrior and responses to the bombing of Coventry Cathedral show how people have subsequently reflected upon what had taken place. Recent events associated with the Black Lives Matter movement, notably the removal of the slaver-trader Edward Colston's statue in Bristol, have led to demands for changes in the school history curriculum to address the treatment of Black history. This should relate to a broad-based understanding of our diverse past which is both inclusive and critically engaging – an issue which has been particularly evident in debates over statues in recent weeks. This provides the rationale for Stuart Boydell's article which considers how statues from different times in the past have proved controversial, and ways in which this provides an important and meaningful issue to explore in the classroom.
Although it is important to see events within a broad context it is equally important to look at the complexity of specific times in the past. Alf Wilkinson's article, 'All the fun of the fair', provides for a comparison between our experiences today and frost fairs in the past. Tim Lomas's insights in approaching the Middle Ages at Key Stage 2 provide for both a sense of period and its essential characteristics, together with opportunities to look at aspects of the period or the local context in greater depth. Similarly Matthew Sossick provides rich insights into the past through considering ways in which Studland Village reflects a range of stories spanning the last millennium.
The above articles also provide a wide range of teaching approaches. Susie Townsend provides clear and interesting insight into what constitutes a good history lesson. Alastair Daniel's article provides a clear structure for using storytelling in history and Damienne Clarke shows how chronology is embedded in a range of resources and approaches with early years children.
We are also delighted to share with you our winning historical fiction competition. We had a massive number of entries from schools this year and the standard was exceptionally high. Finally, as subject leaders we can take inspiration from Dimi Gospodinova's history club where children have identified aspects of the past to explore and have generated interest among their peers in the school.
Paul Bracey is Senior Lecturer / Curriculum Leader for History Education at the University of Northampton. He is also a member of the Primary Committee, Primary History editorial board and a HA Trustee.
Links: