Primary History 86
The primary education journal of the Historical Association
Published: 30th October 2020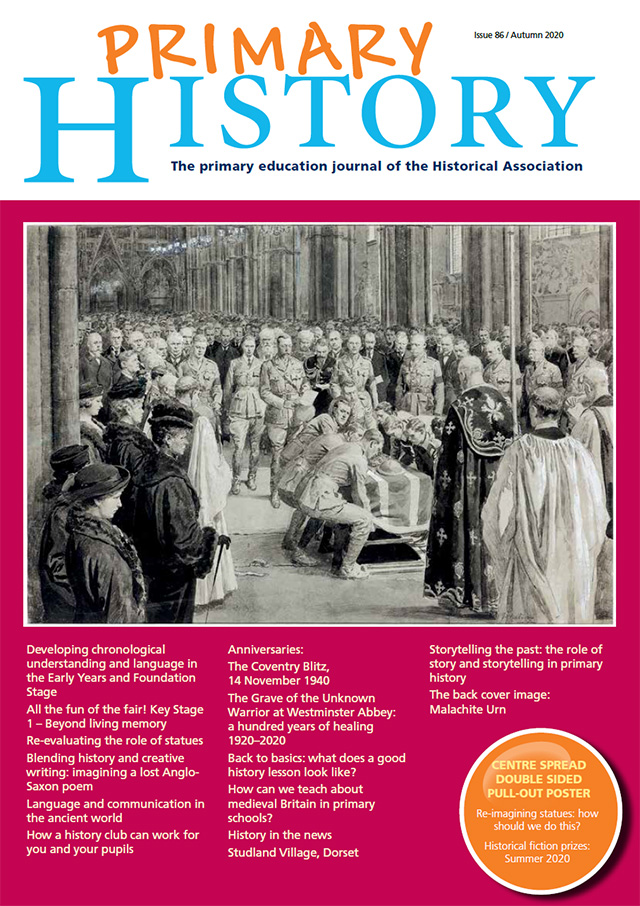 In this edition of Primary History
04 Editorial (Read article for free)
05 HA Primary News
06 HA Update
10 History in the news: George Floyd protest in Bristol: Colston statue toppled – Paul Bracey (Read article)
14 Developing chronological understanding and language in the Early Years and Foundation Stage – Damienne Clarke (Read article)
18 All the fun of the fair! Key Stage 1: Beyond living memory – Alf Wilkinson (Read article)
20 Re-evaluating the role of statues – Stuart Boydell (Read article)
24 Blending history and creative writing: imagining a lost Anglo-Saxon poem – Fran Allfrey and Beth Whalley (Read article)
32 Language and communication in the ancient world – Matthew Laban (Read article)
38 How a history club can work for you and your pupils – Dimi Gospodinova (Read article)
41 Anniversaries: The Coventry Blitz, 14 November 1940 – Paula Kitching;
The Grave of the Unknown Warrior at Westminster Abbey: a hundred years of healing 1920–2020 – Elisabeth Parker (Read articles)
46 Back to basics: what does a good history lesson look like? – Susie Townsend (Read article)
48 How can we teach about medieval Britain in primary schools? – Tim Lomas (Read article)
56 One of my favourite history places: Studland Village, Dorset – Matthew Sossick (Read article)
58 Storytelling the past: the role of story and storytelling in primary history – Alastair Daniel (Read article)
63 The back cover image: Malachite Urn – Sophie Jones (Read article)
Centre spread double-sided pull-out poster:
Re-imagining statues: how should we do this?
Historical fiction prizes: Summer 2020
Regular features: Primary History runs a number of great regular features including Ideas for Assemblies, One of My Favourite History Places and Pull-out Posters. You can view all editions of these features here.
Cover image: 'The Unknown Warrior' – the crowded nave of Westminster Abbey 11 November 1920, drawing by Fortunino Matania ©The Dean and Chapter of Westminster.
Contributions to

Primary History
Letters, articles and other contributions to the magazine are welcome. Find out more
Publication of a contribution in Primary History does not necessarily imply the HA's approval of the opinions expressed in it.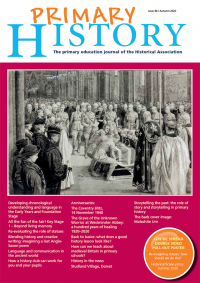 Buy a hard copy of this resource:
Non-member price: £28.00
HA Members can purchase this item for £8.00:
Sign in to pay the discounted price or Join the HA