The Great Debate 2021-22
The HA's public speaking competition for students aged 16-19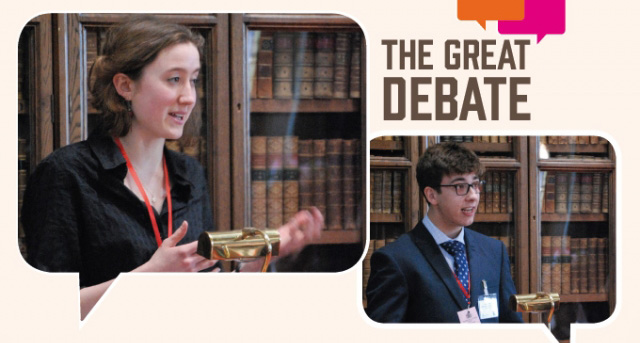 What is the Great Debate?
The Great Debate is a public speaking competition where students have five minutes to present their speech arguing their answer to the question.
2022 is Queen Elizabeth II platinum jubilee. As the Queen is our patron we have chosen to use her lengthy reign as inspiration to examine some of the ways that the world has changed in that time.
The 70-year reign of Queen Elizabeth II has seen global and widespread changes including in: societal infrastructure, industry, rural life, the environment, and ideas: Which changes of the last 70 years have affected your local area the most?
Students may want to consider topics around: different types of employment; the houses or accommodation that people live in; the technology in people's lives; the different types of communities that are in their area; food and eating choices; leisure activities; and what they think is important about the area they live in.
Research for this topic could include: newspaper archives, local archives, speaking with older relatives or people in their community; and local museums.
The Great Debate is divided into regional heats that take place across the United Kingdom and the Republic of Ireland in the autumn, culminating in a Grand Final.
Why take part?
The competition is an ideal opportunity for students to gain valuable experience in speaking to an audience and developing their debating skills, confidence and self-esteem.
The winner and runners-up of the competition will receive a cash prize, and their school will win prizes from our sponsors. All finalists will also receive free student membership of the Historical Association.
The final for this year will be taking place at Windsor Castle on Saturday 26 March 2022. It is being run in partnership with HistoryExtra.com
All documents and forms can be downloaded below.
Watch the 2020 winner for inspiration
If you have any questions take a look at our FAQ's or email greatdebate@history.org.uk
Interested in hosting a heat for the next Great Debate? Then complete this form.
Sponsored by