Firebird – winner, 14+ years category
By Elizabeth Wein
Young Quills reviews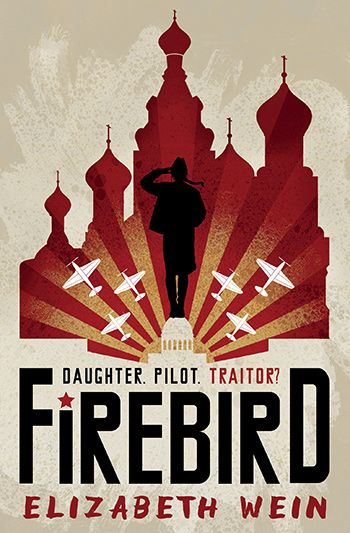 Firebird by Elizabeth Wein was the 2019 winner in the Young Quills 14+ years category.
Find out more about the winning entries here
Jamaal's review
Firebird is a book about Russia in the Second World War and girl called Nastia who wants to fight in it. An exceptional pilot, and the daughter of revolutionaries, Nastia must fight to fly alongside her male peers as her Motherland joins the Second World War. Then, when the fierce air battles begin secrets explode and threaten to send her into freefall. I think that it is great easy read with historical detail on Russia in the war. I found Nastia interesting but I didn't like the Chief because of her story. I know quite a bit about this time of history but this book gave me a better idea of what the war was like in Russia. The book has inspired me to learn more about Russia's history and I would recommend this book to others.
Raphael's review
Firebird is a great short read and has a very subtle but clever storyline that relates to the controversy of Anastasia Romanov. It follows a short portion of a young fighter pilots life through the Second World War as Hitler's armies push eastward.
The main character is masterfully illustrated as a very human and real person for the short time you know them.
The way that events happen ram home the fact of how real this war was and how the Soldiers in Russia were not just fighting each other but also the cold. This was very thought provoking. It is a very short read and if you are looking for something with great substance then it may not be right but for the short time it takes to read it is a captivating story which is well worth every second you read it.
The story has provoked many thoughtful discussions between my parents and I about Russia's part in the Second World War and its effect on the rest of the world throughout the 20th century. I would certainly recommend this read to other students as it is such a small investment for a very interesting narrative and well interweaved with interesting facts about the winter war.
Charlotte's review
Firebird by Elizabeth Wein tells the story of Nastia (short for Anastasia). She is an exceptional pilot and the daughter of revolutionaries. Nastia has to fight to fly next to her male peers in World War Two. Nastia is Russian and as the war comes to her country she puts her life at stake. Secrets are revealed and make her question everything she ever knew. Personally I really like this book.
Lola W's review
Firebird by Elizabeth Wein is full of adventure and excitement though at the same time it is historical because it is about war. The story is about a teenage Russian girl who has trained to be a pilot. She is also the leader of her rowing team. She is the only girl in the team. When they were rowing one day there was a sudden announcement that war with Germany was declared. Nastia and the boys go to sign up to fight and serve but Nastia was turned down. However, Nastia is determined to fight for her country.
Jeremy's review
I personally liked this book very much, it gave me a new perspective on World War Two. It is different to other books I have read about World War Two and I enjoyed the different perspective.
The main character is established very early on and her personality is very well written. It also allows the writer to make the events that are in the book very interesting.
The book has its very individual themes and I enjoyed its uniqueness.
I would recommend it for anyone with an interest in World War Two or anyone looking for a very different and interesting take on the war.
My favourite part was when the main character is flying around the city and is attacked. She barely survives and I think this part in particular illustrates what an individual character she is.
Joey's review
I thought that Firebird was an excellent book and it was really easy to read, I liked the plot twist at the end where the captain is the princess of Russia. I like the idea and it is a nice book to read. I also like stories about Russia, WWII and pilots so this just compiled all of them and made an excellent book.
James's review
In my opinion I think this book was more of a non-fictional story than a fictional book. This plot, throughout this novel, seemed to reveal more facts instead of telling the story. I did know about World War 2 but there were few facts that I didn't know. I probably only recommend this book if you wanted learn about Russia in the Second World War. The best part of the book was the aerial combat as there wasn't much other exciting events that occurred during this book.
Oliver's review
Due to a lack of time, I can only make this review short, rather ironically reflecting the length of the book, which is potentially Firebird's largest positive and negative. This has a perfect balance of storytelling and history, due to Wein's technique of creating completely new characters but placing them into historical truths. For example, although the rowing club mentioned at the beginning doesn't actually exist, it is like many others that did exist in 1930-40s Russia.
Overall, the plot was simple and I would have favoured more emphasis on character development, similar to Sarah's inner turmoil regarding her mother and the past in Orphan Monster Spy. However, this surely cannot be expected as the book is incredibly short at only 137 pages long and judging that, it delivers entirely on portraying the young women of Nastia, the daring pilot and daughter of revolutionaries.
In terms of history, this book discusses a relatively well-known narrative, that is WW2, but from a different viewpoint and it inspired me to conduct my own research on Russia in the war and their fighting tactics and attitudes. Therefore, if you are looking for a short read, this is a good place to begin, taking me just over an hour and a half to read.