The Skylarks' War
By Hilary McKay
Young Quills reviews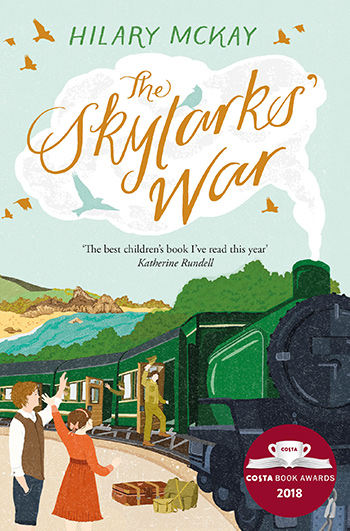 David L.'s review
The Skylarks' War is a truly wonderful book set before and during World War I. It is about a young girl named Clarry who sends letters to her most loved and only cousin Rupert who joins the army and is then sent to the front line once the Great War breaks out. The story starts when Clarry is born, although not long afterwards her mother dies, leaving poor Clarry and her older brother Peter with a father who would prefer that Clarry had never been born. As the story progresses the characters develop, each having their own personality and problems. I like that when more people are then introduced to the story they all have well-described characters and make the plot much more interesting.
On a personal level my favourite character is Peter, who feels ashamed of himself that he cannot go off and fight due to a large injury on his leg. I find him the most interesting because at the start he's very stubborn and is upset that his mother had died. But when he goes to boarding school he makes a good friend and his personality changes where he becomes happier, kinder, and more accepting towards his family. This book has given me a new interest in WWI and has inspired me to learn more about it. So I would definitely recommend this book to other students who learning about that period, or even if they aren't!
Rosie M.'s review
The Skylarks' War is my second favourite book so far after Sky Chasers. It is about a family living in the time of the great war. The main member of the family, that the story is focused around, is Clarry. She is the youngest member of their family after Peter (her brother), Rupert (her cousin) and her father. Other main characters are Simon and Vanessa, friends of Peter and Clarry.
My favourite character was Vanessa because of her individuality. She has a unique personality that was mostly consistent throughout the book. This is great because it makes it more obvious when she is not quite herself. She is so strong and cheerful when anything bad happens. The only time she is emotional is when her brother dies in the war.
I did not like Peter and Clarry's father. I don't like him because he is very distant and is not a very strong father figure, at least when peter has children, he goes by doing the opposite of his dad – making him a great father.
From the time of the [story], I learnt that soldiers were tagged so they know who they were if they died.
The plot of the story was a combination of a few attributes and the way it was written portrayed this very well. At times of sadness the story moved slow as if time [had stopped], this was prominent when Simon died. Also, in times of hope and adventure the story moves fast as something is constantly going on.
I would definitely recommend this book to other pupils because it taught me about different people's lives and thoughts during the war.
Claudia F's review
My favourite character was Clarry because she was so kind and loving. I didn't like the father because he was cold hearted. I learnt about the education at the time of the book. It was interesting because you could see the home life of citizens during the war. It was a realistic historical fiction book. The plot was gripping, heart-warming, and interesting. The connection the reader (me) made with Clarry really stood out. I loved it and would 100% recommend it.
Star rating ★★★★★
Rhea's review
I liked Clarry because she is really likeable, kind, caring, and she thought of others first. I didn't like the dad or Miss Vane because the dad is just sad/depressing and Miss Vane was just annoying. I enjoy books on the First and Second World War. It was realistic because it wasn't action-packed and it was with a lot of character's emotions. I enjoyed and would recommend this book.
Star rating ★★★★★
Grace's review
This book is about a girl named Clarry and her friends. They're living their lives until war hits them unexpectedly and everyone leaves and helps and Clarry's world starts to crumble around her – but there is still some hope.
I would recommend this book to anyone interested in learning about World War One or anyone who likes historical fiction in general. It was a great read and I really enjoyed reading this book. The writing flowed well but the plot got boring near the end. The description used was very detailed.
Briony's review
I think that The Skylarks' War by Hilary McKay is an enchanting exquisite book because of its moving story. I also love the vivid illustration on the front cover. I learnt lots about war from the detailed description. My favourite characters were Clarry and Rupert. I liked Clarry because of her quick-witted brain, kind-hearted soul, and her intrepid behaviour and because she is so thoughtful. I liked Rupert because of his optimistic thoughts and widespread smile. The character I found most interesting was Vanessa because of her sassy and courageous attitude. Finally, I would 100% recommend this book to other children and would be interested to read some other books by this wonderful author.
Elena's review
I really enjoyed this book because, unlike other books written about the war, it also focuses on each character's life before the war starts. I love how the author displays the struggles of a young girl before and during the war. I find Peter very interesting from the lengths he went to, to not have to be sent off to boarding school. I also liked when Peter wanted to go but he then found he wasn't fit enough.
Clarry was also a favourite because of all the struggles she has to go through to get a good education where she doesn't just learn sewing and baking. I find her determination inspiring after she risks her life time and time again just to learn how to swim like her older brother and her cousin. Lastly, I really enjoyed Rupert because of his kind and caring personality. After he left to war, he still continued to send letters to make sure everyone was okay and to tell them all about his adventures. I really enjoyed reading this book and I recommend it for ages 12 and up. All the characters are lovable and the book is really well-written.
Emmy's review
I have really enjoyed reading The Skylarks' War and experiencing the journey of Clarry and her brother. I have a few favourite characters from this story. Clarry is everyone's favourite character and I too have fallen in love with her. Peter is my second; I love his silly characteristic and his slight pessimistic vibe on occasion. Rupert has to be my absolute favourite as you just cannot help falling in love with this young man. He is portrayed as this idyllic teen and sees the good in almost everything.
I have enjoyed the plot but at times, it could have been more exciting. I found it had a lovely storyline and have found it enjoyable. I would definitely recommend this to others, especially if they were interested in the war era, or if they just wanted to read an amazing story. This is one of the best children's book I have read this year.
Freya B.'s review
This book was so good! I really learned a lot about the time period and what family connections with men in the war were like. My favourite characters were Clarry as she was very kind and relatable and Rupert, as you had sympathy for him and readers fell in live with his character. The storyline was intriguing and you just wanted to read on! I would definitely recommend this book to 10+ readers.
Isabella's review
I really enjoyed this book, in particular the character build-up and how being a soldier in the war wasn't the main theme (unlike most war books). I really enjoyed the fact that you got to hear the other side of a story heard and read many times. I think that this story had quite an uneventful plot line but things like relatable characters and intriguing, mysterious settings.
My one problem with this book was that there wasn't a sequel all about Clarry and her friends.