The Pieces of Ourselves
By Maggie Harcourt (Usborne Publishing Ltd)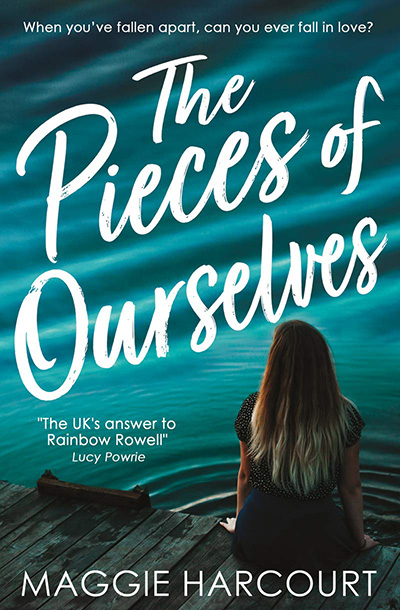 Eva's review
I love this book!! It is beautifully written and is so interesting! I love how fluent and how much everything just works so well! The way the book doesn't tie up every loose end is mysterious but just so perfect. And the end, well the end is pretty amazing because you get really upset as there are only a few chapters left and there is no happy ending yet and it seems like everything has gone wrong but then no! It's so cool how everything falls into place over the last chapter.
5 out of 5 stars.
Isabel's review
The main character Flora is instantly likeable, her honest and open insight with her mental health which is usually avoided, makes her vulnerable but invokes an understanding. I think it's important that mental health can be portrayed in a positive outlook like this. Flora reveals her struggles with bipolar 2 and how the mania really affects her life, she doesn't know what could trigger her yet she still continues to be independent and doesn't let herself be rescued.

A character I did not take kindly to was Hal's father Eddie, he was small minded along with harsh to those around him including his own father, he treated Hal like his research was child's play and thought Hal should be reinstated to the family company expected to straighten out.

The character development throughout the story really makes it unique. Charlie, Flora's brother is perfectly heart-warming, from a young age he had to look after her and as she grew he showed his support throughout Floras journey. The LGBTQ+ representation in Charlies' relationship was welcoming and wasn't in any way 'stereotypical' which was a refreshing addition.

This love story is much more than a cliche girl meets boy story, Harcourt gets you invested with the unravelling parallels of Flora and Hal they both encourage each other's passionate nature. The way you see Hal supporting Flora to finding a new part of herself is comforting meanwhile she ultimately falls for him.

After the amusing encounter they can never seem to part. The pair get assigned to help each other and the next day they search high and low for the secrets of Iris and Albie a mere maid and a WW1 soldier hoping to find the real history while also dreading it to end. Hal and Flora brought their ancestors soul back to life not letting this anecdote be forgotten. Hal's pursue for Pa's answers is endearing as well as the way Flora got strung in to put each piece together like a puzzle, it becomes especially rewarding.

Without realising, the both of them seem to get attached.
Maybe it was fate. Maybe it was luck.
The past and present play out alongside in their favour, soon finding that a complete love story similar to theirs was amidst. It made everything that much more affectionate.
Dylon's review
I loved the character Flora because she was really interesting. I learned that the First World War lasted a long time and that many had diaries. The plot did make me think and I liked that it was set in WWI. The second chapter was a little boring, but I would recommend this to others that like WWI. The book could have been improved with a little more suspense.
Martha's review
The Pieces of Ourselves is a great book. I really enjoyed reading it, it has historical information but it is subtly slid in so you don't even realise you're learning. There was a very interesting plot that was easy to follow yet gripping.
The main character, Flora, has an 'incident' during her GCSEs which leads to her dropping out of school. She finds a job in a hotel which constitutes as an apprenticeship which means she doesn't have to do A-levels. Hal, the male lead, stays in the hotel so he can research a WW1 soldier who's story his grandfather always used to tell him. Flora lives with her older brother Charlie and his partner Felix and her best friend, Mira, also works at the hotel. One morning, Hal almost runs Flora over, and she soon discovers he's one of the guests at the hotel. Hal soon requires Flora's help with his research project. As they discover the story of the old WW1 soldier, Flora starts to catch feelings. But can Hal accept her past? And is Hal keeping secrets of his own?
Charlie became Flora's legal guardian after the incident and with his partner's, Felix's, help he supports Flora through her mental struggles. Flora's best friend, Mira, is very supportive and wants to go away to university to study fashion but doesn't want to leave Flora. Hal's father is emotionally abusive and plays an important role later on in the story to prove that Hal doesn't like his life. Hal is researching the soldier for his grandfather 'Pa'.
There were a lot of positives about The Pieces of Ourselves, for example, the book covers some difficult topics really well. It is very tactfully written and doesn't make a massive song and dance about it, instead slipping it in as though its normal because it is normal. The topics covered include mental health problems and abusive parents. The plot is interesting, and you don't feel as if the story isn't going anywhere. There are a couple of storylines that run all the way through, and they are regularly "updated" so you don't forget key details. However, in my opinion, the ending felt very rushed. It seemed to me that the author didn't spend enough time elongating the ending and giving it a natural timeline and the result was a lot of plot being forced into a short amount of time. Additionally, the plot twist at the end seemed rather random and there was barely any foreshadowing or lead up whatsoever. I also think that Hal's father isn't included enough. I think that if they elongated his part and emphasised the role he played in Hal's life it would have been much more impactful.
Jim's review
To begin, I was sceptical about starting the book, it lay on my cluttered desk for well over a week before I even looked at it. Even then, I only read a page and put it down straight after. (This is a positive review I promise!). Then followed the easter holidays of 2021, which I concluded would be an excellent time to speed through the book and get it finished. After a slow start which introduced me to the main character, Flora, and her unlikely accomplice Hal, the story swiftly quickened in pace, establishing a clear setting and overall theme. Hal and Flora were both excellently described and their actions plausible. They first encountered each other while Flora is having a panic attack in the middle of a busy road. Hal calms her down, but Flora is a little hostile towards him. Trust is a common theme throughout 'The Pieces of Ourselves' as it delves into the mind of a teenage girl suffering from Bipolar II. She finds it difficult to differ from her close family and friends, Mira (a fellow housekeeper), Charlie (her brother) and Felix (Charlie's boyfriend). Other than that, Flora seldom has contact with others. The fantastic representation of Flora and how Bipolar II affects her allows the reader to sensitively feel like how it would be to 'try her shoes', giving vivid imaginations. The novel is written in the first person which further allows this to be effective. Out of all the characters in the story, Flora is definitely the most prominent, partially because of how the story revolves around her, but also because she is part of the story. This moves on to the historical aspect of the novel, which sees young avid-historian Hal endeavour to explore a story that his grandfather told him about Iris and Albie. These WW1 era figures are representative of the modern-day Flora and Hal, with both pairs being love interests, and in turn related through long family connections. The story slightly lacks historical usage, being set almost completely in the 21st century, with a few flashbacks and letters reviving the 1910s. However, this was not entirely disappointing since the lack of historical features was more than made up by the complex storyline of the present day. Being a history fan myself, it was eye-opening to see how many connections there are from today back to the first and second world wars. Furthermore, the historical setting allowed for a storyline which could span many decades. This was evident through the use of old manor houses which had survived the wars. These allowed the characters to link between the past and the present in a spectacular way which facilitated the importance to remember history, since it is still with us today. The plot was also fairly exciting, with the mystery of Flora's exam incident quickly implied, but the changing in her and Hal's relationship was the main focus (rightly) of the story. Although it did not resonate with me, the affects of Bipolar II and how Flora overcomes this are sure to inspire many people who may have that condition. I would definitely recommend 'The Pieces Of Ourselves' to any keen reader, because the book can be read in one go, or spread out over a few days like I read it. Finally, although it is a bit of a 'love story', the messages behind it are actually quite inspirational.
Mischa's review
I found Flora the most interesting character because although she has her own differences and her condition she kept that aside and kept going with the case with Hal showing perseverance. She went with a smile on her face considering her self-consciousness and as a reader I saw different parts of her as a character.
In my opinion none of the characters were least attractive because they all had a part to play and without each of these characters the book would be like a puzzle with a lost piece.
I realised that the maids and the hierarchy weren't all dominant but the opposite and cared for one another but in a secretive way which really surprised me.
I did not know much about this period before reading this book but I think that the fact that it was set in the modern day century but repeatedly kept on being referred to the past really captured my attention the most because it showed the reactions to the past from a modern day viewer. It was also that we got to see the past and how far they went to see what really happened gripped me because there was more to the original story that was told.
The plot of the book was engrossing and exciting and always left me on the edge of my seat. It was a mixture of all – it informed you on historical fiction in a way full mystery and thriller. Some chapters leaving you smiling in awe and some leaving you gasping. You never know what to expect.
The book inspired me in my pursuit of history in general as I am interested in the past times to see what really happened and dig deeper and I would definitely recommend this book to other students – it is so interesting and every aspect has a questionable side to it urging the readers to read on.