Agincourt 600
2016 Teacher Fellowship Programme
By Maheema Chanrai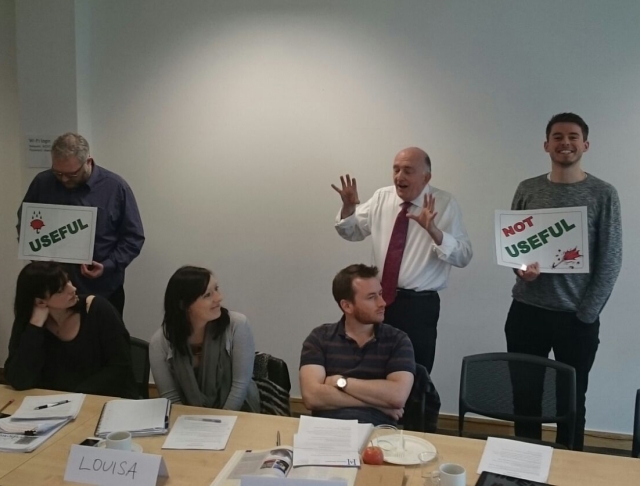 The inaugural Teacher Fellowship Programme was launched through funding provided by Agincourt 600 with the aim of providing rigorous, subject knowledge-focused professional development for teachers. It was led by Ian Dawson with a focus on the fifteenth century and late Middle Ages.
The programme began with a two-day residential in January with input from historians Anne Curry, Michael Hicks and Dan Spencer. The teachers then took part in an eight-week online course, followed by a one-day resources and approaches workshop in April. The teachers from this programme are in the process of applying their learning from the course to develop a selection of resources about the later Middle Ages for use by other teachers.
The following teachers were selected to participate in the 2016 Teacher Fellowship Programme:
Emma Chester – Astley Community High School, Northumberland
Gavin Sheffield – The Sixth Form College Farnborough, Hampshire
Helen Snelson – The Mount School, York
Jack Savage – St Bede's Catholic School & Sixth Form, Co. Durham
Jane Pearson – Beaumont School, St Albans
Jonathan Cripps – Callington Community College, Cornwall
Kirstie Murray – Saffron Walden County High School, Essex
Louisa Dunn – Westcliff High School for Girls, Essex
Mike Tyler – Danelaw Centre for Living History, York
Natalie Richardson – English Martyrs Catholic School & Sixth Form, Hartlepool
Nik Caldwell – Polesworth School, Warwickshire
Rachel Brown – Woodroffe School, Dorset
Robert Orr – Tudor Grange Academy, Solihull
Tim Frankland – William de Ferrers School, Essex
You can download outlines of the course content from the residential and online unit below.