A-level Topic Guide: the Stuarts, the Civil War and the Restoration
James VI and I to Anne
Published: 17th December 2020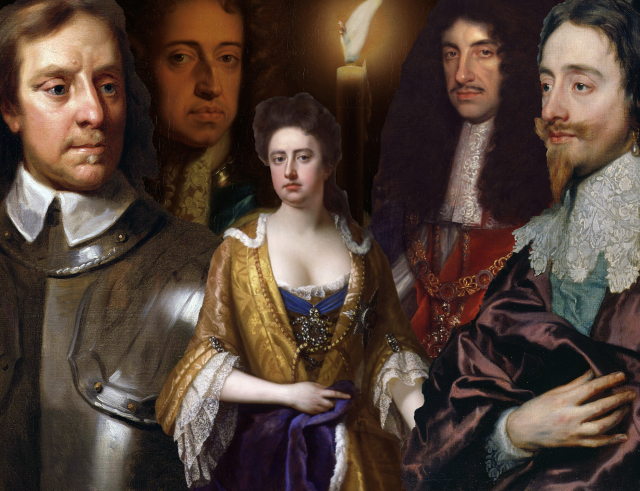 The 17th century covering the Stuarts, the English Civil War and the Restoration among other things is a popular area of study at A-level across the examination boards. Whichever board you are studying with and whatever the focus of your study unit on this period of history, the resources in this unit will support you as you develop your subject knowledge, write essays and revise.
Monarchs and their Parliaments to 1629
Introduction
The Union of the Crowns
The Early Stuart Parliaments
King James's Book of Sports, 1617
1629–49: division, dissent and revolution
Introduction
The Road to the First English Civil War
The Personal Rule of Charles I, 1629-40
Why did the Civil War break out in 1642?
Why did the Royalists lose the first Civil War?
Religion and Politics 1559–1642
The Irish Confederate War
The Failure of Negotiated Settlement
The Levellers
England, Scotland, Ireland and Wales
King Charles I
The Trial of Charles I
The Local Community and The Great Rebellion
The Thirty Years War
English Puritanism
London and the English Civil War
Why did People Choose Sides in the English Civil War?
1649–60: Cromwell and the Protectorate/Interregnum
Introduction
Oliver Cromwell
The Commonwealth and the Protectorate
Was the Protectorate a Military Dictatorship?
'Cromwell's trunks'
Penruddock's Rising 1655
Oliver Cromwell 1658-1958
The 1650s
1660–1702: Restoration to constitutional monarchy
Introduction
Charles II
King Charles II
How close was England to Absolutism 1660-88?
James II, William III and the Glorious Revolution of 1688
Parliament and Constitutional Change 1660-1702
The Restoration in Ireland
Intellectual and Scientific Revolution in Britain
Limited Monarchy in Great Britain in the Eighteenth Century
Ireland under the reigns of James II and William III
An English Absolutism?
James, Duke of Monmouth
Religion and Party in Late Stuart England
1702–40: the Act of Union
Introduction
Life, Reputation and Legacy of Queen Anne
Queen Anne
Jacobitism
The Jacobite Rebellion
The Scottish Dream of Darien
The British Empire
Introduction
The Origins of the British Empire
Early British America
The Mayflower voyage and the English settlement of North America
Families and the English Atlantic Empire, 1550-1650
Native North Americans in Britain
South Asian British History
The British Empire in India
African and Caribbean British History - The Stuart Period
The Trans-Atlantic Slave Trade
Reading & Revision
Revision Quiz
Mind Maps
Timeline
Past Exam Papers
Reading List