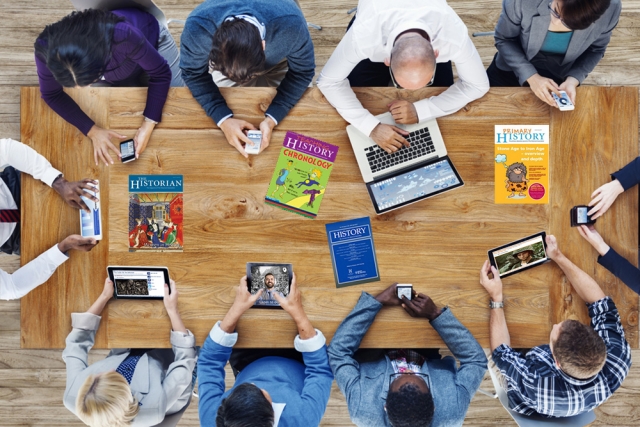 Our work
We bring together people who share an interest in, and love for the past and to further the study and teaching and enjoyment of history in all guises and forms: professional, public and popular.
Our research investigates the state of history education and allows us to talk to government and policy-makers with an authoritative voice.
As a subject body we represent our members' views through consultations.
The work we do in supporting history in schools and supporting history teachers allows us to help hundreds of thousands of young people get great history teaching.
Our world-leading and practice-led publications reach staff in over 4000 UK schools and in many school and university libraries worldwide.
Our peer-reviewed academic journal History is available in 4,000 international research libraries.
Our digital presence allows us to talk to over 24,000 historians, history teachers and history devotees every month.
The HA: the Voice for History
Our aims
Our overarching priority is to advance the study and learning of history at all levels. We believe history should be available and accessible to everyone and we work hard to support this aim. We are discussing and shaping our Strategic Plan for 2017 to 2020 and will publish this in the late autumn of 2016. Our previous plan was ambitious and much of the work will be ongoing.
Our print publications
We currently have four main publications:
Primary History, a termly magazine full of wonderful ideas and practical activities to support history teaching across the primary school years
Teaching History is the world's leading publication devoted to teaching history from ages 11 – 19. The journal is both intellectually rigorous and deeply practical. History teaching globally has been influenced by much of the thinking and doing of history reflected in the journal's pages.
The Historian is our quarterly house magazine and we aim to entertain and educate with articles ranging from short, regular features to meaty but accessible articles of a huge variety of historical themes, times and issues.
History co-published with Wiley, is a peer-reviewed and highly respected academic journal available in over 4000 research libraries worldwide.
Our digital publications
At the last count our website had well over half a million pages and continues to grow. Through our website you can find access to all our print publishing and to our back list of historical publications stretching back into the early years of the twentieth century. More recent additions include our growing library of audible histories, our book reviews, days out, student support and our many practical classroom resources for teachers.
The idea of a medal for outstanding contributions to history originated late in 1983 with a proposal from Professor Donald Read, then President of the HA. The trustees of the Association decided the medal should be named in recognition of Professor William Norton Medlicott, an outstanding historian and distinguished past-President of the HA.
Individual members of the Association and local branches are invited to nominate potential recipients and the final decision is made by the Executive Committee of the HA. The Award seeks to recognise individuals from a diversity of backgrounds in their service to history. Past recipients of the Medal are all distinguished and outstanding individuals in their fields whether it be scholarship in the sense of original research, publication through specialist writing and lecturing, popularisation of history through writing, TV or radio or through their teaching.
Our first Fellowships were awarded in 2006 to mark our centenary year and since then the Fellowships have grown to include:
Jubilee Fellows – to recognise those individuals who have supported the work of the HA through membership for more than fifty years
Honorary Fellows – nominated by branches and members these are awarded to a small number of individuals each year to recognise their outstanding support for the HA and for history
Teacher Fellows – to recognise those in the teaching profession who have undertaken one of our rigorous and specialist CPD programmes
Ordinary Fellows – open to all members of the HA on application if they meet the criteria
The Young Quills Historical Fiction competition is held annually, in part to recognise good historical fiction writing, and in part to encourage youngsters to develop a love of history and a feel for the period they are studying. The Young Quills is, we think, unique in that it is the readers - young people - who decide the shortlist.
One of the strengths of writing historical fiction is that historical knowledge can be learnt at any age and in `many different ways, from real life testimony to fictional accounts. One of its weaknesses is that myths and untruths about historical events or people can be become just as accepted as real facts. That is why authors who write historical fiction and do it well should be acknowledged and promoted. If those authors also help capture the imagination of young audiences, making the past real and accessible they and their work should be celebrated.
For the past ten years we have been running a public speaking competition for 15-19 year olds called the Great Debate. In 2018 students from across the country have been considering the question Was the 1918 extension of the franchise the most significant moment in British democratic history?
In 2015 the topic was What does Magna Carta mean to me? We were delighted to receive an invitation for Charlotte Mallon, the winner from Upton Hall School to repeat her speech on librety and the suffragettes at Parliament on International Women's Day in 2016. In 2017 Hannah Boyle from Benton Park School gave an impassioned speech on How did the First World War affect me and my community? with an intelligent insight on the development of medicine.
All our finalists can be found here. If you or your school would like to get involved email enquiries@history.org.uk
Write your own historical fiction
This competition is aimed at pupils age 10 – 14 with two categories; one for younger students and one for secondary school students.
One of the key attributes of historical fiction is that it has a convincing setting in a past time and place. Students can set their stories in ANY period or place in the past, so the story can fit in with and extend any historical topic you may be studying. Fiction offers an insight into historical periods and detail and enhances our understanding of the past. Writing convincing historical fiction is a challenge and a great way to explore how much your students know and understand about the period they are studying.
We have been running the Young Historian Awards for almost thirty years. The overarching aim of the Awards is to celebrate excellence. With experienced teachers on the judging panel the context and age-range of students is taken into account. Over the years the awards have been modified and modernised to take into account changing educational needs and to try to ensure entry is as simple as possible.
One major strand of the YHA is sponsored by the Spirit of Normandy Trust [link]. Awards in this category are given to work that explores any aspect of British involvement in the Second World War. This does not include work on Hitler or studies of the Holocaust. In recent years various theatres of ward have been featured included work on Norway and Burma. The commonality is the British involvement.