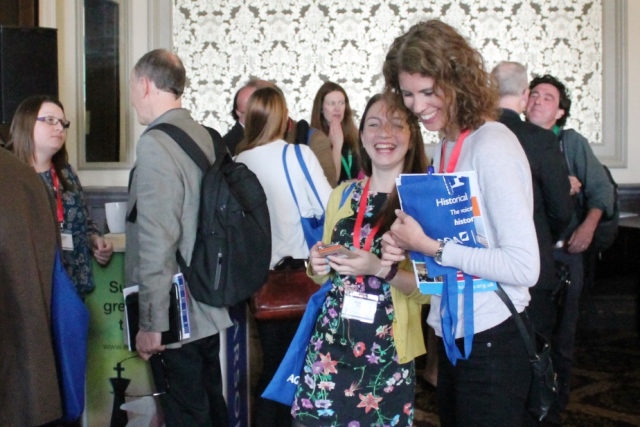 The Historical Association is the UK's voice for history
There are many ways you can support our work to bring history to all:
We are a registered charity incorporated by Royal Charter (charity no. 1120261). We support the teaching, learning and enjoyment of history at all levels and bring together people who share an interest in and love for the past.
We inspire, enable and encourage people to get involved with history, whether in the classroom, at college, in the library or at home. We passionately believe the study of history should be accessible to all people at all levels of study.
Our latest annual report and accounts, regulations and strategy documents are all available to download at the bottom of the page.
Our people
As a membership charity our people make us who we are, from our small team in our Kennington Office to our many volunteers who run our branches, to our knowledgeable history teachers who advise on national education policies, to our academic historians who provide us with access to research and the latest ideas in historical thought and to our many members and associates.
Our governance
We are overseen by a Governing Council made up of trustees who are directly elected by the membership. The Council has overall responsibility for the HA, for its future and its well-being. As trustees, members of the Council ensure the charity runs in accordance with the law and our charitable objectives.
Council meet twice a year to consider the strategy and policy of the organisation, and is assisted by an Executive Committee which meet quarterly. The day-to-day management of the charity is delegated to the Chief Executive Officer.
The HA's current strategy is available to download at the bottom of this page.
See our Trustees and Board Members
Our committees
Committees and working groups are set up from time to time by the Council to oversee important parts of the association's work. The HA relies on its committees to help drive strategic direction and create resources to support members. Currently these are:
Our Fellows
Our first Fellowships were awarded in 2006 to mark our centenary year and since then the Fellowships have grown to include:
Jubilee Fellows

– to recognise those individuals who have supported the work of the HA through membership for more than fifty years
Honorary Fellows

– nominated by branches and members these are awarded to a small number of individuals each year to recognise their outstanding support for the HA and for history
Teacher Fellows

– to recognise those in the teaching profession who have undertaken one of our rigorous and specialist CPD programmes
Ordinary Fellows

– open to all members of the HA on application if they meet the criteria.
The HA's history
We were founded in 1906 by a small group of history teachers and academic historians to support the growing need for good history resources in schools. Within just a few years the HA acquired a further aim, to further the study and investigation of history for all.