Primary History 79: Out now
HA journal news
By Polly Tucknott, published 16th July 2018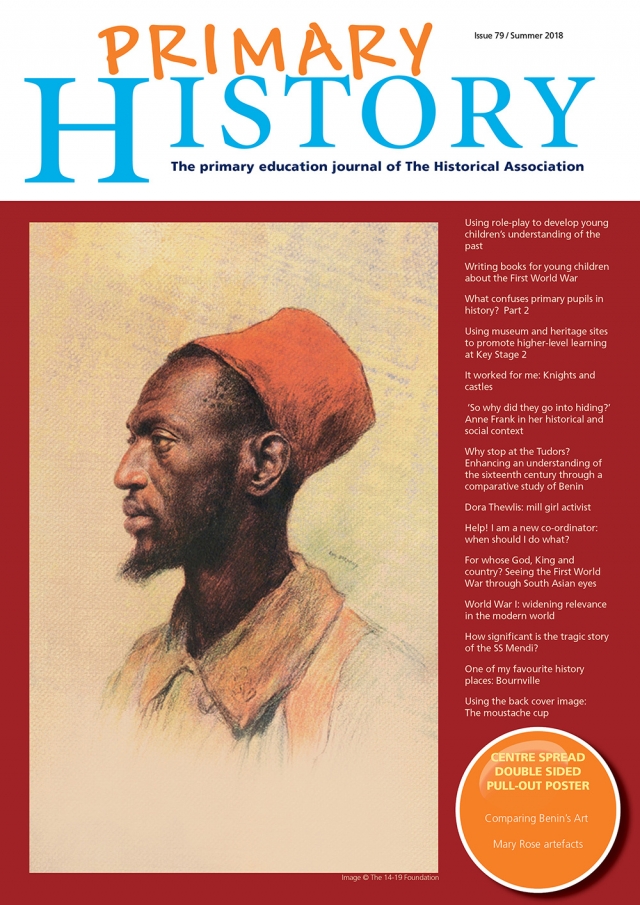 Access Primary History 79 (Free to HA Primary members)
As the academic year draws to a close I find myself reflecting on the trials and tribulations, successes and regrets of the past 12 months. This is now the end of my third year at this school and it has felt like my second. I'm sure everyone knows what a second year feels like: the relief of already having been through a full cycle, realising that much of the foundational hard work is already done and no longer being surprised by the strange and novel things that your school does. I recall an awkward moment in a staff meeting in my first year here when, after two terms full of anagrammed examinations, PIEs, PIMs and goodness knows what, it was announced that it would be CAP day next week. I raised my hand and queried what this would mean for my teaching. There was a pause filled with blank stares before the head explained it was going to be sunny next week so the pupils should wear caps in the playground…
So a second year is a welcome relief and much of my second year here was spent overhauling and revamping the history syllabus and writing new schemes of work. I did the whole school in one go and it was intense. This year has been heaven in comparison, as the planning has been so much easier and the opportunity to improve rather than create has been wonderful. Co-ordinating a subject is a big job, and Tim Lomas's advice for new (and old) co-ordinators is hugely accessible, clear and valuable. Some of the fruits of my labour in teaching a new perspective using the Tudors to introduce the Kingdom of Benin are recorded in my article. I encourage anyone who is teaching a new topic and reflecting on the process to contact the editorial board of Primary History with the aim of sharing your experiences in print.
As we draw towards next term's commemoration of the end of World War I, we are reminded of suitable fiction books by Hilary Robinson and the role of British Empire soldiers by Andrew Wrenn. Opening the study, and by extension, commemoration, of World War I to be more multicultural and inclusive has been both fascinating and easier than expected, thanks to the opportunity to work with The 14-19 Foundation. A sample lesson is reviewed and resources are available online on the HA website, for download. This, and our 'Knights and Castles' piece by Sarah Woods, showcase the value, and ease, of reflecting on a lesson, project or unit and writing about your experience for an 'it worked for me' article in a future edition of Primary History; we look forward to publishing more of your highlights. Karin Doull picks up the Vote100 anniversary and sheds light on a surprisingly young activist in her article on Dora Thewlis, the 'baby suffragette', and Mary Kinoulty shares the benefits of museum visits with a specific focus on the revamped, and honestly glorious, Mary Rose Museum. World War II is also ripe for commemoration, and Anne Frank is revisited by Darius Jackson, leaving me itching to teach her story yet again.
History on our doorstep always appeals, and resonates, with our pupils; Kerry Somers takes an event with a key local relevance to her area and offers a fascinating and creative approach to local history in Hampshire through a project studying the sinking of the SS Mendi off the Isle of Wight. The framework used to teach significance is of great relevance when we consider how to connect emotive events with our pupils. Further to the north, Paul Bracey also takes us on a tour of his favourite history place, Bournville, Birmingham. The concluding part of Tim Lomas's article on bringing clarity and banishing confusion for our primary pupils offers a wealth of advice and activities; you are sure to find something that will work for you.
So, approaching the summer break, we have for you an ideas-packed edition, full of suggestions, techniques and, even better, the time off school to think about bringing it in next September; good luck to all!
Polly Tucknott is Head of History at Lanesborough School, Guildford, Surrey, with experience in teaching from Key Stage 1-5.
Links: