CARGO Classroom: digital resources for diverse histories
Visionary leaders of African and African Diaspora descent
Published: 17th March 2021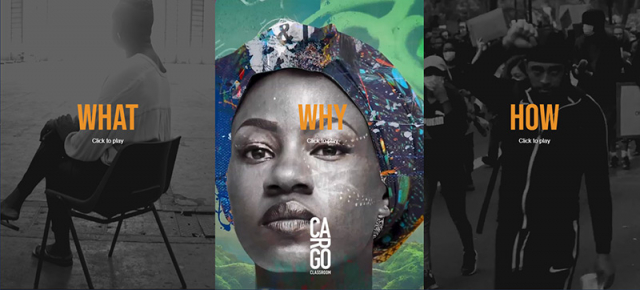 Revolutionaries: first package of 4 lessons
To address the urgent need for digital learning resources, and to address the imbalance of perspectives in the History curriculum, CARGO Classroom is now providing multimedia learning tools for Key Stage 3 History via a freely accessible, interactive website: cargomovement.org/classroom
"CARGO is about doing. We talk a lot. We talk about what we want to do, how are we going to do it, but we don't do, and I love, I love doers."
- Olivette Otele, Professor of the History of Slavery at Bristol University
CARGO Classroom resources are inspired by the CARGO collection of poetry by Lawrence Hoo, which traces a timeline across seven centuries, and celebrates the resilience and visionary leadership of individuals of African or African Diaspora descent who catalysed change and moved society forward.
Every lesson examines a pivotal event in global history from the perspectives of those inspiring individuals.
The first CARGO Classroom package of four lessons is REVOLUTIONARIES, each including a complete set of tools for:
Nanny of the Maroons, leader of slavery resistance in Jamaica (1686–1733)
Sam Sharpe, organiser of The Christmas Uprising in Jamaica (1804

–

1832)
Paul Bogle, leader of the rebellion of enslaved people in Jamaica (1820

–

1865)
Dutty Boukman, spiritual leader and instigator of the Haitian uprising (Died 1791)
"These people have actually lived on this earth and gone through these things and poetry really shows the emotion they're feeling and it helps us feel emotions back… it will stick in your brain and you'll remember it more"
- KS3 pupil following a CARGO Classroom lesson, at Chew Valley School, Bristol
Fully Accessible
CARGO Classroom resources are now available with no sign-in or registration required. They are also completely free.
All lessons include:
Teachers notes, including guidance for how the lesson can support the curriculum
A multimedia powerpoint lesson, including text for close reading and other tasks, historical sources, artwork and filmed poetry performances.
Worksheets for completing the tasks, which can be done electronically or with print-outs.
A collaboration between creatives and teachers
CARGO Classroom is the initiative of CARGO Movement Ltd, an independent creative collective based in Bristol, UK. It is the product of a multidisciplinary collaboration between CARGO and a team of experienced teachers, assembled with the guidance of the School of Education at the University of Bristol.
CARGO Background
Led by poet Lawrence Hoo and film maker and creative director Charles Golding, CARGO Movement is a creative collective developing digital heritage resources for schools and the broader public. These include films, interactive public art and the CARGO Classroom education tools. Its founders have long been dedicated to broadening Britain's understanding of its History in relation to the Transatlantic Slave Trade and its living legacy, which continues to shape the lives of Bristolians today. CARGO's work evocatively puts forward those missing narratives from our past and inspires the public to visualise a future full of pride and possibility.
CARGO Board
Prof Olivette Otele - Professor of History of Slavery, University of Bristol
Laura Marshall - Managing Director, Icon Films Bristol
Marti Burgess - Chair, Black South West Network
Clare Reddington - CEO of Watershed, Bristol
Esther Deans MBE - Chair of the Race Equality in Education Group
Contact
CARGO Project Manager Alison Hargreaves
alison@cargomovement.org