Report on the HA tour to Belgium October 2017
Published 17th November 2017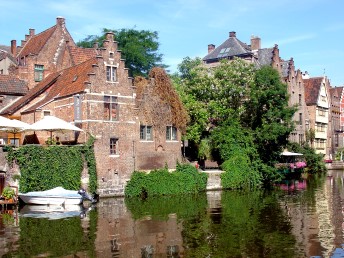 At a very early hour on the morning of 10 October, 28 hardy souls gathered near Victoria Station to join our seventh biennial HA tour. Soon we were on our way to the Channel Tunnel and our first destination of Ghent, where we were able to admire Van Eyck's magnificent Adoration of the Mystic Lamb. The following three nights were spent at the comfortable Park Inn at Leuven, whose delights – particularly the St Pieterskerk – we were shown by the first of a number of highly-competent guides. The afternoon was spent at the site of the Battle of Waterloo, including the nearby Hougoumont Farm.
The next day took us to Antwerp, where a walking tour covered the sixteenth-century town hall on the Grote Markt, and the Cathedral of Our Lady and its impressive collection of Rubens paintings. In the afternoon we enjoyed a tour of the Rubens House and a visit to the nearby Plantin-Moretus Museum, a shrine to a former printing establishment.
Leaving Leuven we headed into French-speaking Belgium (la Wallonie) for a walking tour of Liège centred on the Curtius Museum, the Church of Saint-Barthélemy and its splendid early medieval font and the cathedral and its fine Treasury. Liège was to be our base for the final three nights at the Ramada Plaza Hotel, well-placed for visits to Spa, the Gileppe Dam, the impressive Chateau de Veves and the city of Namur. Leaving Liège regretfully for the return journey via the Channel Tunnel, we stopped for a delicious lunch and a guided tour at the Chateau de Beloeil, seat of the Princes de Ligne.
We returned to Victoria slightly exhausted after a whistle-stop tour of Belgium's principal attractions – with the obvious exception of Brussels. Thanks are due to our most professional driver Bruce Munro from Scotland and Bates, to Charles Linfield for his meticulous handling of the necessary finances and paperwork and above all to the staff at Heritage Group Travel in Bath whose arrangements were faultless.
Edward Towne, Tour Leader.