Podcast: Defacing the Past or Resisting Oppression?
Medlicott Lecture 2018
By Professor Justin Champion, published 18th June 2020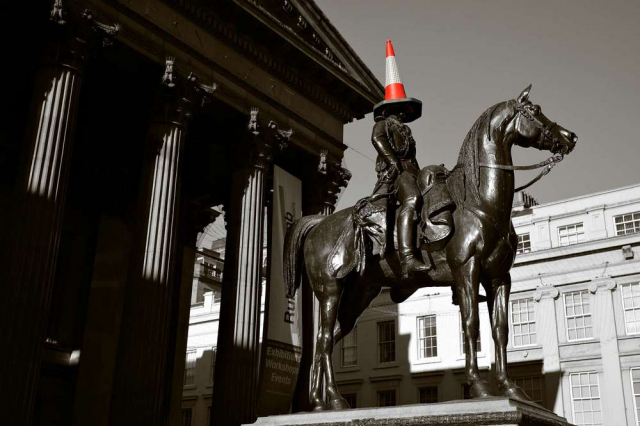 As is customary the Medlicott Medal recipient gives the guest talk for the evening. Justin Champion gave a fascinating talk on 'Defacing the Past or Resisting Oppression?' about the actions in recent years and months of removing or altering statues and public art depicting controversial historical figures and deeds. He expertly took the audience on a tour of statues that have been defaced to ones that have been updated, all to explore what the past and its physical representations can mean to current societies.
This lecture took place at the HA Awards Evening 28 June 2018 at Foyles Bookstore on the Charing Cross Road and featured a lecture given by Justin Champion looking at the politics of statues.
The 2018 Medlicott Medal went to Justin Champion. Justin served three years as President of the Association and it was an absolute joy to work with him. However, the Medlicott Medal is not awarded for services to the HA but for services to history. The criteria are very clear on this point.
The Medlicott Award is named after a distinguished past HA president, Professor W.N. Medlicott. Nominations are made by individual members of the Association, branch officers and members of council for the Executive to decide at their 2018 autumn meeting. This is not a matter of election; nominees are reviewed against the criteria. The criteria state that 'it is important to choose recipients whose distinction is already apparent and can be made readily apparent to the general public as well as to members of the Association.'
Justin Champion very clearly fell into this category. Justin was a keen and energetic advocate for public history and for wide public access to history throughout his career. His many TV and radio appearances have ensured his voice and work is known beyond the confines of academia. A regular on Melvyn Bragg's In Our Time, Justin made seventeenth-century political ideas and thought more accessible to many more people.
Defacing the past or resisting oppression? - 2018 Medlicott Medal acceptance speech by Justin Champion
Links: