James of St George and the Castles of the Welsh Wars
Book review
By Malcolm Hislop; reviewed by Trevor James, published 22nd September 2020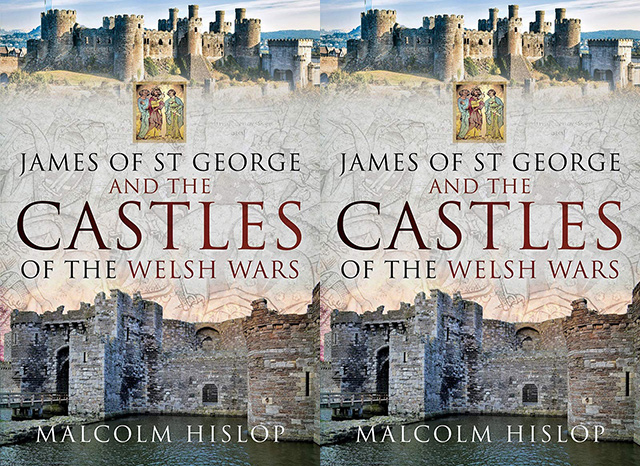 James of St George and the Castles of the Welsh Wars, Malcolm Hislop, Pen and Sword, 2020, 302p, £25-00. ISBN 9781526741301
The title of Malcom Hislop's book tends to understate the extent of what he manages to embrace in this important volume.
The role of James of St George in the construction of a number of North Wales castles, such as Harlech, Beaumaris, Caernarvon and Conway, is amply covered. In particular he emphasises the research of A. J. Taylor into the nature of the expertise and design capability that James of St George brought with him from the Savoy region. In particular he identifies architectural characteristics which occur in Welsh castles, such as the wide use of latrine turrets and specifically segmental-headed two-light windows in the great gatehouse at Harlech, which have their origin in the Savoyard region in which he had worked for many years before being recruited to Edward I's service. This is an important testimony to the role of this famous castle-builder.
Whilst it is important as an examination of James of St George's contribution in Wales, there are also important sections on castle provision elsewhere in Wales and also in Scotland, where, in fact, James of St George finished his service with Edward I.
This is extraordinarily well-illustrated with many good quality photographs and very clear ground plans. These make this book an ideal reference source and also a very useful aide memoire for the inveterate castle visitor.