Come Wind, Come Weather: Storm: Tempest and Other Natural Phenomena within Local Sources
Book review
By Trevor James; reviewed by Roger Ward, published 14th June 2021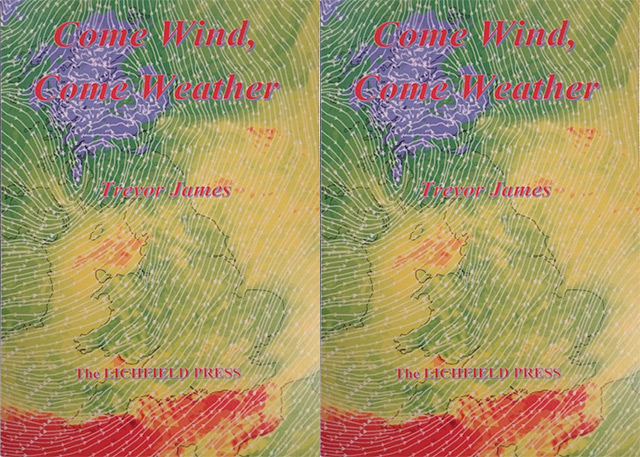 Come Wind, Come Weather: Storm: Tempest and Other Natural Phenomena within Local Sources, Trevor James, Lichfield Press, 2021, 116p. £10-00. ISBN 978-0-905985-62-6
What a pleasure it is to review a book by that arch-reviewer, Dr Trevor James. This book follows closely on his previous one, England's Saintly Landscapes, and confirms his status as an outstanding local historian and topographer. His title, a quotation from John Bunyan; his subject, weather in all its most destructive and landscape-shifting moods, potentially devastating especially, though not exclusively, to pre-industrial societies.
In this, as in his previous publication, he handles a wide range of sources analytically and with easy mastery, whether the writings of well-known chroniclers such as John Evelyn, Daniel Defoe, Dr Robert Plot, Celia Fiennes but also less well-known accounts by such sources as church wardens' reports and parish records. Among the most striking of numerous accounts from which he quotes are an anonymous description of the devastating tornado that raged across Derbyshire in 1545 and of the Great Snow of Youlgreave in 1615. Although most at home in the Midlands, Trevor ranges far and wide across the country, seeking out weather phenomena of many kinds. Storm and tempest, fire and foe (the French filling this particular bill at one point), any natural disaster is grist to his mill.
I found him to be particularly strong in the use of architectural evidence drawn from church buildings, as one might expect from his previous work. he draws a rough distinction between the pre-scientific age, when individual events tended to be given supernatural explanation, and the scientific age. He dates the change to around 1800 when systematic recording and the search for patterns was underway. Daniel Defoe found himself in trouble with the Church in 1703 for satirising 'devilish' explanations but, by the turn of the century, James Losh was taking readings from outside his kitchen window and recording them in his diary from 1802 to 1833, becoming therefore an early pioneer of scientific method applied to weather.
In the latter pages Trevor cannot resist returning to his native Croydon, to which his great-great grandfather moved in 1851 and where he began his own researches, to smuggle in references to that wonder of the age, the Crystal Palace, the world's greatest greenhouse which defied doubters to resist all wind and weather.