Film: find out more about Corporate Primary Membership
Supporting high quality history
Published: 15th October 2021
Join as a corporate member and enjoy history support for your whole school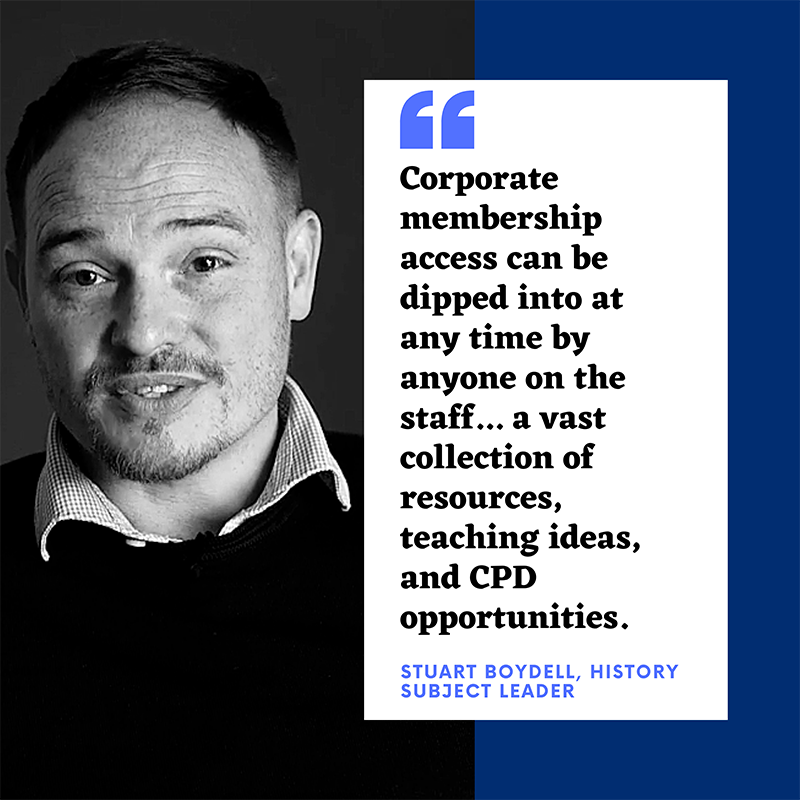 Watch the film above for an overview of corporate membership benefits.
Corporate membership supports quality history provision across your school. It's the ideal option if you'd like multiple staff to benefit from resources and CPD, while enjoying enhanced benefits such as subject leader guides and selected free webinar recordings for just £74.
Enjoy all the benefits of individual membership PLUS:
Online resource access for up to twelve members of staff at your school

Free and heavily discounted CPD for up to twelve members of staff

Exclusive access to our subject leader guides

A free recording of a paid CPD webinar of your choice per year

Eligibility for the HA Quality Mark - a CPD framework for success
With corporate school membership you gain a wealth of resources and CPD to enhance staff development, career progression and strategies for supporting your curriculum, whilst demonstrating the importance of subject-specific expertise across your school.

Corporate membership is designed for schools and is issued on a per school basis. If you are part of a Multi-Academy Trust or federation of schools, and would like corporate membership for more than one school in your Trust or federation, please contact us with details to discuss bespoke discounted packages available.
If you're not based in a school but would be interested in primary membership for your organisation, please call our membership line on 0300 100 0223 to discuss available options.
Sign Up

Corporate Primary Membership