Constructing women's past and gender perspective
Article
By Gulcin Dilek, published 22nd March 2013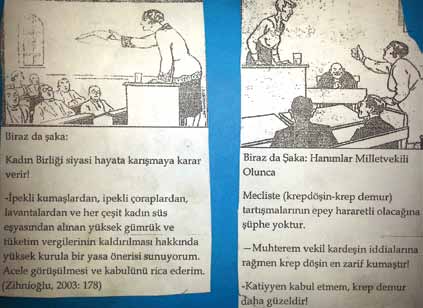 Case Study 8: Constructing women's past and gender perspective in history teaching through creative activities
Pupils as Journalists
Background of the Study
Historiography has expanded to include all social groups and identities in the community. The social historiographical approach became extremely important in the 20th century (Cooper, 2007, pp. 41-2). In parallel with social historiography and related second wave feminism, women began to write their own history, historiographically building their own collective memory and making use of the gender perspective.
These academic historiographical developments have enabled women's history and gender perspectives to take a place in social studies/ history teaching. According to Bourdillon (1996, p.72), 'inclusion of women's history is an excellent aid to facilitating pupils' understanding since it raises questions as to the nature of history and historical interpretation'.
Pupils' creative approaches to constructing women's past
Below I focus on how 6th graders (11-12 years olds) used creative approaches to construct women's pasts from gender perspectives. My aim was that pupils would apply historical imagination..."