Scheme of Work: Maya
Primary Scheme of Work
By Dr Diane Davies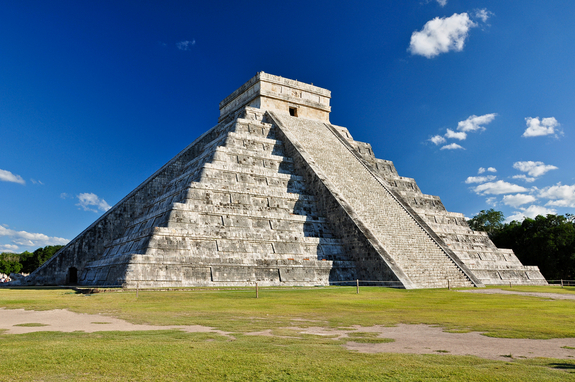 Why should we study the Maya?
In this unit pupils will learn about the remarkable achievements of the ancient Maya. Through these activities pupils will learn about the Maya perspective of time, the calendar system, writing, maths and the environment. In doing so they should see the stark contrast between their own history and that of the Maya.
Aside from learning about Maya culture, the unit will encourage pupils to move away from the tendency in applying one's own cultural values in judging the behaviour and beliefs of people raised in other cultures. Instead, pupils will be aware of the different (though not inferior) ways of doing things and the complexity of human life. This scheme of work was written by Dr Diane Davies (Maya Archaeologist)
The unit is structured around the following questions:
Where and when did the Maya live?
What was Maya writing like?
How did the Maya tell the time?
What numbers did the Maya use in Maths?
Did the Maya play football like us?
How do we know about the Maya?



Please note: The majority of the HA schemes of work were produced between 2014-2019 by members of the HA primary committee and its affiliates. While the units contain resource suggestions, they are not all fully resourced schemes of work, and the resources they refer to may in some cases only be available to full members of the HA. They are designed to support your planning and should be moulded and adapted to fit the context and needs of your own school. To view a free sample scheme of work, please refer to our Anglo-Saxons unit.
We regularly check the hyperlinks included in the schemes but unfortunately every now and again some links may go out of date. If you spot a broken link, please let us know on enquiries@history.org.uk.