Teaching History 179: Out now
The HA's journal for secondary history teachers
By Katharine Burn, Rachel Foster, Christine Counsell, Tony McConnell (Editors), published 3rd July 2020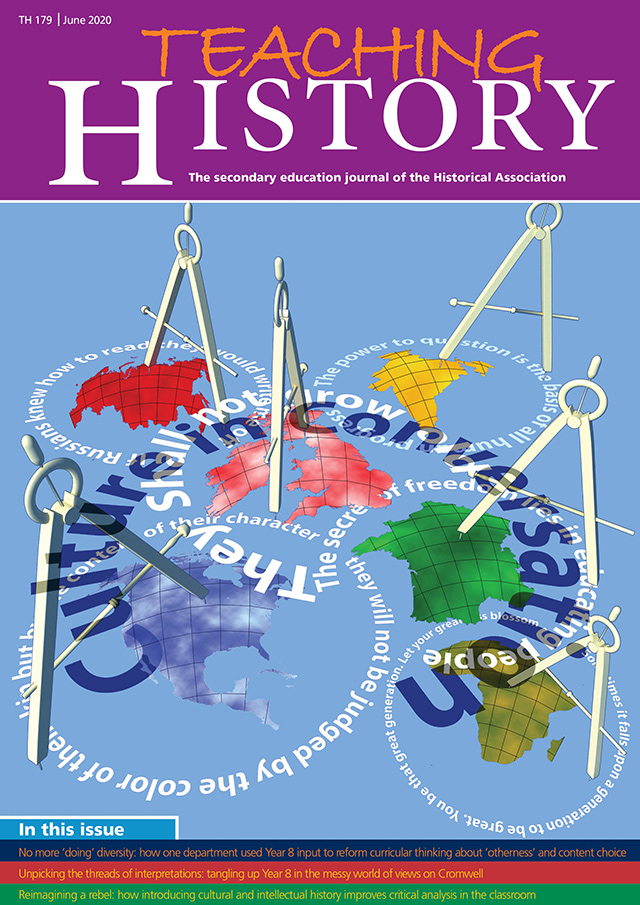 Editorial: Culture in Conversation
At our January editorial meeting, we cheerfully read all the proposals and articles that had been sent in, and, as usual, worked out ways to cluster them into themes that could shape each edition. Sitting in the HA's London offices, watching the June edition shape up, little did we know that a microscopic virus, on the other side of the world, was already working the harm that would see the educational landscape transformed beyond all recognition, well before June arrived.
Since then, teachers everywhere have engaged in a huge task of adaptation, adjusting to teaching online, inhabiting virtual worlds of Zoom and Teams, teaching key worker children in schools, preparing endless resources, monitoring vulnerable pupils' welfare remotely, dealing with the uncertainty of an ever-changing picture and organising the fiendishly complex challenge of a partial return to school. Everyone has had to work out where to compromise and where nothing less than unstinting thoroughness will do.
Amid these vast challenges, it would have been easy for the small matter of history teaching and history curricula to fall by the wayside. Remarkably, this appears not to have happened. If anything, when it comes to curriculum, our virtual worlds have seen an inspirational surge of creativity and dynamism, a generosity of sharing and a welcoming of robust debate. Moreover, as we began the final editorial stages of this edition, this energy was intensified by renewed calls, arising from the Black Lives Matter movement, to ask harder questions about the adequacy of our teaching about diverse cultures, about British colonialism and about effects of all power differentials, immediate and historic, not only within the past but within memorialising and within the discipline of history itself. History teachers everywhere, including those who hitherto considered their world content broad, their British content diverse and their treatment of Britain's imperial past thorough, are asking, what else can we do? How should we challenge ourselves here? What else should we be reading? What kind of support and training should teachers receive in addressing disturbing questions about racialisation in the past, and about distortions and silences in accounts of it?
Amid all this, what has been heart-warming has been the kindness and generosity of new and experienced history teachers alike. History teachers have shared resources, supplied feedback to one another's curricula, used virtual conferences to discuss their planning and, we're delighted to see, sent in more and more articles to Teaching History. Please keep writing! With your help, we hope to provide, in future editions, further support and challenge for teachers on curricular questions concerning race and ethnicity, culture and power, and especially on colonialism which, most worryingly, is still poorly taught in some schools' history curricula.
Meanwhile, to return to this edition, we begin with the story, told by Catherine Priggs, of one department that started wondering how their existing curriculum was shaping their pupils' overall historical perspective and how pupils of diverse ethnicity were seeing themselves in it. Armed with new knowledge of African history, Priggs and her colleagues included their own Year 8 pupils in that curriculum conversation. After some intensive teaching of African history, pupils were invited to critique their own Year 7 experience of history and to make suggestions for future curriculum reform.
Alex Benger sets up a different kind of curriculum critique. For Benger, the work of cultural historians has been underplayed in school history and its introduction leads him to question the conventional canon of second-order concepts. The approaches of cultural historians can be used to lead pupils through enquiries designed to uncover perspectives held in the past, not dissimilar to the goals for empathy that were first articulated in the 1970s. Steven Driver too, uses cultural history, together with intellectual history, in order to challenge his students' 'myopia'. Driver's work also invites consideration of how Central American history might be taught at all Key Stages.
In Polychronicon, Lauren Working sets out some challenges that face historians working to incorporate lost voices within histories of migration and empire. Her account invites teachers to think about ways in which stories of early colonialism need to be integrated with studies of Tudors and Stuarts. Summarising work such as the TIDE project (Travel, Transculturality, and Identity in England 1550–1700), she reminds us how global, cross-cultural exchange informed ideas of Englishness and how the language of empire developed through literature, legal debates, policy, the arts and material culture.
Dan Keates' conversation with culture took him to interpretations of the past in general and Oliver Cromwell in particular. After a searching account of his department's struggles to get pupils to analyse interpretation as a process of construction, he sets out a new plan for tackling three very different types of interpretation, going beyond scholarship into popular culture so that pupils can examine how, where and why silences occur, and why some types of account are written as invitations to question, and others are not.
Our last two articles both address processes of argument, with the cultivation of students' own conversations at the centre. In a collaboration between teachers Carina Ancell and Alan Kunna, and university historians Chris Dillon and Toby Green, the Harkness method of supporting students in seminar style discussion is closely examined. These authors explain how they developed students' own claim-making during their work on American Civil War and pre-colonial Africa. Finally, Matthew Duncan provides a detailed account of how, through trial and error, he learned to integrate the history education community's traditions of teaching causal reasoning with principles arising from the UCL Centre for Holocaust Education research.
We hope you enjoy, as much as we have, engaging with these history teachers' conversations with culture. Keep writing. Keep up the conversation.