Teaching History 144: History for All
Journal
By HA, published 14th September 2011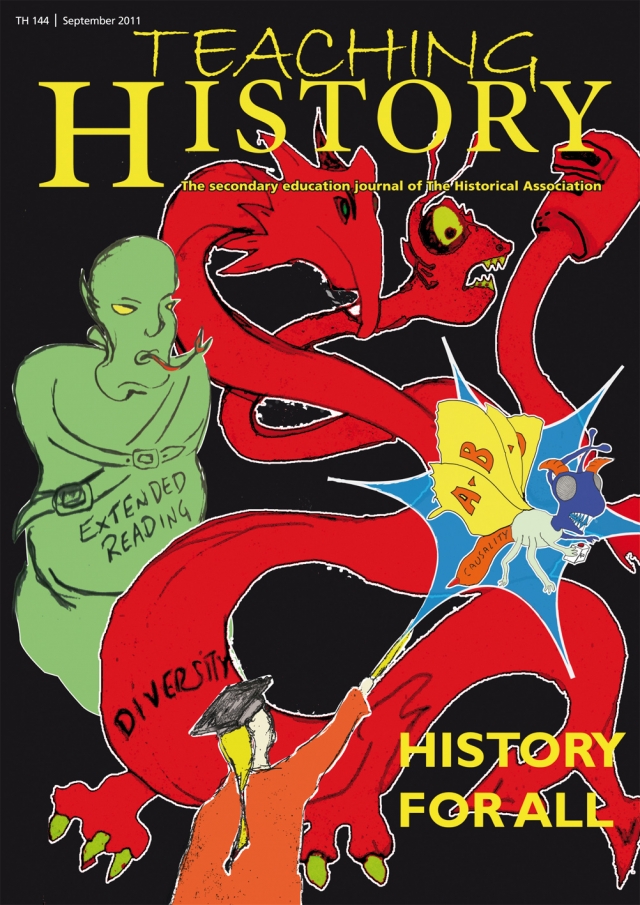 History for All
02 Editorial
03 HA Secondary News
04 Paula Worth - Which women were executed for witchcraft? And which pupils cared? Low-attaining Year 8 use fiction to tackle three demons: extended reading, diversity and causation.
16 Yosanne Vella - The gradual transformation of historical situations: understanding 'change and continuity' through colours and timelines.
24 Lucy Whittington - Truimphs Show
26 Joanne Philpott and Daniel Guiney - Exploring diversity at GCSE: making a World War I battlefields visit meaningful to all students
34 Polychronicon - Roger Spalding
36 Dr Jane Facey - "A is for Assessment"... Strategies for A-Level marking to motivate and enable students of all abilities to progress.
44 Kate Hammond - Pupil-led historical enquiry: what might this actually be?
51 Robin Conway - Owning their learning: using 'Assessment for Learning' to help students assume responsibility for planning, (some) teaching and evaluation.
58 Cunning Plan - Ben Twitchin
60 Move Me On
64 Mummy, mummy...