Teaching History 159: Underneath the essay
Journal
HA, last updated: 16th June 2015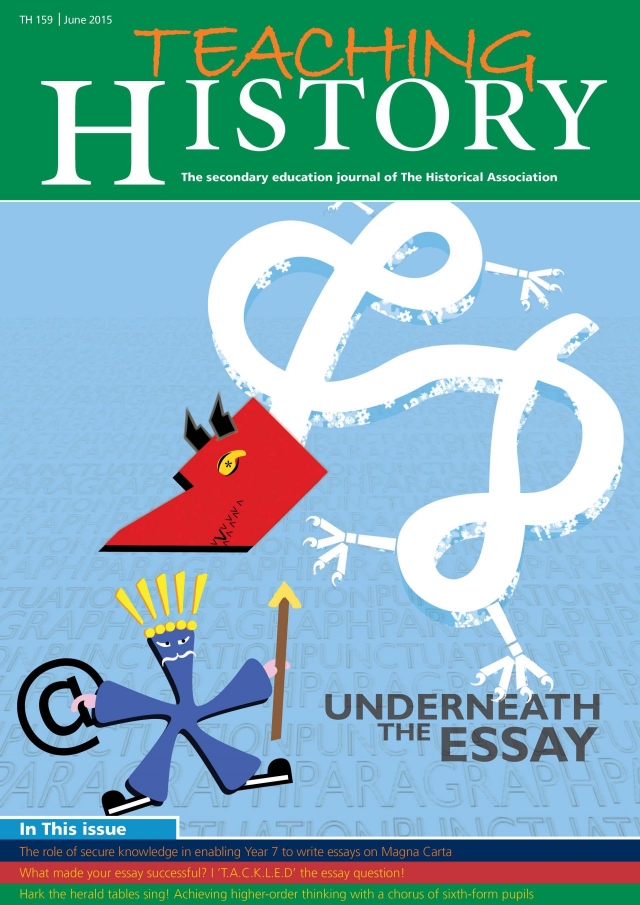 Underneath the essay
02 Editorial
03 Secondary News
04 HA Update
08 Rachel Foster - Pipes's punctuation and making complex historical claims: how the direct teaching of punctuation can improve students' historical thinking and written argument
14 Triumphs Show - Kirstie Murray
16 New, Novice or Nervous? 3 decades of essay writing
18 Mark King - The role of secure knowledge in enabling Year 7 to write essays on Magna Carta
25 Cunning Plan 1 - Ian Dawson on Magna Carta
29 Sarah Black - Engaging Year 9 students in party politics: exploring the changing nature of political campaigning in Victorian Britain
36 Tze Kwang Teo - What made your essay successful? I 'T.A.C.K.L.E.D' the essay question!
44 Cunning Plan 2 Damian Hayes on Magna Carta
46 Polychronicon - Justin Champion on Magna Carta
50 Simon Orth, Daniel Lacey and Neil Smith - Hark the herald tables sing! Achieving higher-order thinking with a chorus of sixth-form pupils
60 Move Me On
64 Mummy, mummy...
Regular features
Teaching History includes a number of regular features for history teachers including New, Novice or Nervous?, Polychronicon, Cunning Plan and Move Me On. You can access past editions of these here.