Write Your Own Historical Fiction Competition 2022
The Historical Association Historical Fiction Prize and the Joan Blyth Memorial Prize
Published: 8th December 2021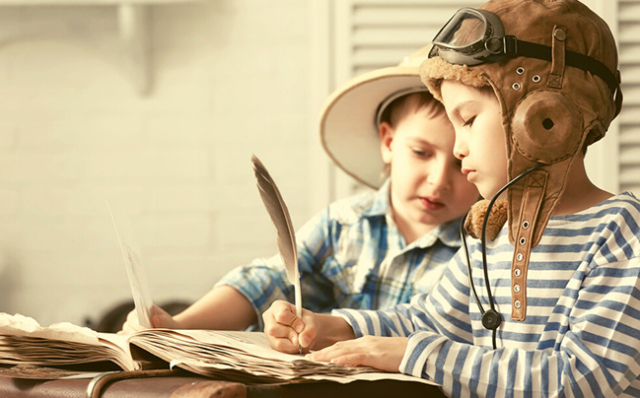 Get your pupils to bring the past to life
Please note: the 2022 competition is now closed for entries. Prize winners will be notified in writing in September/October 2022 and the winning stories will be published on the HA website.
Our historical fiction competition continues to go from strength to strength and each year we are so impressed by the ever increasing number and standard of entries we receive around such a wide range of historical periods and settings. You can take a look at some of our past entries here:
One of the key attributes of historical fiction is that it has a convincing setting in a past time and place. Pupils can set their stories in ANY* period or place in the past, so the story can fit in with and extend any historical topic you may be studying. Winning students will each receive a cash prize of £25 and an engraved Bath Aqua Blue glass paperweight or bookmark (or equivalent). Schools will receive a year's FREE subscription to the HA.
*While we encourage and accept stories from a wide variety of periods and settings, we recognise that some periods and topics carry sensitivities that do not lend themselves easily to fictionalised accounts.
Across Years 5 and 6 there will be two prizes for the best individual story.

Across Years 7, 8 and 9 there will be three prizes for the best individual story. Individual stories indicate a story written by an individual student who is part of a whole class or year group who are all writing historical stories.

Across Years 10, 11, 12 and 13 there will be three prizes for best individual story.

There is also a prize for the best fictional historical character in a convincing historical setting. Three prizes will be on offer here across all year groups.
What are the judges looking for?
Stories in each category are shortlisted by panels of student readers where possible. The shortlist is then judged by our primary and secondary expert panels. Judges are looking for:
Historical accuracy – even down to the choice of names characters are given and any props additional to the historical setting
A riveting read with a good plot!
A convincing story - i.e. is it plausible that these events and/or this character could have existed at the time?
Use of historical knowledge to feed the plot, context and character
Effective use of historical vocabulary and literary conventions, including where dialogue is included in the story
Creative and interesting perspectives of story-telling. In the past we have received an entry telling the story of a siege from the perspective of the castle!
We recommend a minimum story length of 400 words and this year for the first time we have decided to include a maximum word legth of 3500 words. We regret that entries that go over this word limit may not be considered.
Entries must be received by midnight on Monday 13 June 2022.
Please note*: During the pandemic, entries from individuals were permitted. For the 2022 competition normal rules will resume and we will no longer accept entries from individuals. Only entries sent in from schools following the terms and conditions below will be accepted. Regrettably we can no longer accept postal entries and all entries must now be submitted electronically using the editable entry form below. Please ensure that all fields are completed and that completed forms and entries are sent together as one document via email to olivia.dent@history.org.uk
If you are looking for inspiration, don't forget to take a look at some of the books listed in our Young Quills historical fiction award. You can find past entries here. You can also view our webinar recording on historical fiction with author Tony Bradman, whose book Anglo Saxon Boy (Walker Books) won the Young Quills award in 2018 in the 'ages 7-9 years' category.
Entry Rules
Entries are free.
Entry is open to all pupils in Years 5-13 in the academic year 2021/22.
Entries must be submitted by a teacher on behalf of a school or college as part of a whole class or school activity. The teacher should operate an internal school or class competition and then submit up to a maximum of the 5 best entries for consideration by our judges. A maximum of 5 entries per institution will be allowed.
Entries may be word-processed or handwritten, but must be legible. If handwritten, entries must be scanned in order to complete the electronic entry process.
Each entry must be accompanied by a completed electronic entry form and submitted as ONE document.
The story may be illustrated.
We regret that we will be unable to return entries or respond to individual queries concerning the progress of entries. Please keep an eye on the website for information on winners.
Each entry must have been fully completed with all required information on the electronic entry form supplied along with the entry (see point 5). Failure to complete all sections may result in the entry being discounted. We also require an entry form for each individual entry and regret that we cannot accept one entry form covering all entries from a single school.
Each entry must be submitted by an individual pupil. We regret that we cannot accept group entries.
Entries must be received by 12pm (midnight) on 13 June 2022 and all queries should be addressed to Olivia Dent on olivia.dent@history.org.uk
The results of the competition will be posted on the Historical Association website: www.history.org.uk
Prize winners will be notified in writing in September/October 2022 and will receive their prizes by post. If the entrant is leaving the school at the end of the academic year, please also supply a parental/carer contact so that we may get in touch about their award. Part of the award is a year's free HA membership for the school. In the case that the entrant has left the school, the HA membership will go to the school they attended when they entered the competition and the individual prize will be forwarded to the entrant by the HA.
All entries must adhere to the lower word limit of 400 words and the upper word limit of 3500 words.
Prizes for winners will consist of either a deluxe bookmark or a blue bath glass paperweight plus £25 and HA membership for the school. Winning entries may be published on the HA website and journals in their entirety, in part or as edited versions. Runners up will receive an HA goody bag. All winners and runners up will receive a certificate. We reserve the right to substitute prizes for equivalents where it is necessary.