Beasts of Olympus: Beast Keeper
By Lucy Coats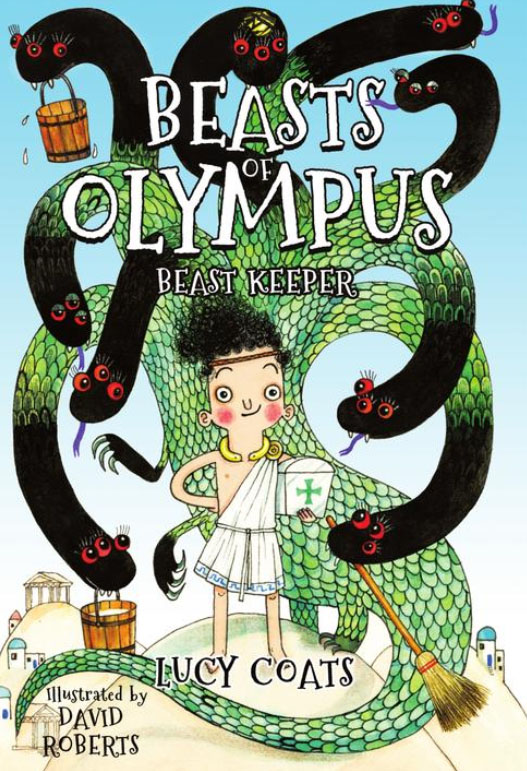 1. Ben: This is a very funny book about a boy called Demon who can speak to animals and is taken to Olympus by his father the god Pan to look after Zeus's mythical creatures & clean their stinky stables. All the beasts hate "The so called hero Heracles" because he is always killing them. Demon can heal them with magic. There is a glossary in the book to help with the pronunciation of the strange names of the characters. I can't wait to read another book by this author. Suitable for ages 7 and over.
2. Joe: I enjoyed this book, because it's about demon and she was chatting to the chickens and asking for someone to look after her animal
The best character in the book was demon because she like chickens and I do too. I found the event of beast Olympus very good. The book taught me about the (period of history) Greek. It has made me want to find out more about this character. I would like to read more books by this author, because he is really good at writing books.
3. Josh: I enjoyed this book because it was really exciting and it also had some good description and dialogue. I also like the bit where they made a deal, that's when things got interesting. I didn't like the bits with no description, as it got a little boring in parts. I would recommend this to my friends.
4. Liezel: I enjoyed reading the book and the pictures in it. The story is about an eleven-year-old boy called Demon, who can talk to animals and whose father is a Greek God. Demon met his father for the first time when he came to take him to a place called Mount Olympus, where all the Gods lived. In Olympus, Demon met Hera , one of the Goddesses, when she brought her pet Hydra to heal. That was the scariest part because Hydra was a nine-headed large monster, whose heads had been chopped off. Demon managed to heal Hydra and was given a job as the Beast Keeper.
Hera was my favourite character in the book because she sounded funny when she talked to her weird looking pets. The character I didn't like was the lion because it kept biting and scratching, although I do like baby lions. I don't think most of the history in the book is realistic, but I would like to read more by the author.
5. Mia: A Greek god called Pan had a son called Demon/Pandemonius. When Pan suddenly appeared and took Demon on an unexpected trip on a rainbow to Olympus it was all very mysterious. Demon arrives at Olympus and is asked to be a stable boy by the gods because he can talk to animals. The stables were stinky, the Beasts were terrifying and horrible hero Heracles was hurting all the beasts. Demon had to cut the chaos, help Hera's poor Hydra (a 9 headed beast) and stop horrible Heracles. It was all up to Demon to save the day!
Recommendations: I would definitely recommend this book to any one aged 8-11. It was great fun to read and very exciting. This book also includes a few historical facts so I can understand it easier. The punctuation, verbs and adjectives made the description extremely vivid. From the start it grabbed my attention with about 10 adjectives only on the first, half page.
Characters: My favourite character is Demon I really warmed to him because he was brave, kind and willing to help out. Demon always tries his hardest and comes up with thoughtful ideas. The only problem I found was that there were too many characters that the author only mentioned once and sometimes I got really confused with the people and beasts.
The End of the Book: Once I finished reading the book lots of thoughts came into my mind. Like: I want it to continue and what will happen next? I felt so excited that I finally knew what happened.
Plot: The plot was very effective. I really liked how there were lots of different, little problems. However the 3 little problems and 1 main problem made half the book problems. This meant the resolution and ending were very short and rushed.
6. Natasha: I would give this book four and a half stars because it is full of humour and great detail. I couldn't put it down I read way into the night. I would definitely recommend this to 8 years olds and up since it was full of rich language. My favourite parts were when the monsters would tell Demon their stories of how Hercules had hurt them. I think this book could be improved by the punctuation being checked but other than that it was one of the best books I have ever rear.
7. Sofia: I enjoyed this book, because it was funny and I enjoyed the pictures. The best character in the book was Olympus because he was the beast keeper. I found the event of the beast say sticky cow's fun to read because it was funny. The book taught me about the (period of history) of ancient Greece because of Olympus's costume.
It has made me want to find out more about ancient Greece because I really enjoyed the book. I would like to read more books by this author, because he makes the books funny.
8. Noah. I liked the book because Olympus keeps all the beasts away from the people in the village. One of the beasts has 9 heads so they help him and near the end loads of gods turn up and there is a big fight. I thought this book was really funny. I especially enjoyed it when the Roman in charge of the beasts forgot that the beasts were his and began chasing them. I don't think the history in this book is realistic because I don't think there really was a 9 headed beast. I'd like to read more books by Lucy Coats because it was really descriptive and I like her imagination.