Katy Parker and the House that Cried
By Margaret Mulligan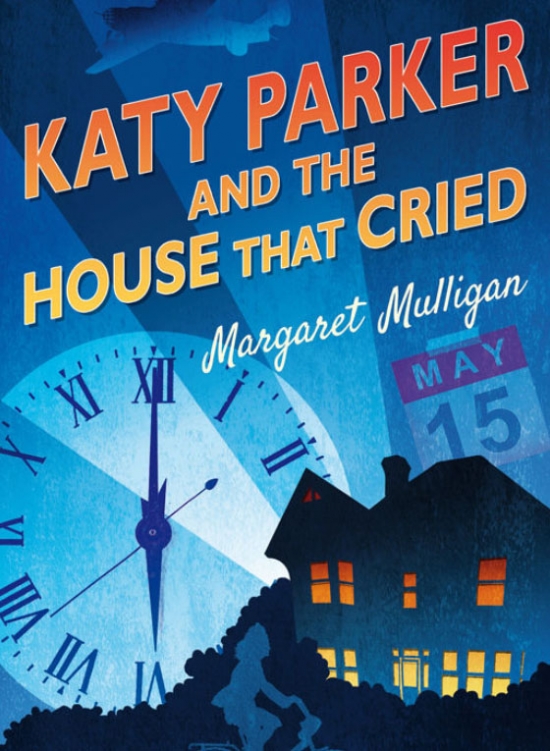 1. Crystal:
Brief description: Katy and Patrick fell asleep at Willow Dene and went back in time to 12th April 1942.
What I liked: The story was very interesting. Gifts were scattered. When Katy and Patrick came back to the present, it had changed.
What I didn't like: It was hard to keep track of who was speaking. It makes me want to read more historical novels.
5 star rating
2. Joe: This book seems to blend an excellent chemistry of fact and fiction brilliantly: for example, it mentions people eating nettle soup and powdered egg whilst leading up to the second entry of Willow Dene, the first being a vengeance against Patrick, who had pulled a practical (and rather cruel) joke on Katy before. You don't notice you have just learnt a fact about the WW2 diet yet you have all the same. I think the fact most of the book was about researching The Home Front (or Britain), I think the author had a great time using their present and researched knowledge of WW2 home life and blending it in with a gripping and 'un-put-down-able' fiction.
However, the fiction part of this book, unlike the factual parts which were actually quite hilarious, is a lot more serious. A dramatic present, where an old house is left abandoned when a three-year-old Susie Graham runs away looking for her mother in 1942. However, Mrs. Graham had been hit in a blast on the town's cinema, along with all the evacuees. Only the twins from the Graham family survive, along with their father. Katy and Patrick must change the past to reset the future: one where Susie is still with the family and the mother is still alive.
All the characters are of one variety: good. Even a German bomber pilot is pleasant and kind. This is one of the book's small faults, as a bad guy might have been greatly appreciated. However, with no evil/unkind person in it, the book is more original: it can focus on a larger boundary than a person set on misery and destruction: a time limit. The hardest enemy to beat. So although it is the book's only downfall, it is created in such a way that it makes it its strength.
Katy Parker is an intelligent blend of knowledge, drama, humour and just plain old fun!
I would definitely recommend this book to everyone personally: those who like fiction, non-fiction, drama, laughs, horror and time travel: this book welcomes you!
Book review on Katy Parker and the house that cried by Margaret Mulligan.
3. Jess: From the very first chapter, I knew this book was a good one! I enjoyed the time travelling and meeting the characters who were introduced at the start as being elderly and then hearing their story from World War 2.
The history in this book was so realistic that it could have been a true event from the past! If I ever get the opportunity to read another book by the author again, I definitely would! The descriptions of the characters were clear and the differences between the two time periods were interesting. I also like the fact that it gives you clues on what life was like back in the 1940s.
The only confusing part of the book was the dream and visions that a character gets throughout the story. But at the end, it all became clear and you understand it all! Nevertheless, it is still a great book!
4. Beth: I really enjoyed this book. It had mystery, magic, history and fear. It even included sibling arguments! The main character, Katy Parker, was well described and incredibly realistic so was her brother, Patrick Parker. I loved the fact that she had gone back in time to the same place as well as the present day.
I would definitely read another book by this author because this book had depth and I love that in a book. It was a fantastic book but no one had heard of it. It deserves to be more popular. It was brilliant how all of this started with a homework project!

5. Anon: I liked the book because it was really descriptive and it makes you think you are actually experiencing it such as the description like within seconds she felt herself falling down further and further into the void below. Also it makes you think more about the mysteries because it was 6:00 and then a minute later it was still 6:00 and when they explored the house on May the 15th the saw that circled on the wall was May the 15th 1942.
The book is about thirteen-year-old Katy Parker has a recurring nightmare: she's cycling at top speed to escape from an unknown terror, screaming out to her companion to catch up, but she always wakes just before she can discover who she's with – or what she's escaping from! Worse still, the dream now appears to be happing in real life and it's getting harder to understand dream from reality. When Katy, Patrick and Lizzie decide to explore Willow Dene, an abandoned old house, they don't take the rumours of the crying ghost-child seriously. Their curiosity catapults them back in time to 1942 straight into the chaos of war, presenting them with the truly magical chance to avoid tragedy, change the future and discover the true meaning of her nightmare.
I would recommend this book to others because it's a really interesting book and it kind of tells you not to make fun of people's opinions because of the Crying Child and they didn't take that seriously.
6. Max: I didn't enjoyed this book, because I felt it was not a primary school book. Most of the words were a very hard and I had to use a dictionary to understand them. I think it is a high school book. The best character in the book was Katy, because she once did a prank on her brother Patrick and I found it funny.
I found the event of WW2 help make the book better, because it was such a big event. And it made it a bit more interesting. The book taught me about WW" allot more, because I didn't know that solders could write back to family. It has not made me want to find out more about this author, mainly because I found it quite boring and hard to understand.
I would not like to read more books by this author, because I think they are are too hard for primary school.
7. Rana: This a charming book by Margaret Mulligan a haunted house time travel and the experience of war time evacuees into a tale that engages the reader from the very first page!! Katy's history teacher called Mr. Oakley told them to do a project about the Second World War during the Half term.
Katy and her friend Lizzy try to visit Willow Dean, along deserted house in Katy's village. The house gets frozen as if it had been in May 1942 when an unspecified wartime tragedy struck its family and the sobs of a forlorn ghostly child and heavy, bodiless footsteps intrigue and horrify in equal measure. When Katy and her brother return for further research they are thrown back in time to that wartime summer and find themselves forced to play the role of evacuee children. Mrs. Mulligan effectively evokes the very different world of 70 years ago, capturing a sense of how strange it would seem to a child born in the 21st century with its "clipped and precise" radio presenters, tepid baths, wartime rationing and "pea-green school uniforms"; a world where children turn to books and comics rather than iPods and tablets for pastimes. As Katy Parker and her mischievous brother Patrick struggle to work out what has happened to them and why, the tension mounts as the previously hidden history of Willow Dean unfolds and the children desperately try to avert the fate of the family in the past that they have grown to know and love. This is a "spiffing" adventure story for younger children and would make an excellent choice for parents to pop into Santa's sack!
8. Sara: Katy Parker And The House That Cried is a book about how it was like in 1942. Katy kept having the same nightmare again and again, she always woke up at six o'clock because of her nightmares. Katy, her friend Lizzie and Katy's brother Patrick visited a haunted house from 1942 they fall asleep in it and go back in time!
The story was interesting and the story made me want to turn the pages and want to find out more. I enjoyed it because it was fun to read and it was exciting.
The age group I think it should be is 8+, although it's not easy it encourages you to learn new and exciting words.
9. Sofia: I enjoyed this book, because it has lots of different emotions in different parts. The best character in the book was Katy Parker because she was interesting to read about her. I found the event of the haunted house creepy because a real ghost baby was crying. The book didn't teach me about the (period of history) because it wasn't clear enough. It has made me want to find out more about the haunted house because I enjoy the creepiness.
I would like to read more books by this author, because he makes them very interesting.