Whistling in the Dark
By Shirley Hughes
Winner, Young Quills 2016, Primary age category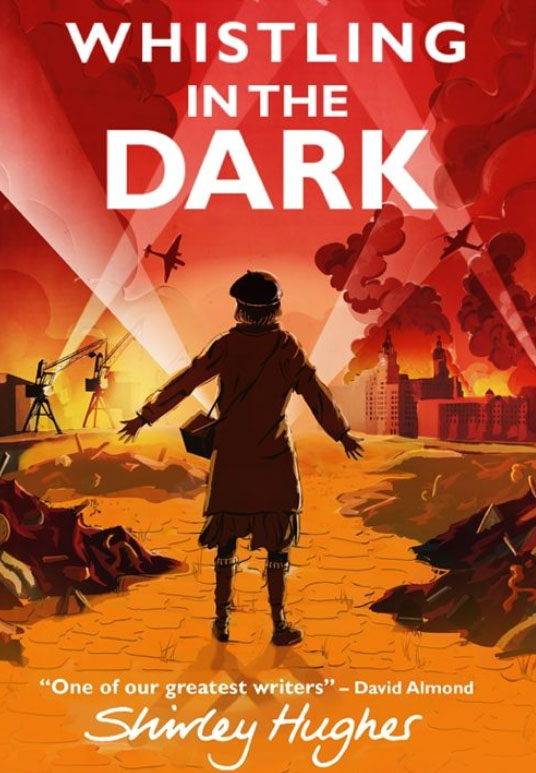 1. Adam: This book is a story about a girl called Joan, living in North West England and her life during World War II. It starts when she goes to a cinema with her friend Doreen. There is an air raid and they have to stay there for quite a long time. The book then follows Joan's life and the experiences she had in WW2. This plot was very riveting and captivating because it showed the reader how life really was in WW2, it showed that it could be scary, but you could still carry on with your daily life at times and have fun. The book made me think about how lucky we are today, that there are no world wars that affect us.
My top 6 most interesting characters were:
Joan- The main character (Age 13). I warmed to this character very much because she looked after Ania and cared for her, since she was a friend and because she had a very sad back-story. This was the character I found the most interesting because she is kind, loyal and selfless. Also she volunteers to go round her neighbourhood and ask for metal just for the spitfires.
Ania- Ania was a new girl in the neighbourhood and she came from Poland. A girl called Angelina Travis bullied Ania, although Joan and her friend Doreen came to help and that's where they became friends. Ania had a very sad back-story, which included her country being over-run by the Germans and being forced to leave her mother to go on the kinder transport. I feel extremely sad about the life that Ania has had and how she has suffered, I could not imagine leaving my parents behind. At the same time, I feel warm towards Ania because she even though she has suffered a lot, she is still really kind and friendly. She doesn't say very much except when she speaks to Joan. This means that she must really like Joan.
Judy- Judy is Joan's 6 year old sister. She is my favourite character, as I can relate to her. Since being the youngest in my family I know how it feels. This character is annoying to her brothers and sisters and for me, makes the book relatable.
Doreen- Doreen is a brave character standing up to bullies and defending Ania. She is Joan's best friend and is soft hearted to anyone around her. I feel bad for Doreen because her father ,a great man, was arrested and ended up in jail because he bought and sold items in the black market.
Ross and Derek- These boys are friends of Joan and are very naughty and sneaky. The reason being during an air raid they went out of their homes and took a look at some of the bombings, also they managed to find a bunch of black market products. Derek broke his arm when an unknown man drove, on purpose, too close to his bike and he was knocked off.
Captain Ronnie Harper Jones- Ronnie just started off being a warden but soon became a great friend of Joan because he and Joan's mum were planning to get married. Sadly in part of the story he had been exported to another city away from Joan's family.
A phrase I like that appears a lot in the book is "Dig for victory." I thought this was a great phrase because it was exactly what happened, they planted a lot of crops due to the rationing, so they didn't run out of food. This also makes me think that winning a war is not just about fighting against armies, it is about working hard to survive.
My favourite part of the book was when Doreen and Joan stood up for Ania and drove Angela (a bully) away. It is my favourite because they show real kindness towards Ania.
I really enjoyed this book and the writing style and characters. This book taught me a lot about WW2 and how life was back then, but I would have improved it by adding in a few more descriptions, especially of Joan as I would like to feel that I knew her better. I also think that the book could be better if there was a little comedy in it. Even though this story happens during a sad time, some comedy would help to show that normal life needs to carry on. I have read other WW2 books and this was the weakest one, not in the information it gave, but in the storyline, which I found quite boring.
I rate this book 3/5 because it didn't have any action or comedy, which are the things I enjoy most in a book. This book was informative and is perfect for people who are 11 and above and enjoy a good history read. For me, it wasn't one of my favourite books, but I am glad that I've read it because it has taught me a little more about WW2.
2. Eve: I would give this book 5 stars because I really enjoyed the description and the plot.
This book is about an imaginary heroine called Joan. She has a mum, an older sister called Audrey, a brother called Brian and a younger sister Judy. Their father is lost at sea while serving in the Merchant Navy and are struggling to live without him with there.
I particularly love the main character 'Joan'. She is an imaginary heroine living in West of England during World War 2. I think this book is very realistic because it is set in a time which was real and maybe that is what someone's life was actually like during that time. This book made me want to find out more about World War 2.
I would recommend this book for ages 9 and upwards because some younger ages might not understand it as much as others.
3. Florence Bennett: Whistling in the Dark is a book about a girl named Joan and her life during the Second World War. I like the fact it tells you in detail what it was like to be alive in the war from evacuees to the Blitz. It is a really interesting book that I could not put down. Out of 5 stars, I would give it 4 ½, as in certain parts it was a bit less interesting but all round a good book. Personally, I would suggest that 9+ children read it as there is complicated language, but easy to follow.
4. Jake: I enjoyed this book, because there was explosions in it and I like explosions. The best character in the book was the boy because he was very brave and he was very good at hiding. I found the event of world war 2 interesting when there was explosions! The book taught me about the (period of history) because all of the people that died I felt sorry and especially are country people. It has made me want to find out more about because people might of found peoples skull and what really happened about Adolf Hitler
I would like to read more books by this author, because she has really worked hard on her books I would to read another book of hers
5. Olivia: I think "Whistling in the dark" is a great book. It is set in the war time when Hitler started the World War II. It is about a girl named Joan. Joan has a sister named Audrey, a brother Brian and a mum. Their father was lost at sea while serving in the Merchant Navy. One day Joan heard a faint, low whistling. Joan sat very still, she turned her head and she saw a dark shape of a man looking at her. Doreen, her friend, asked her if Joan wanted to go to the cinema with her. She said yes. The next day she walked to Doreen's house. David, Doreen's brother, was sitting in a chair reading the newspaper. Joan and Doreen both went to the cinema, but while they were in the cinema there was an air-raid. The people said to go under cover. Doreen was really brave. Ross and Derek are Joan's other friends. They go and sell newspapers together. It ends quite well. My favourite part is when Joan goes to the cinema with Doreen-they were so brave to go there alone. I recommend it to 8+ It really is a great book. I enjoyed reading.
6. Sadie: I give this book 10/10 because you can imagine what the war was like. Also I love the fact that it has been set in Liverpool, but not where the bombing typically is.
The main character in the book is Joan. She has a younger sister and an older brother and sister. Her friends are Aime and Doreen. Her younger sister, who is six, is the fussiest person Joan had ever met. Audrey is Joan's older sister. She has a boyfriend who was almost killed when he joined the British Army. Doreen is a girl, who always does what is right, but when her father is caught for doing the black market, she has to move away from the rest of her friends.
The best part about the book is when Brian is imitating one of Vera Lynn's songs in his own words. I would recommend this book to others.
7. Oliver. I really enjoyed this book as it was emotional an exciting. It just made me want to read on and on. It was very emotional when some people died in the church. I really enjoyed the pictures and description of the mill and how it was used for smuggling food into the country. I think the description of the blitz and the warships at the dock was very realistic and I found it scary to think of the people who actually lived through it. I would definitely recommend it to other readers and will look out for other books by Shirley Hughes as I think it's a great book.
8. Rose. I really enjoyed the book as it was exciting and made me want to read on. It made me feel for the characters and I loved reading the descriptions of what they felt like. It's a great emotional book and I would recommend it to anyone who enjoys reading and writing. It was very realistic and made me feel like it was really happening. I liked how it was set in the war which really happened. It made me think about how lucky we are and about what happened in the war is still happening in other countries now. Overall, I think it is a great book and now I want to read more books by Shirley Hughes.