The Runaways
By Megan Rix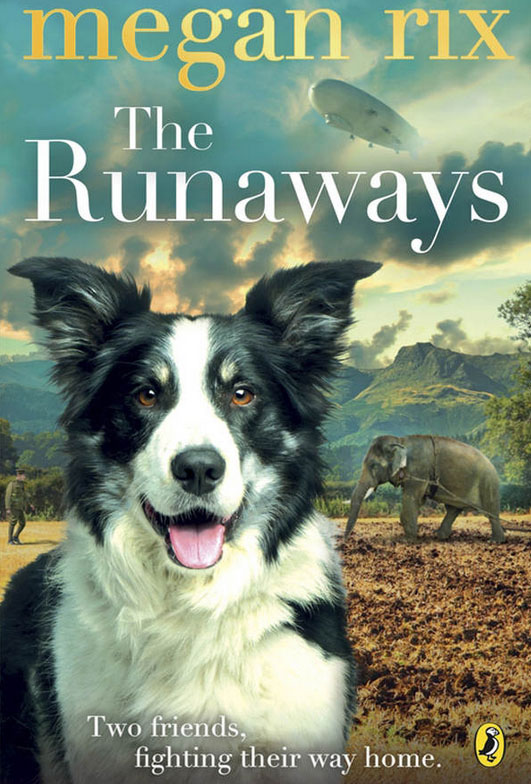 1. Amelie: I really liked this book because it was set in the Lake District and I went there on holiday last year. It was about a mummy elephant and a baby elephant split away from each other. The mummy elephant was called Shanti and the baby elephant is called Tara there was a dog to. The dog was called Harvey. The person that looked after them was called Albert he was very nice. Albert had to go to the war when he was only 15.
I also liked it because it had Beatrix potter, Harry Houdini and Edward Elgar who are famous people from history. I learnt that people that could not afford suitcases had to have cardboard suitcases and that people lied about their age so they can go to war. I would recommend this to someone else because it is fun to read. I read it really quickly it only took me a week.

2. Emily: I really like The Runaways, as it is an adventure type book, and I like those books. I was thoroughly impressed with the author's choice of words to describe the circus outfits for the animals. If you open the book at the very first page, you'll see a section "Praise for Megan Rix". I believe every bit of this praise is true. I think the book can be slightly emotional, as it was for me and might be for many other readers, but it is short lived. If I could only ever read one book, this would be the one.
Overall, I adore this book because of its creativity and I would recommend it to anyone who likes animals, or wants to try a new genre of books!
I think any readers will love the book, and I'm sure if YOU want to read it, you'll think exactly the same as me!
3. Gabriella: A circus sells a mummy elephant to work on a farm, and gives away her baby. The baby elephant and her friend the dog run away together to find her mum. The plot was very exciting and was set in the First World War.
The main characters are the two elephants, Shanti and Tara, plus Harvey the dog. Harvey was my favourite character because he helped look after Tara when they were looking for her mum. I really like the book. My favourite part was when Tara found her mum as it made me feel really happy. I thought the history felt real. It made me feel I was in the First World War because one of the characters said he was going to fight out in the war. I would like to read more books by Megan Rix.
I would recommend this book as it is an exciting story. I would give it 5 stars.
4. Leteshia: I didn't enjoyed this book, because I got bored very easily. The best character in the book was Tara, the baby elephant. I found Tara a baby elephant very funny.
The book didn't teach me about (animals). It has made me not want to find out more about Megan Rix. I wouldn't like to read more books by this author, because it was not very intresting.
5. Lucy: Shanti and Tara are circus elephants. Harvey is the faithful dog who leads the show. When the First World War starts, Cullen's Circus is forced to close. The men in the circus are sent to war to fight and all of the animals are torn apart. However, while Shanti helps on the farm, Tara faces a far worse fate. Separated from her mother too early, Tara's life is in serious danger. Only brave Harvey could bring them back together. Therefore, side-by-side, a dog and an elephant set out on an extraordinary journey across the English countryside.
Shanti goes missing in the storm because of the sound of Tara's cries; she had found her daughter! But, swimming in a rapidly flowing river, Shanti and Harvey have to quickly save her. Luckily, they do. AJ and Yolanda are beyond worried that Shanti might have been struck by lightning. Annie helps them notify the village of the news, and to tell them if they see an elephant. After searching and calling out for the elephants all day, AJ finally spots Tara, Harvey and Shanti walking down the farm path. Everyone was home and happy!
I liked the book because at the start, it did not hesitate to get deep and sad, but I loved that. There were many plot twists and I could never predict what would happen next. I would recommend this book to adults as well as children because I think people of all ages and gender would enjoy reading this book
The main characters were Tara, the elephant calf, Shanti, the mother elephant, Harvey, the brave dog and AJ and Yolanda, the sons of the farmer who takes in Shanti.
My favourite character has to be Shanti because she is so brave and fights for what she wants. She walks though a storm to save her child; that is just amazing!
6.Nadda: I think this book is amazing and will intrigue you! This book is exiting and wonderful, It is book is full of AMAZING description and you will not be able to keep your eyes off! What is the Runaways by Megan rix about?
This amazing book is about an Elephant names Shanti, she also has a calf named Tara. Harvey is an old collie who is faithful, there is a war which started in 1914 and people thought it will be done by Christmas but unfortunately its 1917 and still going. When the First World War starts a circus names cullen's circus is FORCED to close. The men are sent to fight and the animals are taken away from their owners. Then shanti and Harvey go on an outrages adventure.

I HIGHLY recommend this intriguing and powerful book, read one page and you will be hooked!
7. Ralf: 4.5 stars. The Runaways is based in World War 1 featuring a Collie dog and two elephants (mother and daughter) who get separated and rely on Harvey (the old Collie) to bring them back together. The story is very, very well written and uses some great descriptive language. The storyline is amazing and well planned. I think it was a page-turner as I could relate to it. I think it is a 'must read' book. At one time a tear came running down my face which has never happened to me before when reading a book as the description was so realistic.
My favourite character is AJ, I love his personality and excitement. AJ is very caring for Shanti (the mother elephant) and even came down in the storm to comfort Shanti. AJ lives with his father and his sister, Yolanda, on a farm. They bought Shanti to help on the farm but soon realises her distress.
The story flowed fluently and Megan Rix did well to join all of the points of view/scenes together at the end. That shows outstanding writing skills. The change of scene just before the end was great, it worked brilliantly and I was surprised how well Megan managed to do it. I think that the age range should be 10+ as younger children might not understand it and will find it far more interesting later on in life. I will definitely read this book again when I'm older and more mature.
The other great thing about this book is you don't have to know anything about WW1, it just explains it all. Whereas some books I couldn't read as it expected me to know the ins and outs of WW1. I would definitely recommend this book and will be completely surprised if it doesn't win an award.
8. Sophie: When the First World War seizes Europe, Cullen's circus is forced to close. The men were sent to fight and the animals were torn apart from their keepers, and each other. When Tara is separated to soon from her mother, her life was in danger. Only Harvey could bring them back together. They set off side by side together, dog and baby elephant, go on a gripping journey to find Tara's mum.
I felt strongly about how extraordinary and emotional this book was. My favourite character was Harvey, the old colie dog, because he does his best throughout the story to keep Tara safe. Also these characters felt very real to me and always kept me turning the pages. The book also always kept me questioning what was going to happen next. Personally, my favourite part was when, at the end, they were all brought back together. For me the sad scenes were written particularly well.
I would recommend this book to anybody above a young age because it made me very emotional and would also recommend I to anybody who likes exciting, gripping ad sad stories. This is one of the best books I have ever read, and enjoyed it so much and would give 'The Runaways' a 10/10 easily.
9. Timmy: This book is a book about a circus, dog and some elephants. They stay in a circus and do acts like walking along a line of string. But then! The dog gets a new home and everyone was sad but later in the book he comes back and they are all happy again. Their was 5 characters in this book. I have to say I really like this book. I liked Tara best. I don't think this book is realistic. I recommend this book age 9 and over. I give this 4 stars out of 5.
This book makes me want to read more books by the same author.
10. Ruby. The book is based in wartime and is very dramatic. It is about a baby elephant called Tara (an excitable elephant who likes playing) and her mother Shanti. They are both from the circus! Harvey is a faithful old collie dog who helps them on their way and is a lifelong companion to Tara and Shanti. Harvey and Tara are separated from Shanti, but Tara needed her mother's milk now! It is about an extraordinary journey.
I dislike the part when Cullun from Culluns Circus hurts all three of them by poking them with an elephant spear and then Shanti gets separated from her daughter. I liked the part in the book when Tara and Harvey eventually found Shanti. I also liked the ending because it is happy. I would now like to read more books by Megan Rix.