Gracie Fairshaw and the Trouble at the Tower
Susan Brownrigg (UCLan)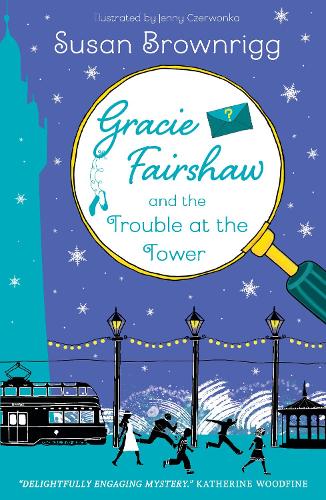 Review by Safa
I love this book because it has a real moral and value to it, the plot of racism. My favourite character is Gracie Fairshaw, as she sets out to find the real truth and not the one that has been faked. My least favourite character is Ramsbottom as he is racist and is determined to get rid of all the people who weren't born here in the most violent and cruel way, by releasing a lion out into the wild. The journey that they go on to reveal the truth is adventurous and has a deep moral towards it that is revealed towards the end. The end was a real plot twist and surprised me as I couldn't understand the plot but was shocked in the end.
Review by Izzy
I enjoyed the book because it was very exciting to read and a massive page turner. The history and time setting was interesting to me because I love dance and ballet and the 1900s. There weren't any characters I didn't like as they all had their own little twist. I learnt that there was a children's ballet Christmas performance every year and the youngest to star in the show was around eight. Also that the Blackpool tower was/is the most famous landmark there. The plot was definitely thought provoking as you never knew what was going to happen as you turned the page. I think all of it stood out for me and there was never a pin point part in the book. I would definitely recommend this book to others. Nothing I didn't like, it was just amazing and definitely would read again!
Review by Sylvia
Gracie Fairshaw is a really nice character and I enjoyed following her adventure in Blackpool Tower. This book is set in the 1930s in Blackpool and I felt taken back to that period of time.
I had never really learnt about the 1930s so it was all very new. I now know that the Tower Ballroom was home to a professional children's ballet that was very popular. This is also set in Christmas which makes it that more exciting.
The plot is full of pranks and accidents and I was interested the whole way. This is the second book in the series so I wish I had read the first one before reading this book.
I would encourage others to read the first book before reading this one but I would recommend it.
Review by Tyler
This book by Susan Brownrigg stood out to me as it had a very intriguing front cover. I found the story quite interesting with twists when you would least expect it. This book is a brilliant read for people who love a delightful story with mystery at its very base. Although this book seems to be a quite serious read, it does have humour scattered throughout it. This, to me, enhances the book.
The only part I thought was unnecessary was the part where Gracie works as a typewriter. I did not actually think this linked to the part where she eventually found the culprit. However, I understand the section was needed to give us a deeper understanding of her personality.
Altogether, this book is an enjoyable read and I recommend it to all readers who love a good mystery story with some humorous undertones.
Review by Hazel
I very much enjoyed the book as it was fun, mysterious and captivating.
I found the setting very interesting and enjoyable as I don't tend to read about this period in time. I also liked the setting because it was set 4 years before WWII broke out, and when I do read about the 1930s I usually read about WWII so it is nice to read about something in the 1930s other than WWII.

My favourite character in this book is probably Ruth Linnet as she is the daughter of a pianist and is also very good at playing piano, I too can play the piano so I enjoyed reading about her. I also like Ruth as she is exciting, down to earth and the youngest, but yet one of the best ballet dancers at Blackpool Tower. The most interesting character I found was Miriam Waters (other wise known as little Miri). I found her interesting as she was an extremely skilful ballet dancer from a very young age, she was so good that former ballet director Nora Waters decided to adopt her as her own child! My least favourite character was Albert Ramsbottom (who works in the menagerie) as he was rude, bad tempered and also the saboteur to the Christmas Children's Ballet Performance and many other shows and events!

I learnt a lot of new stuff from the 1930s in this book, for instance I didn't know that type writing was called shorthand back then, I also didn't know that back then instead of lots of toys, you got stuff like fruit and nuts and chocolate in your stockings. Plus, I didn't even know that Blackpool Tower had its own menagerie! I found this book exciting and thought provoking. Exciting, as you never knew what was going to happen next and it had a lot of cliffhangers. Thought provoking, because it really made you think and wonder about a lot of things.
The thing that stands out to me the most in this book is probably the mystery itself. It is the main concept of the book and is so fantastic to read about. I would 100% recommend this to anyone who loves mystery or books like Murder Most Unladylike or the Sherlock Holmes series as it is full of mystery and always leaves you thinking on every chapter. It's captivating and whether you like mystery or not it's a genuinely fun, enjoyable book.

I learnt a ton of great, new vocabulary in this book. Examples are, guffawed, prised, shorthand and many more! I also learned some new facts, for instance I didn't know what a poison pen letter is, but now I know. Plus I learned a tiny bit of Russian language, did you know that Pozhaluysta is the English translation for please in Russian! A Russian word learnt was Matryoshka Doll which is basically another word for Russian doll. The one thing I would like to hear more about is the description of some of the characters but apart from that I absolutely love this book.
Like I said, this book is fun, eye catching, exquisite and a joy to read!