The Enigma Game
By Elizabeth Wein (Bloomsbury Children's Books)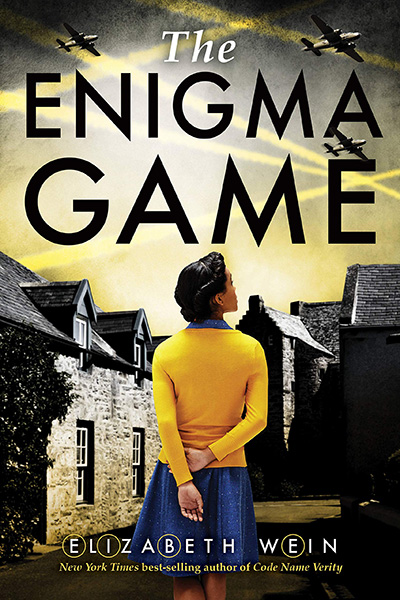 Emma's review
Set during the Second World War, The Enigma Game takes place near an RAF base in Scotland, in a local inn. The airman leaves silver sixpences in the cracks in the wooden mantlepiece and uses the money for a pint of beer on their safe return. The guests staying at the inn include Louisa Adair, a girl with Jamaican ancestry who is looking after the elderly aunt of the landlady. Her name is Jane Warner, not her real name, having changed it from the German Frau von Arnim. The other lodger is Ellen, a traveller who works as a driver on the RAF base. There are three different characters, who will all play their important part in the story and the war effort. The adventure begins when they find a code machine that has been left in the inn. Can they crack the code and help the airmen at the RAF base? I loved the book 10/10.
Leo's review
Enigma Game is a book based on WW2 where a girl called Louisa feels that she has lost everything when her mother is killed in the blitz. Since she left Jamaica, she has not been very respected as a brown, orphaned girl. She soon starts a job, looking after an old lady at a pub in Scotland. There she finds a friend named Ellen who's an RAF driver and Jamie – a pilot.
Then something very serious happens, a German plane lands in an airfield holding a package that could likely win the war. Although a very dangerous threat come with it.
For me, the most interesting character in the book has to be Von Arrim because of her past she had and the things that she got up to. So far, my least favourite character has to be Ellen because she seems to be very boring.
I learnt from the book that the war was won by a codebreaking machine. This was very interesting.
Martha's review
The Enigma Game was a captivating read. It is set in World War Two, and helps you understand the experiences of a diverse group of characters. The book is written from the perspectives of three different characters, which helps you to understand different people's experiences of the war and period. I particularly liked the character of Louisa, as it helped me understand the challenges faced by ethnic minorities in this period of time, and helped me to consider how attitudes have changed over time. I found it interesting how several of the characters in the book challenged stereotypes and prejudices against them. I also understood through this how big an impact the war had on people's lives, and enjoyed deepening my understanding of World War Two through the details included like the names of battles and planes, which I could look up afterwards. I would definitely recommend this book to anyone who is interested in this period of history, and who wants to consider how different groups of people were treated during the war.
Steph's review
The Enigma Game is set in 1940s Britain. It follows three different people in a small village of Windyedge, Scotland. Jamie, a RAF pilot who flies a Bristol Blenheim bomber, Ellen a volunteer driver with the RAF, and Louisa, a teenager who wants to make a difference who ends up caring for an elderly German woman. Facing a seemingly endless war, fifteen-year-old Louisa Adair is fighting her own battles as a newly orphaned mixed-race girl alone in war time Britain.
Thematically, the novel explores hidden and visible diversity through Louisa, whose mother was British and father was Jamaican; Ellen, a Traveller who censors her own voice and vocabulary in order to "pass"; and Jane, whose German origin, if widely known, would draw suspicion and ire.
Like Andrea Levy's 'Small Island', Wein uses multiple narrators in an effective attempt to disorientate the reader, perhaps with the intention of reflecting the fragmented identities of the main characters. However, having three first person narrators tended to pull me out of the story. I would need to stop and make sure I knew who was telling each chapter and reorient myself.
My favourite thing about this book was the way in which it addressed identity and perception. Three of the characters do not fit in because of their backgrounds, but only Louisa, the half-Jamaican, is unable to hide it, thanks to her skin colour. The other two — Ellen the Scottish Traveller and Jane the elderly German woman — can pass as British without having to try too hard. And yet, they are both constantly terrified that others will find out their secret (they're not spies, so it's not secret to everyone) and ostracise them for it. Meanwhile, the only reason Louisa got her job near the start of the book was because she was hired over the telephone and her new employer couldn't tell the colour of her skin from her posh English accent. And even better than just having these characters with similar problems in the book is that they all recognised the similarities in each other, which I really appreciated.
In many ways a small story about big things—fitting in a novel thematically focused on the ways individuals matter—this is historical fiction at its finest, casting a light on history (with some minor liberties, noted in the extensive backmatter) as well as raising questions still relevant today, particularly around class and race, nationality and belonging.
Aidan's review
I didn't like the characters because to me they seem a bit boring and usual personalities.
I learnt a bit about the past. I found out that they have concentration camps for people.
I think the time is interesting because not many books are about WW2 and it shows what some people went through in WW2.
Some of the book was a bit exciting especially when they have to hide the codebreaking machine that can alter the course of war.
What stands out to me the most is it has lots of girl main characters which not many WW2 books do.
I would recommend it to people aged 9 – 13 and people who are interested with war time. Some of the book is very exciting but I personally didn't like the level of detail in it. But you do learn a lot about war times and the struggles of young girls in war. If you like the war and fiction you'll love this book though. It ends with an ending that appeals to me.
Natasha's review
Spies. Codes. Danger. This book has plot twists, dashing heroines, brave airmen and seemingly impossible codes left by the enemy – who aren't quite what they seem. Teeming with drama and compelling code-cracking action, this WWII thriller is driven by the lives of three young people determined to make their mark on the war effort, and by the life-affirming relationship between fifteen-year-old Louisa and the elderly woman she is employed to look after. Cleverly securing the job over the telephone. The Enigma Game deals with loss, war, aging and prejudice but also focuses on what friendship and trust have to offer.
The way Wein explores themes of identity, secrets and the problems of prejudice with each of her protagonists gives the story greater nuance – her protagonists have a range of experiences, and the people they meet have a range of attitudes. One of the most powerful aspects of this story was its portrayal of characters forming bonds because of their differences, because they understand what it's like to be an outsider or to be discriminated against. I enjoyed getting to know these characters, seeing them interact even if at times this was painful due to Ellen's and Louisa's personal reasons to be considered "outsiders" in mainstream British society. Ellen realizes that she has it easier as she can pass for a person the people around her will accept while Louisa can't hide her darker skin. All of these main characters desperately want to aid the war effort and most have personal loss driving them.
A German pilot lands in Windyedge under mysterious circumstances and plants a key that leads Louisa to an unparalleled discovery: an Enigma machine that translates German code. Louisa, Ellen, and Jamie must work together to unravel a puzzle that could turn the tide of the war – but doing so will put them directly in the cross-hairs of the enemy. I didn't know about Enigma machines until reading this novel, it was fascinating to learn about them and enjoy a gripping action novel alongside historical information.
In sum, it is a rich work of historical fiction, wearing its period accuracy lightly (from the practical aspects of hot-water rationing to the features of military planes) and offering an unusual perspective on the war intertwined with universal issues that are relevant today. A perfect blend of time period and timeless.
Jess's review
I enjoyed reading The Enigma Game and couldn't put it down once I picked it up. This book grips you, drawing you into the storyline and leaves you wanting to learn even more about the history it centres around. I found the protagonist Louisa to be the most interesting character as she is someone who doesn't strike you as special, yet she helps save many lives just by being in the right place at the right time. Her journey throughout the novel provides us as the reader with shock, excitement, sadness and adrenaline leaving us on the edge of our seats. From reading this book I learnt much more about the events surrounding the enigma code and the years around 1940 in Britain. It shows us the pain of the Blitz but also the sense of excitement surrounding all the action. This book built upon my knowledge of the enigma code from mentions of it in classes but also emphasised its importance in the war. As it is based around Alan Turing, the german who cracked the enigma code in WWII, the novel made it understandable for all ages and made me interested in researching more about this time period. The plot of 'the enigma game' was gripping and frightening at times but in others it brought joy and humour; this made the novel very enjoyable and easy to follow but didn't make it boring. I would recommend this book to any other student no matter if they were interested in the history of the setting or not: this book teaches you about the war and enigma code without you even realising it.
Hannah's review
I enjoyed reading the Enigma Game by Elizabeth Wein as it was an adventure book and was quite exciting. I liked how it was set in three characters' perspectives – Jamie's, Ellen's and Louisa's – as it brought to light different struggles people had during the war, and how they fitted in to society at the time. However, I did not enjoy the start of the book as it was not as captivating opening and the storyline did not match up between the character's perspectives until they met. Overall, it was quite a good read, but not the best because I found it slightly slow paced.
3 out of 5 stars.
Humairah's review
The Enigma Game was an ok book. It wasn't my favorite because it dragged on and went into too much detail. It was a nice, calm read but I just didn't enjoy it as it wasn't my type of book. It didn't make me want to continue reading and I got bored.
Alfie's review
I thoroughly enjoyed The Enigma Game because it showed me an interesting insight into the RAF. The characters I found most interesting were Louisa because she had moved from the Caribbean and this book told of how she struggled to fit in with society's idea of normal. Another character I liked was Jane she too had to make sure no one found out she wasn't English, but German. What I learnt about the past was that the RAF didn't fight as regularly as I thought. Instead, they went on many routine scouting missions. This book was very interesting because it is set during the Second World War, however in Scotland, rather than a big city like London. I knew quite a bit about this period of time because it is so important, however this book enlightened me further. I found the plot very exciting and gripping. This book has definitely inspired me to do my own research about the RAF in WW2. Lastly, I would definitely recommend this book to other pupils.
Sylvia's review
The Enigma Game is set during World War Two, an event we often feel we know well. I really enjoyed this book because it felt like a good balance of lightheartedness and seriousness. Additionally, I felt like the perspective it provided was quite unique and made me consider WWII differently.
Personally, I did not really dislike any of the characters, as I felt they were all well written to be relatable. They were not perfect, but neither were they unlikeable, which can be hard to achieve but reflects real people. However, I think Jane was my favorite because I found her funny and I think her relationship with the main character, Lousia, was sweet.
I think that a lot of people from different age ranges could learn something from this book, depending on what you already know - for me, I learnt more about fighter planes and how they work.
Overall, I would recommend this book to anyone looking for an interesting read about the war. Stick with it because while it is not that exciting at the start it gets much more interesting and fast paced as it progresses!