The Unstoppable Letty Pegg
By Iszi Lawrence (Bloomsbury Education)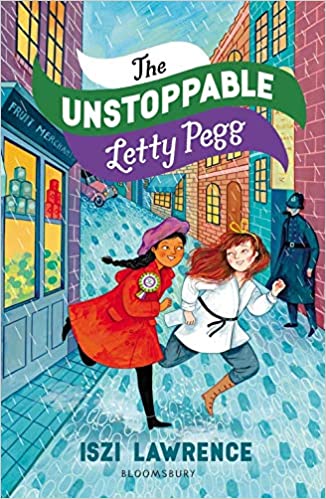 Hafsa's review
In my opinion, this book was one of the best. The characters were amazing, the plot was amazing. I don't think that there is one bad thing about this book. My favorite character was Letty Pegg herself because it showed how she went through a lot of difficulty because her mum was a suffragette and her dad was a policeman. The character I disliked was Mr Metcalfe (Letty's teacher) because of the way he treated the students. I am really glad that these days, this treatment of students isn't legal. In this book, I learned that women struggled to gain what they wanted. I also learned that women used jiu jitsu (a martial arts) to protect themselves when being attacked by police men. I would definitely recommend this book to anyone who is interested in history because this book taught me things I didn't know. Overall, there is nothing I disliked about this book. Well… i didn't really like Mr Metcalfe, but other than that, this book was amazing and it is packed with so many interesting facts.

Raihany's review
I like this book because Letty Pegg's mum is a middle-class Suffragette and is brutally thrown to the ground by a police officer. This changes her life. I like this because t is showing that even girls have the right to do things like standing up for themselves or voting. This also shows that both boys and girls need equal rights because nobody is better than anyone. She would also like to reunite her parents together because her mom is a suffragette and her dad is a police officer. That means that police officers try to stop the Suffragettes from protesting for their lives. It is really interesting because a young girl like her wants to change people's life and nothing is going to stop her or get in her way.
I give this book a five out of five star. I recommend this to people who are at least 10-15 year olds because this will help them understand what people did for the future and made this a better place.
Edward's review
The Unstoppable Letty Pegg is a book about a family divided by conflict and the relentless battle for women's rights. Lettice is just an ordinary girl trying to fit into school, but when her mother joins the Suffragette movement and goes on marches and her husband (Lettice's father figure, a policeman) is tasked with stopping the protests, great family conflict breaks out. Lettice follows in her mother's footsteps and becomes a Suffragette. She suffers the police brutality and discovers the Suffragettes secret weapon, Jiu Jitsu. Soon she is training with them and fighting for both her family and women's rights. Her Grandmother, however, is trying to blackmail Lettice and her mother not to interact with the Suffragettes and patrols who comes in or out of the house. After a head injury, her mother is also sent a doctor to help her, however soon she seems completely isolated. I like how Lettice Pegg shows great perseverance and willpower as she finds something she believes in and stays very loyal to it. I like Lettice's mother, as even though she is ill, she is still very spirited. I like how Lettice's father right at the end turns to the Suffragette side and is always trying to do good. I think it shows a very personal, family perspective on the battle for women's rights in the post-war era. Today it seems so strange that there was so much gender inequality in society, and it is very interesting to learn how hard the protests had to try to get their cause noticed. It is also surprising how much police brutality they suffered and endured yet always found strength to continue. I would really recommend this book as both enjoyable and a personal perspective on the Suffragette movement. A world with equality and one vote for everybody seems much better.
Izabelle's review
The Unstoppable Letty Pegg's plot was full of moments of excitement, humor, and it was an impeccably well-researched novel that would bring everything to life.
The character, which was the most interesting, was Letty Pegg because as a reader we could see how she went from innocence to revelation. She did not know much about the suffragettes and the voting polls but through her perspective and her journey I also was able to see and learn about WSPU and how women had to fight to earn their rights.
I did not like the character Mr. Metcalfe as he treated girls with derision and did not care about anyone but himself. Perhaps Iszi Lawrence was trying to show us how poorly treated girls were at that time.
I learnt about the secret weapon some suffragettes used called Jiu Jitsu which was used to defend themselves and their leaders against the police. It was the most exciting part of historical information in the book.
I was particularly interested by the vivid sense of the 1900s. I could sympathise with the characters and step inside the book to live that moment with them and see how different those times were.
I learnt about the group WSPU and how it was a women-only political movement and leading militant organisation campaigning for women's suffrage in the United Kingdom – something I have yet to learn about but am excited to learn about in the future. I also gained an understanding of the Jiu Jitsu, martial arts which was remarkably interesting as many movements were well described.
I would thoroughly recommend this book to other people as this book is enjoyable to a young audience as well as adults. The reader could even learn something new about the history of the suffragettes.
Eloise's review
I really enjoyed this book as it had so many twists and you couldn't expect what was gonna happen next. Letty, the main characters, mum is a suffragette, and dad a police man so she is constantly stuck between their arguing and I think that makes you see what it was like then and how much women really did want to get the right to vote. I 100% recommend this book.
5 out of 5 stars.
Arsham's review
I found all the characters interesting because to me all of the characters had the same importance. I liked all of the characters equally because they all had the same importance. No not really because we already had knowledge on this topic (suffragettes). This book was set before WW1 (1900's) which kind of made it interesting to me. This was book mostly serious and light-hearted. The fact that is has a meaning (women's rights). If anyone likes suffragettes and old-time stuff I would suggest it but overall I would rate this 4.5/10 because it gets more and more boring.
Izabella (Izsi)'s review
'The Unstoppable Letty Pegg' is the type of book that you don't want to end. Lettice's experiences with Jiu Jitsu or her involvement in suffrage. This book is engrossing to the extreme; it's a real page turner.
My favourite thing about the book is Lettice's character development. Although she is only eleven years old, towards the end of the book she is evidently more mature than she is at the beginning- not making racist jokes to try to fit in with Alice and Angela. Her growth throughout the story is clear but subtle - it happens slowly, spreading through the book – with every political march and every new throw, Letty gets stronger as a character and as a feminist. At the beginning of the story, Lettice wouldn't have spoken up nearly as much as she does at the end, showing that her participation in suffrage helped her to find her voice and magnify it.
The areas that I struggled with the most are the same areas which I found the most interesting. The representation of misogyny and police brutality was well written but it was sometimes difficult to read as it was so realistic. They are both described in such a brilliant way that even just reading about them I may wince or feel angry at people who are either long gone or fictional.
In conclusion, 'The Unstoppable Letty Pegg' is an excellent book about a serious topic with plenty of light-hearted banter that I would recommend to anyone who likes strong female characters such as Irene Adler.
Taous's review
Did you enjoy reading this book? Yes
Which of the characters did you find most interesting or did you like (or dislike) and why? Mr Metcalfe
Did you learn anything new about the past from the book? No
Was the plot exciting, thought-provoking, serious or light-hearted (or any combination of these)? exciting
What most stands out from the book? The old woman because she speaks slowly
Would you recommend this book to other students? Yes
Did you learn any new words or facts as a result of reading the story? Constables
Is there anything you didn't like about the book? no