To Liberty! The Adventures of Thomas-Alexandre Dumas
By Catherine Johnson (Bloomsbury Education)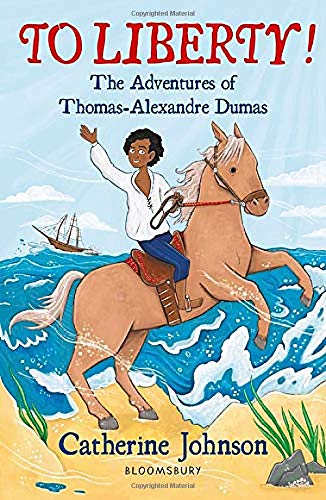 Kate's review
To Liberty is set during the time of the French Revolution and is from the perspective of Thomas-Alexandre Dumas, the son of a French nobleman and an enslaved African woman.
I learnt that many countries tried to attack France in the 18th century, which I did not know, though I did cover the experiences of enslaved people and the Haitian Revolution this year and its impact on abolition. I also learnt that France is a republic country but was a monarchy before.
I found the character Thomas very interesting, not only because it is based on a real person, but because he is very determined and does not like to lose. He is a very confident person. I did not like Antoine (Thomas's father) very much as he sold his other children to go to France, basically abandoning them but also demonstrated just how little enslaved, even when they were a person's own child, were thought of.
This book stands out because it is a short book with a big story and demonstrates that even though you may come from little, you can get a lot if you work hard, which is very inspiring.
I would recommend this book to people who like history and war-based books.
Ashley's review
To Liberty! by Katherine Johnson is a tale that spans two continents. From Poor farmer on a coffee plantation in Haiti to the miserable streets of Paris the protagonist, Thomas finds himself truly understanding the meaning of freedom. Sold by his father into slavery aboard a ship, Thomas needs to decide whether he will align with the aristocracy of his heritage in France or join the revolution and bring down the monarchy.
I really enjoyed the plot of 'To Liberty' as it moved quickly through the story and I felt it did not drag too much. As it is a historical text, I was learning about the first-hand experience the characters and this allowed me to sympathise with them. The themes mentioned in the book are serious ones, like racism and slavery but it was very delicate and almost light-hearted in their approach, so it did not feel like it was too difficult to continue reading. I really liked how it had two different settings Haiti and Paris, as it showed how difficult it was for the protagonist to settle in different places because he was struggling with his identity. I learned more about the French Revolution from a personal perspective than a historical textbook.
However, it was not without fault. The illustrations of the front cover and inside do not convey the seriousness of the story and it could be a missed opportunity if people look at the front cover and feel it is too childish for them. Also, as the plot moves quite quickly I feel that many place names especially French ones are mentioned but not developed. I struggled to follow the story around the city maybe a map with the place names would have been helpful to trace the plot.
I would recommend anyone who likes a good swashbuckling story that spans two continents and has a very likeable resilient protagonist read 'To Liberty'.
Isla's review
I found this book really helped my history. As I read more, the more intrigued I became by what went on centuries ago.
It is an adventurous story. I enjoyed searching the places, the continents and the countries, in it. This really helped my world geography.
We have been learning about Fair Trade at school. So, I made links when the book described the coffee farm. That was really interesting.
I am glad that my teacher asked me to read this book. It really helped me to understand history around the world – geography too!
Ajanth's review
I enjoyed the book quite a lot more than I thought I would. I found the Father of Thomas Alexandre Dumas remarkably interesting as he did not care about any of his kids. The only thing he cared about was his own life and money. One thing that was interesting about the father was that he left his wife's stone and in the end Thomas's dad did not keep his promise (which was buying a new stone for his wife). This shows us that the father was very selfish and did not care about anyone except himself. I learnt that the FRENCH REVOLUTION started in 1789 and ended in about 1800. Another thing that I learnt was that about half of Europe was against JUST France. What made the history/time interesting was that the author put dates on each chapter of the book. The thing that stands out the most in the book is the pictures which inspired me and made me wanted to read more. I would recommend this book to anyone who loves fiction books or just likes history. Overall, I did like the book, but I did not like that the author did not tell us about Thomas-Alexandre's Mother.
Gbemileke's review
The book being a historical novel told us how Alex growing up with Merle made them very close. It was fascinating that he had full faith in Merle as his race with Pierre, and also within instance of the caiman. It was nice that Alex went back to save Pierre from the caiman.
Alex really loved his maman and promised to get a stone for his maman's grave. It wasn't done at the end. Moving from their home wasn't easy for Alex especially. Much wasn't revealed about his siblings but his father wasn't sensible to sell them.
Selling Merle wasn't easy for Alex also. Just as Alex, I was confused when his father was about to sell him until the deed was done. His Father wasn't really a good father to the children. Alex was embittered especially at his father after his servitude, he could imagine how his siblings would be feeling. The Chevalier did the right thing by teaching him personally. He was a really good swordsman. Alex took a decisive step by giving everything back to his father and leaving all of his things behind. He became a Queen's Dragoon which his father wouldn't support at all. He really meant what he said when he said he didn't want to have anything to do with his father again, he didn't even go for the burial.
It is amazing how he took the soldiers as his brothers. I like his determination always to fight for equality. He always knew his mother was proud of him and always remembered her even if he never went back to her grave and never put the stone.
One of my favourite parts was during the war when it was still winter. His soldiers were really brave and strong, he had faith in all of them. His wife, Marie-Louise also had faith in him. It showed that he loved his family including his daughter.
Facing a lot of difficulties because of his skin colour he was still able to thrive.
It's really a nice story, I'd give it 4 out of 5 stars because it would have been nice if he found his siblings and Merle.
Iustina's review
"To Liberty!" is a book about the life of Thomas-Alexandre Dumas during the French revolution. Along the way, he makes friends, enemies and rises to the challenges of loss. He battles many in the revolutionary war and became a great hero after a tough childhood.
I really enjoyed the plotline of the book and how it is documented though the cover and illustrations are childish for a book about war and death.
I am big fan of the of the fragment book where Thomas is not acknowledging his father as his only biological family left as he abandoned Thomas. This left him with a distrust when his father re-entered his life as he felt too betrayed to even call him by anything other than his official title.
I really enjoyed the character of Marie-Louise as she is a great example of the patriarchal way of life during the times of the French revolution. This is due to the fact that Thomas had to attain her hand in marriage from her father.
The theme of racism in the book is also very telling of the time frame. Thomas is a man of colour who has to work his way up the rank after being a subject of slavery.
Once again, I believe the cover and illustrations are not mature enough for the books atmosphere.
Amelie's review
To Liberty is a great book to learn about how living can be tough in the time of Tomas Alexandre Dumas. A great adventure book that shows how life doesn't give you everything you want. This is explained by the selling of his siblings, horse, himself and many other reasons. One of the only faults is how it repeats the saying 'how I wish the floor would swallow me up'. The book is probably written for 8-9-year olds, but the story is meaningful and tough that it is brought up to 9-10 year olds.
It is an easy book to read with a strong message of equality and how everyone should be treated as equals.
Tomas Alexandre Dumas finds himself losing his horse to his father's wallet and spends quite a bit of time looking for huis Palomino friend. Until he learns to move on and find happiness in other places.
A great novel.
Sophia's review
My favourite character was Thomas-Alexander-Dumas because he never gave up and he fought for equality and freedom. My least favourite character was the fa because he left his youngest kids behind whilst he took Thomas to France, lost a bet so had to pay off the debt and then sold Thomas as a slave.
I enjoyed reading a book about war, equality and reading a book from a black person's point of view where there were so many racists. What stood out for me was that Thomas didn't take his father's money to become famous. He worked hard to get to the top of the rank. He kept pursuing.
I would rate this 9.5/10 because it was all about boys. But it was a brilliant story overall and it just goes to show that you can achieve anything if you set your mind to it.
Loved reading it.
Elias's review
To Liberty is a historical book about the life of Thomas-Alexandre Dumas.
The story is set from 1775 to 1806 starts in a coffee farm in Haiti where Alex lives, as his father's money starts to decline his father decides to sell most of his stuff (including most of his children). Soon Alex is the only one left when his father decides to sell him as a slave temporarily gets sold as a slave by his father in the city of Port-au-Prince. After half a year his father sends for him and together, they embark on a ship to France where his father is a marquis and he is a count. From there, he gets sent to a military academy in Paris where he becomes a natural for sword-fighting, horse riding and shooting. After a while he gets bored and decides to enlist as a soldier where he led his own men to victory many times.
Overall, what I really liked about the book was the fact that it contained historical events, but it was written as a fiction book to entice the reader. What I didn't like was the fact that the book had full page illustrations at every chapter which made the book seem like it is written for younger readers. I would recommend this book to young readers in between the ages 8-11 as this book would help get into reading and would fuel their imagination.
Lauren's review
Main Character: Thomas-Alexandre Dumas.
Other important Characters:
His Dad - Antoine Delisle,
Chevalier
His friends and comrades - Jacques Piston, Louis Espagne
His wife Marie-Louise.
The book tells the story of a young boy who was taken from his home on a coffee farm in Jeremie, by his father who wanted to go back to his old home in France. After a short period of time as a slave on a ship, he joins his father in France. As time passed, he grew to be the best swordsman is France. After that he joined the Dragoons in the army and plays a big part in the French Revolution.
In the book I enjoyed the time and effort the author put in to the book with the description of everything, I felt like I was there myself. I love the excitement and the drama in every single paragraph.
I found that the book can be a bit confusing if you don't pay much attention and concentrate. Other than that, it was an amazing book, and nothing could be improved.
I would recommend this book for people especially if you love history or France. This is an amazing book and more people should read it and know the story of Thomas-Alexandra Dumas.
Merse's review
The character that I found most interesting was The 'chevalier'. The reason for this was as he was also dark coloured like Thomas but because he believed in him and gave him strict but worthy sword training which he eventually used when he went to war to assist France with the Dragoons.
A character that I didn't like that much was Pierre. Even though he was only mainly mentioned in the 1st chapter, I disliked him for his arrogance (believing he owned the place and everyone else) as well as discriminating Thomas, not just for his skin colour but his superior skill in horse riding.
Even though I already knew most things about this timeline in history, one thing that I found quite peculiar was that at the time, countries such as France would train and recruit young men in case of any emergencies or casualties.
One thing that made this book unique to me personally was the plot. It was very exciting as it went from a young boy enjoying life on a local island to being thrown into the heart of France then training for the military. This ended in him becoming one of the best soldiers in the entirety of Europe, therefore leading him on all sorts of adventures.
I would definitely recommend this book for other pupils and students. Although it might not be for everyone and some say that it is not the most action-packed book, I think that it is 100% worth your time. The vocabulary is not that complicated, and you might learn some interesting new facts like how the French Revolution started and how most people had no choice but to fight for their honour, freedom and liberty.
Overall, I think that there was nothing wrong with this story. The plot keeps you occupied and engaged, it is a great mixture of Historic-fiction and Action and it can vary across different classes of age groups. In my opinion this book is a fascinating story that is underestimated by many people.
Sarah's review
The story is based on a family of slaves that soon become free on the streets of France. This novel is very concise meaning the writer is being precise about how much information is written. This is one reason why I like this book because the reader can use given information to infer what could happen next.
Another reason why I like this book is because Alex (my favourite character) has tow sides he can be happy and angry.
Whilst reading this book, I learnt the meanings of many words like fury (to be wild, frustrated or feel violent anger) and also liberty (the condition in which an individual has the ability to act following his/her own will.
I learnt that the three musketeers is a French historical adventure novel, written by the French author Alexandre Dumas, who was also featured in To Liberty,
I believe that the story line is thought provoking because it is based on freedom and not every human has the right to do as they desire.
The one thing I didn't like is the book being a small size, however it is extremely compelling because of the story behind it.
Ollie's review
To Liberty is an amazing book about the life of Thomas-Alexandre Dumas. It covers a lot of his military career. You get to read about his challenging life and his transformation from a slave to a leader in the alps. He talks about his challenges with his father and soon loses his relationship with him.
I like how it covers a long-time span and not a week or two like a usual book. I love the illustrations that show you his evolution in appearance.
My favorite part was when the revolution started as it catches you off guard and is a big surprise. I think that the author could have focused on the moment of the beginning of the French revolution as it's over as quick as a flash.
Overall this is a very decent read that I would recommend.
Charlotte's review
This is my honest review. I did not like this book; there was nothing to pull me in. There is lots of history but that was not enough to encourage me.
I had to make an effort to finish this story. Sorry, it was not for me. Maybe someone else will enjoy the book more…
Zahra's review
I found Alex the most interesting and also the main character because his father owns a farm in Haiti but his father wants to move back to France and slavery is happening there so he fights back.
I would also recommend this book to other people because I personally really enjoyed reading this book. The plot was interesting and also really wants you to start reading it.