The Austen Girls
By Lucy Worsley (Bloomsbury Children's Books)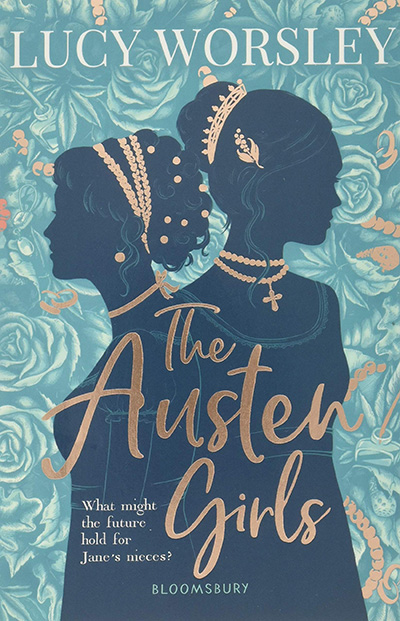 Eloise's review
'The Austen Girls' is a historical young adult (YA) novel written by one of Britain's most favourite historians Lucy Worsley. The characters in this novel are based on real historic people such as the famous author Jane Austen. The book also contains historical places like Godmersham Park and other locations. The real people enrolled in this book are placed into fictional events in order to portray the real aspects of life in Georgian England.
Fanny Austen, the niece of the famous Jane Austen, is the eldest of eleven children so she has a lot of expectations to follow being the oldest and most mature. Along with her cousin Anna, they venture across different parts of England, attending the most fanciest of balls. Fanny and Anna attend these balls to dance with different people (some more boring than others) in order to find a husband who can reach their families high expectations of wealth.
I think that the author shows how much the majority of people have much more knowledge now then they did 200 years ago. In the 19th century, women who weren't married may have been perceived to be 'unladylike' and maybe 'less sophisticated'. However, through this book, Fanny and Anna's attitude towards marriage change as they find out that their own aunt was not married herself. This helped them to realise that you can still be successful without getting married.
Also in this novel, we discover who Fanny really enjoys dancing with. His name is Dominic Drummer, who is a clergyman. Despite the fact that Fanny's parents told her not to get involved with clergymen, for they don't earn enough money, Fanny still goes out of her way to help Mr Drummer. He finds himself In trouble with the law and is taken to a correction centre. This exciting storyline enhanced my interest in Fanny for she does not care about status in society, but cares deeply for a person's character.
I loved the characters in this book, Fanny and Anna are great people to follow. I also love how they both lead different lives but at the same time they are both such strong young women. I really like the way that Lucy creates a funny personality for Jane Austen, how she is independent and sometimes a bit rude, as well as a great inspiration to her nieces.
After reading 'The Austen Girls', I would definitely recommend this book for anyone who has a great interest in historical fiction. Lucy Worsley's research and knowledge stands out throughout this piece. Whilst I was reading this, I learnt a lot about the era that Jane Austen and her family were around in and has made me very intrigued and has made me want to learn more about The Austen Girls and their history.
Max's review
Overall, I enjoyed the book and would definitely recommend it to anyone else who is deciding what to read.
The History factor of the book was really substantial with all the historical facts from the 19th century Georgian society based on Jane Austen's nieces (Fanny and Anna) and their journey on finding a husband was brilliant and exciting to read about. I was only shocked/disappointed by one part of the book. The ending. Other than that, I'd definitely give it a try and you might even enjoy it.
Beth's review
A delightful story bringing alive the world of Jane Austen through her nieces Anna and Fanny. I really liked how the book spoke about issues facing women during the Georgian period such as marriage, money and class. It showed the importance of girls having values beyond being a wife and mother. I also enjoyed the part when Fanny tries to help prove the innocence of a man called Mr Drummer, who is set up for a crime he didn't commit. Overall it was an excellent read which I couldn't put down and would recommend it to anyone interested in the lives of women during this period.
Leo's review
Overall, I really loved this story. It was very informative and told me much about the life and career of Jane Austen and her family. Jane Austen herself was my favourite character and I found her the most interesting because she had a secret life where she wrote stories and nobody in her family knew about it, although they all unknowingly read her books. I didn't much like Mr Terry because he was portrayed as a bit dull and droopy. I learnt a huge amount about the Austen family and the time they were living - at the turn of the 19th century. The fact that women were still thought of as less important than men, and that they were supposed to get married off very early, was shocking to me and gave me an insight into how people used to think.
The story had a mixture of different tones. It was, at different times, heartbreaking, humorous, serious and full of suspense. The thing that most stands out about the book for me is the way women were treated and how awful 'justice' at that time, was. For instance, when Anna, Fanny and Aunt Jane were visiting the prison, the guardsman was being very horrible and disrespectful to the prisoners. He taunted them and they were chained to the wall.
I would definitely recommend this book to everyone aged 11+. One very interesting fact I learnt was that Jane Austen's portrait is on the £10 note today, as is Godmersham Park, where she and her family, lived. Also, her books are signed by 'A lady' rather than using her name. I thought it was pretty impressive that she managed to keep her writing secret for so long.
Harshine's review
The Austen Girls is a story about the lives of Jane Austen's nieces, Fanny & Anna, is a wonderful way to express the history of Georgian England through joy, suspense, and justice and gives more insight into one of the most celebrated authors of English literature. Furthermore, I found Aunt Jane as the most interesting character as she never gave a direct answer to her nieces and always left future events to unfold by themselves but loved the relationship between the girls and their aunt. On the other hand, I disliked Edward Austen as although he is a busy man, he does not seem to have time to carry out his cases properly, much less for his children.
Through this book, I was able to appreciate family life in the Georgian period. Jane Austen wrote about life in Georgian England, so it was interesting to consider hers!
On a different note, it was astonishing to find out about the horrifying truth of a scandalous shopkeeper during the Georgian period and her little tricks to gain more money in her business. I would absolutely recommend this book to other people as it is both intriguing and enlightening in many ways.
Raiwa's review
This book follows the tale of Jane Austen's nieces, Fanny and Anna, in their hunt for a husband. It portrays the roles of women in the early 1800s, it also shows the struggle each girl faces. Whilst Anna's family is barely getting by, fanny's has money to burn, this creates both friction and competition in their otherwise loving relationship. Fanny's Aunt plays a huge role in the qualities Fanny searches for in a husband, unlike her cousin who wants a husband only to escape the drab life she lives with contempt. As Anna searches for an escape, Fanny looks for adventure and daring, described in vibrant colour by her aunt. Parents of both girls have difference opinions of what is suitable for their daughters: Fanny's parents warn her off the dreaded clergymen, wishing her to marry nobility, or at least a rich man, whilst Anna's parents encourage her to marry a farmer or thereabouts. Some part of this book were a bit too romantic for me, however other parts were exciting and exhilarating, the settings were well described, and I feel as though it gives the right image of that era, complete with the backward views of people in that time. The characters are all likeable and witty. Overall, I give it a 3.5 / 5 stars.
Jane's review
The Austen Girls is a historical fiction which draws upon the real -life Austen cousins, Anna and Fanny.
While some of the information in the story is fictious, it does focus on a scam and mystery that really did happen in Jane Austen's world. Indeed, Jane Austen herself is involved in the story and she is developed as a wise matron and a figure of much delight for her nieces.
The story gently brings to life the Georgian England of Austen's times and there are fantastic references to Pride and Prejudice throughout. It is a fantastic gateway book for young people to become familiar with Jane Austen and hopefully read some of her texts.
I really struggled with the two main characters though. While living in close proximity to the wise and rebellious Aunt Jane, they are very quiet and submissive. Although this is a sign of the Georgian misogyny, I would have liked to see them having more moxie.
Overall, it was an enjoyable read and may introduce others to the world of Austen.
Aansah's review
Overall, I really enjoyed this book. The plot was layered out really well, and linked together nicely. It kept me hooked, and I found myself wanting to read it throughout my spare time. Possibly the reason the book appealed to me a lot is because of the fact that it does link to Jane Austen, and I love her books "Pride and Prejudice" and "Mansfield Park", but probably also due to the time it was set in (Regency Era). My favourite character was probably Fanny, I loved her character development throughout the story. She starts off as mostly shy and insecure, but, as the story progresses, she becomes more confident and responsible. I also love the close relationship she has with her aunt, Jane Austen, and the understanding they have between each other.
There were a few key parts, starting with the coming-out ball of Fanny and Anna. It highlights the expectations of the era, where they are expected to find a suitable match befitting their stations. So even though Fanny starts to like the clergyman, she is unable to consider him as he is of a lower station, though she does defend him when he is accused of theft, and helps capture and testify against the perpetrator of the event.
Another key part could be the fight between Anna and Fanny, as it tests their friendship, which does fall apart and isn't fixed until towards the end of the book. Probably the main event in the story is Fanny's mother dying during childbirth. It's probably the biggest event that made Fanny much more mature, and makes her reconsider and reflect on the decisions she's made throughout the book. I learned a lot about the Regency society from this book, a lot of which is quite new to me. For example, girls would come out at the age of 16, and would be expected to marry off as soon as possible.
This story was quite light hearted at the beginning, but becomes much more serious as it progresses. There are a lot of exciting parts, and overall it is an amazing story with a great plot. Honestly, the only thing I would change is that Fanny's relationship with her younger siblings would be stronger and shown a bit more in the story.
I would recommend it to other readers, especially those who like reading something heavily based upon the Regency Era, and those who like a bit of mystery and romance.
Keeley's review
I enjoyed reading this book. I found Aunt Jane quite interesting, the way her character was portrayed to be an independent woman. I learnt a little bit more about how they dealt with crime back then. The time it was set in was interesting to me because I liked learning how they did things or even talked back then.

I thought the plot was quite exciting at some points, there was things that happened and made me want to read on. I think the idea that women don't need a husband to live is something that stands out in this book.

I would recommend it to other students. I learnt some new facts about the time period that the book was set in, like young women could come out in society by attending their first ball. I didn't like who some of the characters ended up with, but in general the book was good.
Jessica's review
I really liked the Austen girls because I usually like books set in the Victorian times and the author really made it believable. I also liked how when you read the blurb it seems not the most exciting but when you read it you can not put it down!! The thing that stands out for me is all the details about the time and how the author has really looked into it and explored the past. This book has really made me want to research more into that time period and now I will read more of Jane Austen's books. This book was funny sad and entertaining to read I strongly recommend it!
4 out of 5 stars.
Leah's review
Firstly, this book would be good for those who were new to Jane Austen and wanted to visit the world of her most famous romance novels, it can teach you many things about Jane Austen and her life before you want to read them. It also includes lots of little details from some of her most famous books (including pride and prejudice)
On the other hand, someone who enjoys reading and knows a lot about Jane Austen will find this book a disappointment as it is not as romantic as you would expect and doesn't live up to the expectation. I felt like the book was uncomplete and unsatisfying there was not a lot of romance and if there was it only lasted a page of two. The book is more for new Austen readers who want to find out more about her writing style and herself. Id recommend this for someone who is new to Jane Austen!