Armistice Runner
By Tom Palmer
Young Quills reviews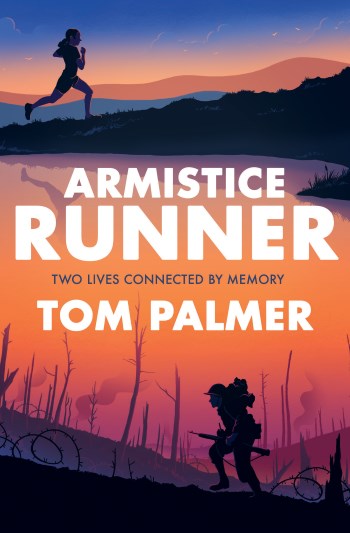 Ella's review
I really enjoyed this book by Tom Palmer. I found it very enjoyable and I learnt many interesting facts about life in World War One. My favourite character was Ernest, I found his thoughts and emotions very interesting and how people coped when losing loved ones. I'm not sure that there was anyone I didn't particularly like but in the way the author has written the book I feel like a shadow has been cast over Abbie's Dad (Abbie is a rival fell runner to Lily), he is made to be a bad person, therefore meaning that he is the 'villain' of the story.
The time period from 1914 – 1945 is a period of depression, so I enjoyed learning about how people lived and how people drew closer and further apart from each other. I think the main emotion conveyed in the book is a sad tension, meaning that a large section of the story is very tense and dips into the sad part of the story.
The part of the story that stands out the most is Ernest's diary entries to his departed brother, Fred. The entries are endearing and emotional and convey lovely images in your head. I would recommend this book for people aged 10+; the actual read isn't particularly hard but I think some of the subjects in the book could be upsetting for people under the age of 10. Overall, I think this book is a great read with accurate and interesting facts relevant to the time period.
Isabella's review
Palmer's book was a quick and enjoyable read. However, for me this book was lacking in description, specifically of characters, so I struggled to picture the scene. Yet the author did include very lovable characters such as Gran who adds emotion to the book through her struggle with Alzheimer's and Grandad, who is supportive and loves his wife dearly.
I really enjoyed how the book was written in a diary from Ernst and Lilly's thoughts about the world as she was a very relatable protagonist.
Star rating ★★★★★
Lola's review
I really enjoyed this book because I think the mix between modern days and old days really worked quite well. I think this was a great fit for history books and children's books because it wasn't all about the World War, it was about Lily's feelings and running. I really liked how him talking about the war wasn't just a story, it was a diary entry and his personal feelings. Also the diary entry wasn't really a diary entry, I would say they were more like letters to his dead brother, Fred. The only negative thing about this story was that the old day language could have been better and the description of the old day could have been older and there could've been more of it. Other than that I really enjoyed this book and would say it's for any gender age 9 – 14.
Star rating ★★★★
Claudia's review
My favourite character was Ernest because he was brave and strong but also kind and loving. I didn't like the character Tim because his personality and depicted age was very confusing and changing. I learnt about how the English treated their German captives. This time setting was interesting because it was told in diary entries. It was realistic and it made me interested in how the war affected home life. The plot was interesting and gripping and thought provoking. What stands out from the book is Lily's relationship with her Gran. I enjoyed it because it was diaries which meant you found out as Lily did and shared her questions. I would recommend it.
Star rating ★★★★
Rhea's review
My favourite character is Captain Whitaker because he's honest and kind. I thought it was a bit boring and nothing really happened. I also thought that the gran disappearing was a bit random and a bit out of place in the book as it wasn't really an action book, so it was a bit weird. I also found it a bit simple and dull and they needed to build more on it.
Star rating ★★★
Amelia's review
In my opinion, this book didn't have a strong plot line and it all led up to a very anti-climactic ending. It was very simple in the sense that the structure and vocabulary was limited. The characters and emotional aspect between the girl and her grandma suffering from dementia is well-written. I feel this wasn't really too historical, though the sentimental idea of the girl reading her great-grandfather's diary at war was good, it was just a bit all over the place.
Star rating ★★★
Elin's review
Brief outline of story: A person called Lily is competing in running races and struggling. She discovers her great-great-grandfather's diaries of WW1.
Who are the main characters? Lily, Lily's grandmother (who had Alzheimer's), Ernest (Lily's great-great-grandfather.
I thought it was an amazing story. It created images of WW1 in my head and I felt like I could really connect with the characters. But there were some parts I didn't understand.
Glory's review
I found the grandad and the Captain the most interesting because their stories aren't the normal ones you read about. The Grandad went to avenge Fred which I found quite nice and showed he valued his friends.
I didn't really like Abbie, Lily's rival in the running.
I learned a lot more about how hard the conditions were in the trenches and I didn't know they sent runners for messages, I always thought they sent carrier pigeons!
I think it was interesting because when I did WW2 and WW1 in Year 6, we focused on Anne Frank, Winston Churchill, and Adolf Hitler who are all quite famous so it was really interesting to read it from a normal person's point of view and what happened to them.
It was quite moving in the end when her grandad encountered the French (no spoilers!!) and it's really nice when Lily helps her gran remember (she is suffering from Alzheimer's).
At the start it is a bit hard to get into but it is really thought-provoking and you feel what's going on.
Megan's review
Whilst reading this book I didn't just find out one new thing about World War One, it widened my whole knowledge about this key event in history. It was a real eye-opener to me because I really got a clear understanding of what it would have been like out on the front line, fighting for your country. I personally believe that the level of detail was what made it come to life even more for the reader. It really made me appreciate the sacrifices these young men made for the freedom we have today.
The character I found most interesting was Lily because she was resilient even though the times when her gran was in her weakest and toughest times. She was a good role model to her younger brother as she never let him see her worried or disorientated. However, there was one character I didn't like as much; that was Abbie's dad. He always expected more than she could actually produce and it seemed that his main goal in life was to bring his own daughter down when actually he should be doing the opposite and trying to make her feel good about herself.
The thing that stands out most to me is that it is not just an overload of non-fiction, it is a well balanced mix of both non-fiction and fiction. The only thing that would make it that little bit better was maybe adding some pictures here and there, but don't get me wrong, it was an absolutely fantastic book to read.
I would recommend this book to any high school pupil due to the fact that it is really entertaining to read and it drags you out of the present and teleports you back to WW1. If any book was on your bucket-list, make sure it's this one!
Isabelle C's review
I really enjoyed this book as it sticks to the facts whilst showing character emotion. It had a great plotline. My favourite character is Abbie because I think she is a kind and caring person, only she doesn't let it show when she is running as she is too competitive then. One of the characters I didn't like was Tim because he is very annoying and pesky. But I am glad he was in the story because he plays the normal younger brother perfectly. I would recommend the book to people who enjoy tales that are a mixture of fact and fiction.
My rating: 5 STARS!
Imogen's review
I found the characters Earnest, Lily, and gran quite interesting because there is a hidden story in all of the characters. They all show their emotion in different ways. They are interesting in the fact that they all have the same hobbies and personalities, as a result of this they all express their feelings in the same type of way.
I liked all the characters because they all behave differently towards each other but always support each other, whether they are rival enemies or best friends.
In the book I learnt about the world war and the punishments they were given.
The whole book was set on running and world war and this was shown in different ways throughout the book: some scenes were when they the Germans and English were fighting and some was when the firing was happening and other parts were when the soldiers were being helped from being shot. They often did the fighting to show revenge to the ones they have lost, this was clearly an important and interesting time period for the participants in the war.
In different views of the characters there is a mix of excitement, sadness, and thought provoking times. These feelings are felt from different characters in the story.
The chapter in the story which most stands out for me is how the different characters that like running and different sports show their emotions through running (this makes them try and fight harder to get what they want).
I would recommend this book to anyone that likes stories with other stories hidden in them and also people that like emotional stories.
This is a book that you can't put down!
Eva G's review
I enjoyed this book as I was intrigued the whole time and it gripped my attention by using the great-grandfather's and daughters past to join them together. The book is a fantastic read as the emotional attachment to the characters adds up. Along with this, there is the action of them both running.
Lila's review
The book Armistice Runner is about a teenager called Lilly whose grandmother has been diagnosed with Alzheimer's. Lilly loves running in the fell races and is always determined to win. After she discovers that her great-great-grandfather wrote and kept diaries of his running and journey throughout World War I, Lilly reconnects with her grandmother and is very inspired by the diaries. I found Lilly's grandmother the most interesting because she had experienced so much during her life and was very knowledgeable throughout the book. I disliked Lilly's younger brother Tim because he was extremely rude to Lilly when she raced and insulted her. The book has an interesting layout of two time periods (present time and World War I (28th July 1914 – 11 November 1918). I really enjoyed reading this book because it demonstrates what happened at that time very clearly and it shows the journey of an inspirational Runner with strength. I would definitely recommend this book to students aged 10 – 14 years old.
Rose's review
This book is about a girl called Lily who loves to run. On a visit to her gran, who has worsening Alzheimer's, her gran gives Lily diaries from Lily's great grandfather who was also a runner but before World War One. As Lily reads through these diaries she comes to discover his diary entries from his life and how he felt during the war and during his competitions. When Lily finds out his story of bravery she starts to reconnect with her gran which gives her the inspiration and bravery to try and win her big race.
I would recommend this book to people who are interested in World War One fiction and who like reading books which change from diary entries to writing about real life in a family.