Shadow of the Centaurs's review
By Saviour Pirotta
Young Quills reviews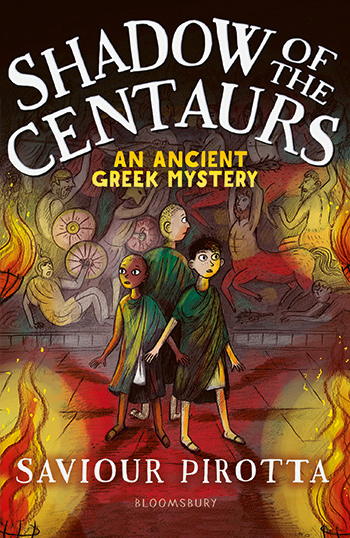 Lucian's review
I enjoyed Shadow of the Centaurs because of the many diverse types of characters. My favourite character was Thrax – a slave who was a genius at solving mysteries – because he was very clever and knew about almost everything.
I chose this book because it was set in Greek times. As well as being fun to read, I also learnt that the Spartans wanted to invade Athens. It had a fun storyline which you could try and solve with the characters which made it exciting and suspenseful.
I would definitely recommend this to people who enjoy mystery and adventure. It is a fun short book that I believe many people would enjoy.
Caitlin's review
I thought that Nico was one of the most interesting characters in the book because the story was from his point of view and although he helps solve all the mysteries, his friend, Thrax, always ends up getting the credit. Also it does not tell you much about Nico's backstory and it makes you imagine one.
I did not like Master Ariston because although he was not the villain he did not treat Thrax and Nico very well, though later in the book you find out that he does care about Thrax.
I learnt about some of the Greek gods and festivals that I had not heard of before.
The plot was exciting but a tiny bit serious and thought-provoking because it makes you want to find out more. The book stands out because it was fictional but it did have some facts and taught me a bit about what it would have been like to live then.
I would definitely recommend this book, especially if you like Greek history, because its full of adventure and a page-turner.
Isabella A's review
I think this was aimed at a slightly younger reader than me. I say this because, for me, I could see through the mystery as soon as Thrax found the first clue – it could have done with some more build-up or some trickier clues, so it was not immediately solvable. I also thought the story's end was a bit unsatisfying as though it would have been a heart-breaking moment, I didn't know enough about the characters to truly feel bad for them.
Star rating ★
Rob's review
I enjoyed reading the Shadow of the Centaurs because it has a lot of action and adventure in the book with how the three heroes must travel to the Society of Centaurs and try to find out the real identity of their great leader, and how three nobodies go to heroes by stopping a plot to assassinate their leader (Pericles) by unknown travellers. What made me want to read into the book was that the travellers wore masks to hide their faces and only have slits for them to see out of. The book is recommendable for history lovers because it explains ancient Greek mythology and how a centaur is created. I don't have a favourite character, I like them equally in the book. In my opinion you should read Shadow of the Centaurs because I think it's a great book.
Itohan's review
If you like action-packed, mysterious, historian book I definitely recommend this book to you. Shadow of The Centaurs: An Ancient Greek Mystery is one of many great books that Saviour Pirotta has written. Furthermore, this book is a great book to read if you love Greek mythology. Personally, I think that this book is aimed at primary school children because of how it is illustrated and written. The book is set in Athens where we meet two boys called Nico and Thrax. Nico and Thrax love a good mystery but when they find out about a secret society called the society of centaurs trying to assassinate general Pericles, they had to put an end to it!
Rating: 7 out of 10.
Sam's review
My favourite character in the book was Thrax, because of his interesting background and what he wanted to achieve throughout the story. I didn't really like the character Centaur Alpha because he was the enemy and was also a Spartan. I didn't like the fact that he wanted to overthrow Athens.
I learnt a lot from the book about Greek history that I never knew. I had always wanted to learn more about the Greek world, and this book kept me interested and taught me a great deal about them. What I love about the time period of the Greeks, is the power of the Greeks and their amazing architecture. I have always wanted to travel to Greece to see the remains of their buildings and monuments. I would love to see how much detail goes into them.
I found the plot riveting because it was a murder mystery, and the main characters were trying to work out who the culprit was, with twists and turns.
I think what most stands out about the book is the plot itself. I thought the plot was quite mysterious because there was so much going on and you couldn't tell what would happen next.
I would definitely recommend this book to other pupils. It is extremely pick-up-able, grabs your attention, and contains some great mysteries.