The Silver Hand
By Terry Deary
Young Quills reviews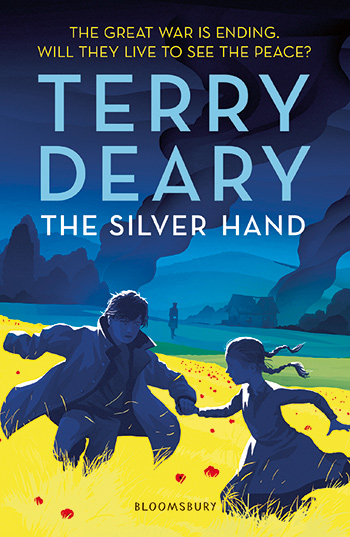 Amelia's review
In my opinion, this was an overall average book. The start is a bit slow-moving and confusing as it keeps switching from one place to another, focusing on three individuals. Later, I found it clever how they interlocked and linked together although the plot itself was very "unlikely". I found the twists a bit obvious and predictable. The story went on a bit longer than it should have, instead it should have been more detailed like the start of it was.
Some parts of the book were good. The specific scene setting was good, although it could have done with more descriptions. The mystical and mysterious aspect of some of it was well-written, though unrealistic and "out of place" even though the author tried to explain it towards the end. I think this is a book worth reading.
Star rating ★★★
Nathan's review
I really enjoyed reading this book. My favourite character is Ammie, she has a good part of the story and has to keep this secret from everyone called the silver hand. She is also the child of the spy which she also played a good role in the story. I didn't really learn anything new about the past. I would say this book is more gripping story than a factual story and that is what made me like it the most. I would also say the words are not too complex in the book, I would recommend this to an adult that is looking for an easy read or a child looking for a not too long book. I like the way the book transitions being left alone from the war to being taken over by the Germans. I thought the story was a bit light-hearted but at the same time a bit dangerous, like for example when she was in the balloon and almost got shot down. What made it interesting for me that it was peak war and was really dangerous. All the characters in the book seemed really interesting and had a lot of backstory to how they got to where they were.
I would give this book 8 out of 10 but definitely recommend it to peers.
Lola's review
I think this was an okay book. Closer to the end it got less confusing the more you read. But nearer to the beginning, it was harder to understand. I thought this was an adventurous, action-filled book but it wouldn't really be the book of my books.
I would recommend this book for 7 – 11-year-old girls and boys who like adventurous books.
Star rating ★★★
Christina's review
I found Sergeant Grimm interesting because he was the German spy sent to spy on the British and that he had a "silver hand", which later turned out to be cheap tin. His personality was cruel, he went as far to nearly throw Amy (a French girl who found out his secret) off a hot air balloon!
I also found Captain Ellis quite interesting because whatever situation he was put in, he almost never lost his calm demeanour. An example could be when he found out the bag that had fake plans and the bag with a card that was signed by the general that could allow anyone anywhere were accidentally switched, he just remained tranquil because he knew that they still had a soldier following Sergeant Grimm.
I found that the time was extremely interesting because it started out as Spring 1918 and then at the end was November 1918. It also was educational with descriptive words to describe the different settings and the feelings.
What stand out for me on this book is that a German boy and a French boy — on completely different sides of the war — was still able to form a friendship when most odds were against them. They worked together to help end the war and I find that even after years after WW1 they were still friends.
I would definitely recommend this book to other students who like maybe a little violence, beautiful friendship, menacing and sly villains, and a great insight to history.
Isabelle's review
I really enjoyed reading The Silver Hand because it was full of action and plot twists. My favourite character was Ammie because she is such a strong and brave female character. The story was very realistic and fun to read. One thing I really liked about it was how it wasn't as prejudiced as other books about the war, as it kind of tells the story from both sides. I would recommend this book to anyone who likes action-filled historical fiction.
Andrew's review
My favourite character in the book was Ammie because she and her friend Marius were on the run together from the Germans behind their lines and she took charge of the situation and helped Marius. I didn't really like the character of the British traitor because his character wasn't really developed much through the story.
I learnt a lot from the book about how the British spy network in WW1 managed to infiltrate many aspects of everyday life.
I found the plot great because there were many twists in the story line, many unexpected as well. I think what most stands out about the book is how the French girl and the German boy worked together despite their countries being at war.
I would definitely recommend this book to other pupils as it is very interesting and hide many secrets about both sides of the war.