HA Awards Evening 2018
Historical Association News
Published: 5th July 2018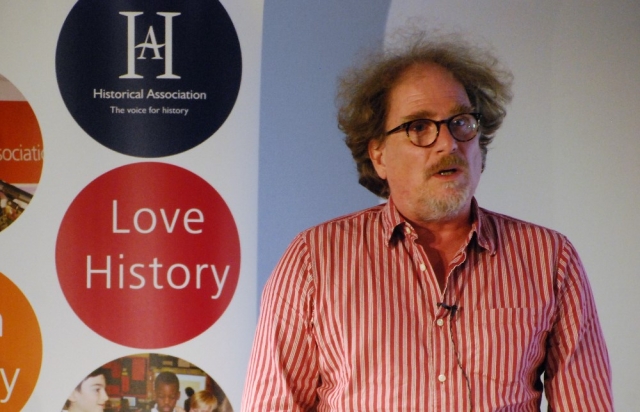 Historians gather in the heat to celebrate history at its best
At the end of a sweltering June the Historical Association gathered in London for our annual awards evening.
Each year this wonderful event is an opportunity to celebrate some of the people that make history happen across the country on a daily, weekly and monthly basis. For 2018 as the temperature soared history lovers of all genres and all levels from around the UK came together to hear who was being honoured.
Thank you to Foyles Bookshop for a wonderful function room that was most importantly air-conditioned!
Young Quills
First up were the Young Quills awards for Children's historical fiction. There were three categories this year, with the children supplying the shortlist once more.
The winners for 2018 are:
Ages 7 to 9 years: Anglo Saxon Boy, by Tony Bradman (Walker Books)
Ages 10 to 13 years: The Island at the End of Everything, by Kiran Millwood Hargrave (Chicken House)
Ages 14 to young adult: Beyond the Wall, by Tanya Landman (Walker Books)
Congratulations to this year's winners! 2017 winner and 2018 judge Laurence Anholt (The Hypnotist) presented the awards and made an impassioned appeal to publishers and authors to eschew cosy establishment history and instead tell the unheard and uncomfortable stories of marginalised minorities.
Find out more about this year's Young Quills
Honorary Fellowships
Every year the HA awards up to 15 Honorary Fellowships to recognise individuals who have made an outstanding contribution to supporting the aims and work of the HA. This year the awards went to:
Mrs Allison Robinson
Ms Paige Richardson
Mr Steve Mastin
Dr Robin Whitburn
Mr Abdul Mohamud
Mr Geraint Brown
Mr Richard Binns
Mrs Marie Davidson
Ms Sylvia Usher
Mr Geoffrey Berry
Professor Dame Janet Nelson
Professor Hakim Adi
Quality Mark schools, Teacher Fellowships and Chartered Teacher
There were also congratulations to all of those schools that have achieved the Quality Mark in History in the last 12 months, as well as all those individuals who have taken part in the Teacher Fellowships (information about both of these and their recent achievements will be on the website over the next few weeks).
Also this year we ran a pilot scheme for a brand new Chartered Teacher of History programme which will launch this autumn. We were delighted to celebrate the success of those who participated in the pilot.
Medlicott Medal 2018 – Justin Champion
The evening ended with the presentation of the Medlicot Medal to this year's recipient, Professor Justin Champion.
The Medlicott Award is named after a distinguished past president of the HA, Professor W.N. Medlicott. The medal is awarded to individuals for outstanding services and current contributions to history.
Justin Champion is a former president of the HA and a well-known and prestigious academic. Throughout his career Justin has been a keen and energetic advocate for public history and for wide public access to history. His many TV and radio appearances have ensured that his voice and work is known beyond the confines of academia. A regular on Melvyn Bragg's In Our Time, Justin has made 17th-century political ideas and thought more accessible to many people. He has recently had the most enviable task of interviewing David Tennant for the BBC/PBS series Shakespeare Uncovered.
Find out more about Justin's award and the Medlicott criteria
Defacing the Past or Resisting Oppression?
As is customary the Medlicott Medal recipient gives the guest talk for the evening. Justin Champion gave a fascinating talk on 'Defacing the Past or Resisting Oppression?' about the actions in recent years and months of removing or altering statues and public art depicting controversial historical figures and deeds. He expertly took the audience on a tour of statues that have been defaced to ones that have been updated, all to explore what the past and its physical representations can mean to current societies.
Listen to Justin's 2018 Medlicott Lecture