Your HA Virtual Branch
Keep learning with our online programme of talks
Published: 18th November 2020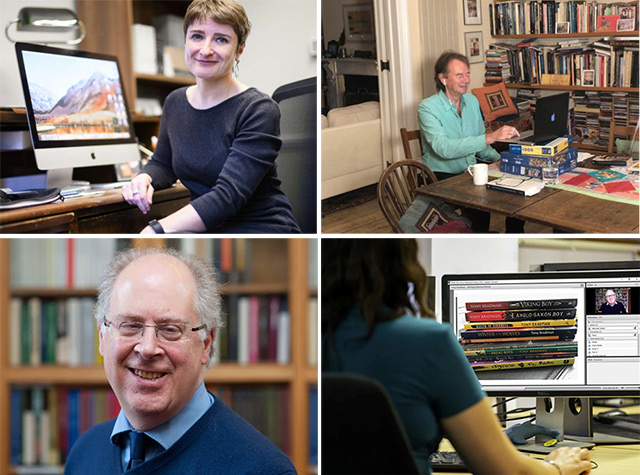 Your branch from home
The HA Virtual Branch is a great way to keep your history up-to-date, whether you are working or relaxing, all from the comfort of your home. The branch is available to everybody, and recordings of the talks are made available online after the event for HA members.
November
20-22 November (Now live): We'll be re-living HA conferences past with a recording of outgoing HA President Tony Badger's 2018 keynote talk on Eleanor and Franklin: Women and the New Deal, open access for the weekend.
View the talk here
December
As a special holiday surprise, look out for a talk with a mystery speaker announced this month.
January
Join us in conversation with Professor Rana Mitter OBE FHA on Wednesday 13 January. Professor Mitter is a historian in late modern history, and is currently Director of the China Centre at Oxford University. He has authored many highly-regarded books including the award-winning A Bitter Revolution: China's Struggle with the Modern World. Booking will be made available soon.
February and March
Stephen Bourne, writer of a number of books on Black British history including Black Poppies and Black in the British Frame: The Black Experience in British Film and Television joins the Virtual Branch this spring. We will also be releasing Jonathan Phillips' recent keynote talk on the Third Crusade. Look out for dates announced soon.
Past lecture recordings
If you missed our Virtual Branch talks from earlier this year, recordings of a number of the talks are available here:
Local HA Branches at the Virtual Branch
The HA has over 45 local branches around the country. Some of these have been able to return to their venues for their monthly talks around lockdown. Others have decided to make their branch programmes online via Zoom – this provides a wonderful opportunity for you to see some of the great lectures that occur across the country as part of the HA. We will be featuring some of those Zoom lectures delivered by the branches here. Check in regularly for further information or view our branch calendar for full listings.
About the HA Virtual Branch talks
Your HA virtual branch is open to all – whether you are a member or not; for general interest, teachers and students alike. Some of the talks are pre-recorded, and others allow you the opportunity to listen live and pitch your questions to the historian presenting. This page will be updated as new talks are agreed.
If you're a teacher don't forget that we will also continue to run our regular calendar of CPD webinars - view the secondary webinar calendar here and the primary calendar here.