Section 1: Subject knowledge updates
Exploring and Teaching The Korean War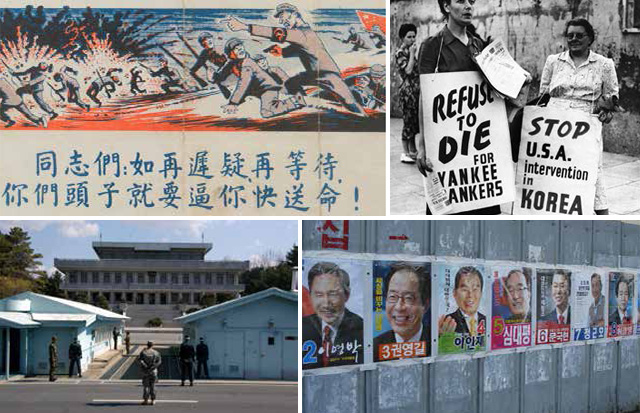 In this section you will find a number of articles aimed at setting the subject knowledge context to the Korean War for teachers in the UK and specific articles to support teaching enquiries. (Download the articles via the PDFs at the bottom of the page.)
Overviews
1A The Korean War: Quo vadis? The ongoing legacy of the Korean War and questions for the future

–

Jongwoo Han looks at the significance of the Korean War for Korea; the Korean War as part of a global power struggle; Korea and the Korean War's place in the ongoing conflict between the USA and China, and the potent legacy of the war for China. He asks will the twenty-first century see the replacing of the ceasefire with a peace treaty and a resolution to the current stalemate?

1B The legacy of the Korean War – Gregg A. Brazinsky looks at why the 'Forgotten War' must be remembered; and at the Korean War and South Korea's economic miracle and democracy.

1C Situating the Korean War in the context of the Cold War and British Cold War policies – Thomas Hennessey looks at the war's context for the USA with the end of Kennanite containment; at the dilemma for Britain with conflicting strategic priorities, and at Britain's decision to commit troops as a political rather than military one; at the limits of British influence in the conduct of the war; and at whether there was a real danger of the nuclear option.

1D Situating the Korean War in British History – Grace Huxford looks at welfare, warfare and diplomacy in the Cold War world; at the British military experience, and at prisoners of war and the invention of 'brainwashing'; and at responses in Britain to the Korean War.
Specialist support for the Enquiries
1E Why did the UNO join the USA in the Korean War? – Margot Tudor
1F How did Britain respond to the Korean War? – John Marrill
1G The significance of the Battle of the Imjin River – Henry Palmer
1H The Korean War: Impact and memory – Tasha Kitcher