Your HA Virtual Branch
Keep learning with our online programme of talks
Published: 26th February 2021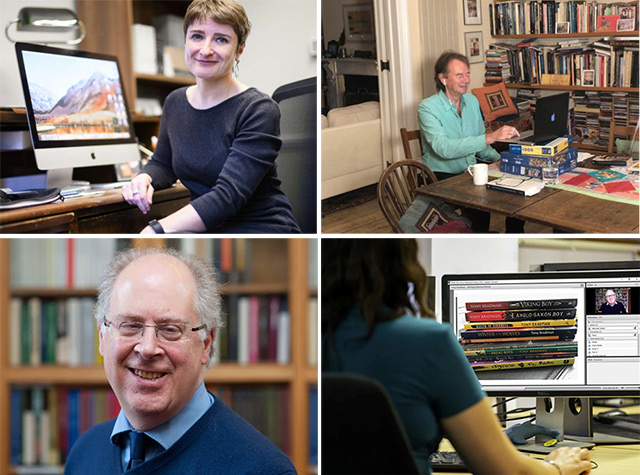 Your branch from home
The HA Virtual Branch is a great way to keep your history up-to-date, whether you are working or relaxing, all from the comfort of your home. The branch is available to everybody, and recordings of the talks are made available online after the event for HA members.
*LIVE - Wednesday 5 May, 7.30pm
Mayflower Lives: building a New Jerusalem in the New World with Martyn Whittock
In May we are pleased to be joined by Martyn Whittock, historical speaker and writer of numerous history books who will be speaking on Mayflower Lives. In 1620, 102 ill-prepared asylum seekers landed two months later than planned, in the wrong place on the eastern coast of North America. By the next summer, half of them were dead. Yet, from this inauspicious beginning, the impact of the Mayflower settlement still resonates 400 years later. By examining the dramatic story of this little community, we can explore key aspects of why this venture occurred; its significance within the English settlement of North America; the impact on Native American communities; and why Plymouth Colony came to play such a major role in the cultural DNA and mythology of what became the United States.
*LIVE - Tuesday 8 June, 7.30pm
Meet the author - Marc Morris on The Anglo-Saxons
Best-selling author and historian Marc Morris will be talking about his new book The Anglo-Saxons: a history of the beginnings of England.
Book here

Past lecture recordings
If you missed our Virtual Branch talks from earlier this year, recordings of a number of the talks are available here:
Local HA Branches at the Virtual Branch
The HA has over 45 local branches around the country. Some of these have been able to return to their venues for their monthly talks around lockdown. Others have decided to make their branch programmes online via Zoom – this provides a wonderful opportunity for you to see some of the great lectures that occur across the country as part of the HA. We will be featuring some of those Zoom lectures delivered by the branches here. Check in regularly for further information or view our branch calendar for full listings.
About the HA Virtual Branch talks
Your HA virtual branch is open to all – whether you are a member or not; for general interest, teachers and students alike. Some of the talks are pre-recorded, and others allow you the opportunity to listen live and pitch your questions to the historian presenting. This page will be updated as new talks are agreed.
If you're a teacher don't forget that we will also continue to run our regular calendar of CPD webinars - view the secondary webinar calendar here and the primary calendar here.